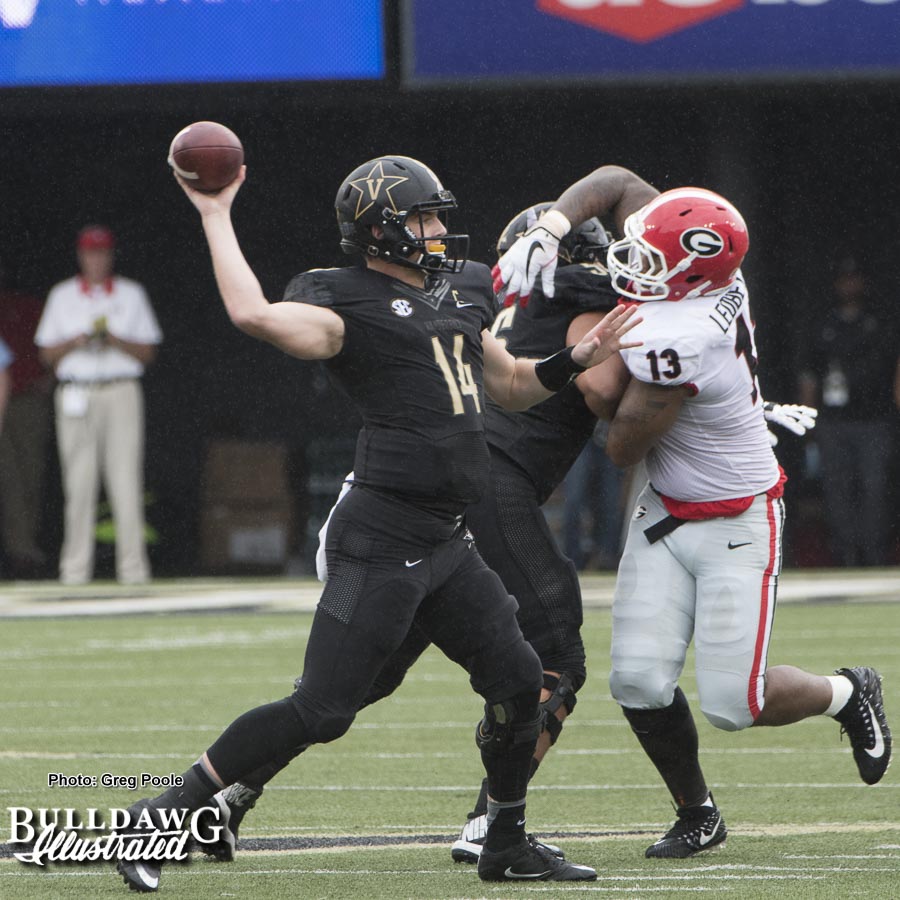 Georgia improved to 6-0 on the season with a 45-14 victory over Vanderbilt on Saturday and also moved into first place in the SEC East.


Although the Bulldog defense allowed it's first TD in over 9 quarters, they were still dominant, holding Vanderbilt to just 236 yards of total offense on the night and 14 points.


Georgia's run D was again stout, allowing the Commodores to just 64 yards on 22 carries for the afternoon. There just wasn't much room for Ralph Webb to run as he finished with 12 carries for 53 yards and a touchdown, averaging just 3.9 per touch.


The Dogs pass defense was also solid against Commodore QB Kyle Shurmur, allowing 172 yards through the air. Although Vanderbilt did complete some big pass plays, for the most part, Shurmur had trouble finding an open receiver and when he did, his WRs didn't help him out any as they had a few key drops. Shurmur completed just 17 of his 31 pass attempts.


And the Georgia secondary's performance is even more impressive given that the Bulldogs' pass rush, especially in the first half, allowed Shurmur to stand in the pocket comfortably to try and complete a pass. He wasn't as comfortable in the second half. Even though no sacks were recorded, Georgia did affect him with the pass rush. Vandy's offense in the second half went as follows:

3 plays for 7 yards, punt.
3 plays for 3 yards, punt.
5 plays for 25 yards, turnover on downs.
6 plays for 13 yards, punt.
4 plays for 1 yard, TD.'


The touchdown drive was in the fourth quarter, off a Jacob Eason fumble when he was sacked by an unblocked Commodore, Bryce Lewis, coming from his left, blind slide, which Vandy recovered on the 1-yard line. It looked like Nifae Lealao had scored, but Ben Cleveland was able to keep out of the end zone. And it appeared that the defense, which consisted of many freshman and non-2-deep players, might hold, but on a 4th and Goal from the Georgia 3, Shurmur hit C.J. Duncan for six.


Roquan Smith was Georgia's leading tackler on the night with 7 followed by Deandre Baker with 5 and J.R. Reed with 4. Junior Juwan Taylor who started in place of Natrez Patrick at ILB along sigd R. Smith, had 3 tackles including 1 tackle for a loss. Taylor had some 'butterflies' in the early going but settled down and turned in a solid game. Freshman Monty Rice also played more snaps on the night and had 2 stops and seemed to be around the ball on almost every play he was in on.


On offense, Georgia's rushing attack continues to be a seemingly unstoppable force. The Bulldogs ran the ball 54 times for a whopping 423 yards on the ground, averaging 7.8 yards per carry. Nick Chubb went over the century mark for the second time in a row and third time this season, rushing for 138 yards and two touchdowns on 16 carries. That performance ushered Chubb into some rarified air as he joins the 4,000-plus yard club at No. 7 in the SEC with 4,042 yards (and counting). It is an elite group of 8 including former Bulldog Herschel Walker who stands atop the group with 5,259 yards. Chubb also moved into second place in school history for career rushing TDs with (37) and is also second all-time in rushing attempts with 626.




Fellow senior tailback Sony Michel was equally impressive, amassing 151 yards and a touchdown on 12 carries. Michel averaged 12.5 yards every time he touched the ball, including a long touchdown run of 50 yards in the third quarter.


Sophomore Elijah Holyfield also ran hard on the night, putting up 51 yards on 7 carries, and he also scored his first touchdown of his college career on a 15-yard run in the fourth quarter. Freshman D'Andre Swift had 4 carries for 32 yards and quarterback Jake Fromm also ran the ball 4 times for 42 yards. Sophmore Brian Herrien had 9 carries for 28 yards.


The Bulldogs passing attack was nothing to write home about, but it was efficient. They simply did not need to pass the ball all that much. Fromm was 7 for 11 and 102 yards along with 2 touchdowns. Sophomore Jacob Eason came in during the fourth quarter in relief and was a perfect 3 for 3 for 24 yards.


With only 10 passes completed, there were not big receiving numbers. Junior wideout Terry Godwin led all receivers with 2 catches for 70 yards, including a 47-yard touchdown reception on the opening drive of the second half. Javon Wims also had 2 catches for 20 yards along with Ahkil Crumpton with 2 for 17. Tailback D'Andre Swift had a couple of catches for 8 yards including a 5-yard touchdown reception. The only tight end with a reception was Charlie Woerner with one for 4 yards.


The Georgia special teams were again solid. The Dogs only had to attempt one punt, and Cameron Nizialek put into orbit, with a 59-yard boot that the coverage team was able to get the Commodore return down at the 16.


Rodrigo Blankenship was a perfect 6 for 6 on PATs and also hit his lone field goal, a 27 yarder. On kickoffs, Blankenship sent 5 of his 8 kickoffs for touchbacks


Georgia did not have any kick returns but Mecole Hardman did get a shot on one Commodore punt, taking it quickly down the field for 20 yards before being corralled.


The Bulldogs will return home next weekend to host a (1-4) Missouri team for a 7:30 p.m. kickoff between the hedges at Sanford Stadium. Here are the complete final stats from Saturday's game including a participation report:


Team Statistics
Statistic
UGA
VANDY
FIRST DOWNS
Total
27
11
Rushing
21
3
Passing
6
8
Penalty
0
0
RUSHING
Total (Net)
423
64
Attempts
54
22
Avg. Per Rush
7.8
2.9
Rushing TDs
4
1
Yds. Gained
444
76
Yds. Lost
21
12
PASSING
Total (Net)
126
172
Comp.-Att.-Int.

10

–

14

–

0

17

–

31

–

0

Avg. / Att.
9.0
5.5
Avg. / Comp.
12.6
10.1
TDs
2
1
TOTAL OFFENSE
Yards
549
236
Plays
68
53
Avg. / Play
8.1
4.5
Fumbles – Lost

2

–

1

0

–

0

Penalties – Yds.

7

–

46

5

–

25

PUNTING
Punts – Yds.

1

–

59

7

–

254

Avg. / Punt

59.0

36.3

Inside 20

1

1

50+ Yds.

1

1

Touchbacks

0

1

Fair Catch

0

2

KICKOFFS
Total – Yds.

8

–

515

3

–

195

Avg. Yds. / Kickoff

64.4

65.0

Touchbacks

5

3

RETURNS
Punt: Total – Yds. – TDs

1

–

20

–

0

1

–

13

–

0

Punt: Avg. / Return

20.0

13.0

Kickoff: Total – Yds. – TDs
0-0-0

3-63-0

Kickoff: Avg. / Return
0

21.0

INT: Total – Yds. – TDs
0-0-0
0-0-0
Fumble: Total – Yds. – TDs
0-0-0

1-15-0

MISCELLANEOUS
Misc. Yards

0

0

Poss. Time

34:23

25:37

3rd. Down Conv.

7

 of 

11

6

 of 

15

4th. Down Conversions

1

 of 

1

1

 of 

2

Red-Zone: Scores – Chances

4

–

4

2

–

2

Sacks: Total – Yds.

0

–

0

2

–

15

PAT: Total – Made

6

–

6

2

–

2

Field Goals: Total – Made

1-1

0-0
Offensive
UGA – Passing

| Player | Cmp | Att. | Yds. | TD | INT | Long | Sack |
| --- | --- | --- | --- | --- | --- | --- | --- |
| Jake Fromm | 7 | 11 | 102 | 2 | 0 | 47 | 1 |
| Jacob Eason | 3 | 3 | 24 | 0 | 0 | 10 | 1 |
| TOTALS | 10 | 14 | 126 | 2 | 0 | 47 | 2 |
VANDY – Passing

| Player | Cmp | Att. | Yds. | TD | Int. | Long | Sack |
| --- | --- | --- | --- | --- | --- | --- | --- |
| Kyle Shurmur | 17 | 31 | 172 | 1 | 0 | 38 | 0 |
| TOTALS | 17 | 31 | 172 | 1 | 0 | 38 | 0 |
UGA – Rushing

| Player | Att. | Gain | Loss | Net | TD | Lg. | Avg. |
| --- | --- | --- | --- | --- | --- | --- | --- |
| Sony Michel | 12 | 151 | 1 | 150 | 1 | 50 | 12.5 |
| Nick Chubb | 16 | 140 | 2 | 138 | 2 | 33 | 8.6 |
| E. Holyfield | 7 | 51 | 0 | 51 | 1 | 15 | 7.3 |
| Jake Fromm | 4 | 42 | 6 | 36 | 0 | 19 | 9.0 |
| D'Andre Swift | 4 | 32 | 0 | 32 | 0 | 15 | 8.0 |
| Brian Herrien | 9 | 28 | 0 | 28 | 0 | 7 | 3.1 |
| TEAM | 1 | 0 | 1 | -1 | 0 | 0 | -1.0 |
| Jacob Eason | 1 | 0 | 11 | -11 | 0 | 0 | -11.0 |
| TOTALS | 54 | 444 | 21 | 423 | 4 | 50 | 7.8 |
VANDY – Rushing

| Player | Att. | Gain | Loss | Net | TD | Lg. | Avg. |
| --- | --- | --- | --- | --- | --- | --- | --- |
| Ralph Webb | 12 | 53 | 6 | 47 | 1 | 28 | 3.9 |
| Trent Sherfield | 1 | 7 | 0 | 7 | 0 | 7 | 7.0 |
| K. Blasingame | 7 | 13 | 6 | 7 | 0 | 7 | 1.0 |
| J. Wakefield | 1 | 2 | 0 | 2 | 0 | 2 | 2.0 |
| Kalija Lipscomb | 1 | 1 | 0 | 1 | 0 | 1 | 1.0 |
| TOTALS | 22 | 76 | 12 | 64 | 1 | 28 | 2.9 |
UGA – Receiving

| Player | Rec. | Yds. | TD | Long |
| --- | --- | --- | --- | --- |
| Terry Godwin | 2 | 70 | 1 | 47 |
| Javon Wims | 2 | 20 | 0 | 12 |
| Ahkil Crumpton | 2 | 17 | 0 | 10 |
| D'Andre Swift | 2 | 8 | 1 | 5 |
| J. Holloman | 1 | 7 | 0 | 7 |
| Charlie Woerner | 1 | 4 | 0 | 4 |
| TOTALS | 10 | 126 | 2 | 47 |
VANDY – Receiving

| Player | Rec. | Yds. | TD | Long |
| --- | --- | --- | --- | --- |
| Kalija Lipscomb | 3 | 55 | 0 | 38 |
| Trent Sherfield | 4 | 47 | 0 | 18 |
| Caleb Scott | 4 | 35 | 0 | 20 |
| C.J. Duncan | 4 | 20 | 1 | 10 |
| Trey Ellis | 1 | 14 | 0 | 14 |
| J. Wakefield | 1 | 1 | 0 | 1 |
| TOTALS | 17 | 172 | 1 | 38 |
---
Recent Articles by Bob Miller


[pt_view id="83405b425p"]