When Vince Dooley retired after the 1988 season, capping a splendid 25-year Georgia coaching career with a record of 201 wins, 77 losses and 10 ties – with a national championship, six SEC championships and 20 bowl appearances under his belt – things didn't go quite as well for the Bulldogs' program over the following 11 seasons.
Certainly, both Ray Goff and Jim Donnan did some very good things in their head coaching tenures at Georgia but, they weren't able to take the Bulldogs back to the SEC championship. But then Mark Richt assumed the head coaching reins in 2001 and in just his second year at the helm, Richt's 2002 Dawgs gave the fanbase its first SEC title in 20 years … since Georgia won its third consecutive conference championship in Herschel Walker's final UGA season in 1982. Richt would go on to chalk up a 145-51 won-loss record in his 15 seasons as head coach, along with two SEC championships. His winning percentage of .740 ranks first among all Georgia coaches over 15 seasons.
Putting the Georgia program back on a steady winning course and becoming a yearly championship contender, Richt's coaching time in Athens set the stage for even loftier things to come under a coach named Kirby Smart, who assumed the head coaching post in 2016.
Thus, in the last 32 years or so, the fans of Dawg Nation have ridden the proverbial roller-coaster at times. Georgia lost nine straight times to Tennessee (1989-97) and seven straight times to Florida (1990-96) and lost three of four to South Carolina in the late 1980s-early 90s. Then there were a few tough losses to Vanderbilt and Georgia Tech during that period. Yet, this generation of Bulldog fans didn't give up and their aspirations and national championship hopes were finally all realized in the recently-completed 2021 season when Smart piloted Georgia to the program's first national title since 1980.
Here, Bulldawg Illustrated talks to three avid Georgia fans (one being former UGA player Des Williams) spanning three different decades, getting their opinions over the euphoria brought by the national championship win over Alabama and the state of the program today under Smart.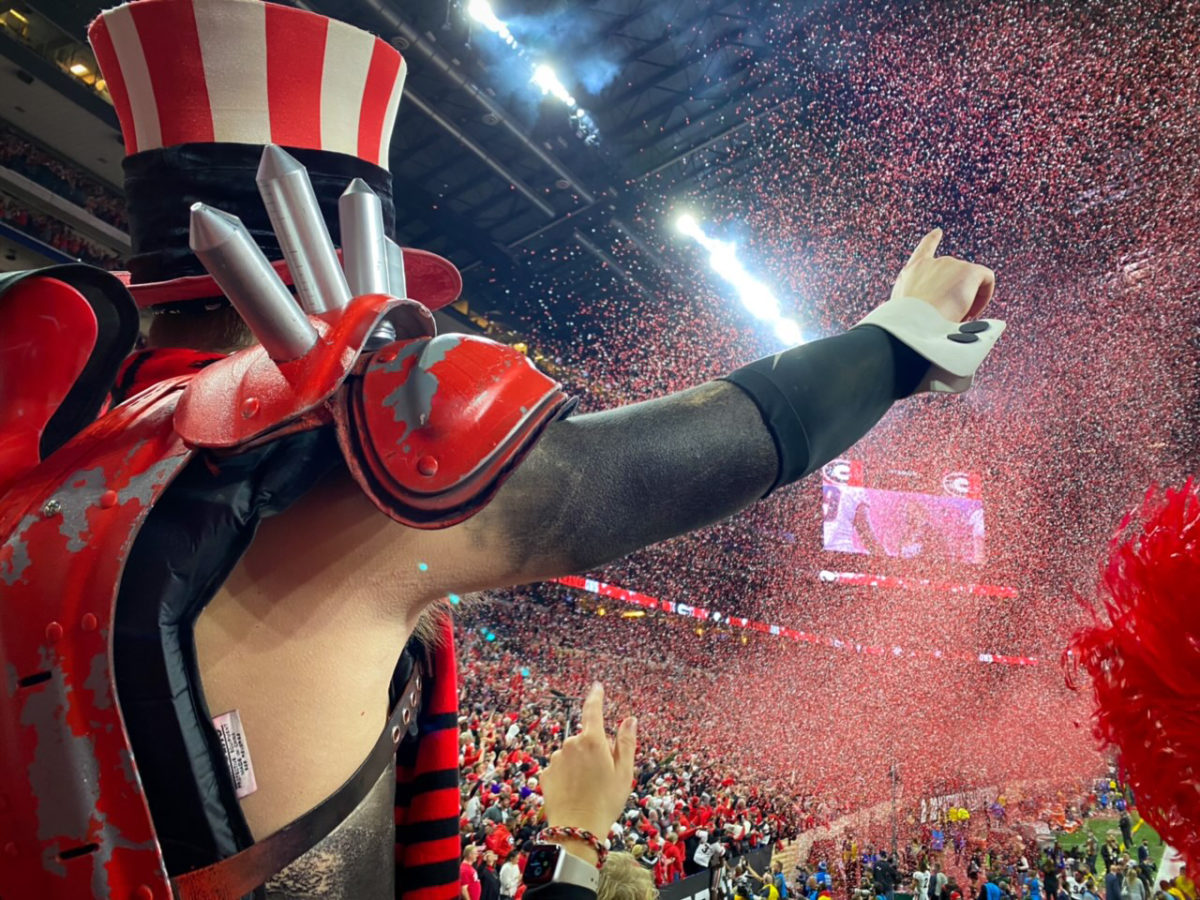 The Newer Dawg Fans
The UGA Spike Squad was established in 2010 and ever since then, the group has become an integral part of Georgia Football. The squad gets to the gate they enter about four hours prior to kickoff for their gameday tradition of painting their full bodies in Georgia colors before putting their signature-spiked shoulder pads on top. And when the gates to the stadium open two hours prior to kickoff, the Spike Squad leads the charge for the student section, where students all rush to save seats for the game. The squad occupies the first two rows of section 109 at every single Georgia home game, standing the entire game and feverishly cheering and urging the Dawgs on to victory.
Blake Davis is a fifth-year member of Georgia's Spike Squad, who recently graduated from UGA and along with his fellow squad members, attended both the Bulldogs' semifinal win over Michigan in the Orange Bowl and the team's 33-18 pasting of old nemesis Alabama in the CFP National Championship game in Indianapolis.
Davis and the present UGA student body represent a young Bulldog fanbase that has, for the most part, been treated to unparalleled success by their team on the gridiron. Still, under their watch, the students hadn't ever tasted the sweet fruits of a national championship…until January 10, 2022.
"We have seen the Bulldogs do extremely well in our time at Georgia," said Davis. "We were able to go to the other national championship game (2017 loss to Alabama) that we don't talk about so much. I was in my dress there, all painted up. Then we had 26 members of our squad in Indiana for this one, thanks to a bunch of donations we got from a number of Bulldog supporters. We asked for some donations after the Orange Bowl and we got enough money to get us all up there and get some student tickets for us. Jump to page 58.
"Everybody talks about when the clock hits zero, that was such a relief for me," he said. "I felt very relieved. It felt almost like I had been trying to will them to win over the past few years with how hard we cheered and all the games we went to. It felt like I needed to be there to cheer them on and so having it happen and finally getting there …. earlier this season I had to come to the realization that no matter how bad I wanted it, I wasn't on the field and I couldn't will it to happen. But the way it came about, I thought, 'can we will this to happen?' If you want it bad enough, do dreams really come true? That's kind of how it felt, seeing the whole thing come full circle."
Davis said the Bulldogs' 34-11 semifinal playoff win over Michigan in the Orange Bowl was also special.
"The Orange Bowl, now that was awesome because going into it, we didn't really know which Georgia team would show up," he said. "And to have them show up the way they did, it was very surprising to me because I thought it was going to be a really close game. Michigan's a good team and we matched up really well with them and we were obviously hungry to get back to the place we had been before and play 'Bama again. So getting that opportunity felt great but it was more like checking the box and now, let's go get them back."
Davis said, like many Georgia fans, he still wondered if the Bulldogs could finally get over the Alabama hump, what with Nick Saban's Crimson Tide having posted seven consecutive wins over the Dawgs, a number of them coming in excruciating fashion for the Bulldawg Nation.
"Absolutely," said Davis. "Honestly, for most of the week and the trip leading up to it, I wasn't real confident we were going to win. But even looking back at the Clemson game in the first week of the season, I knew if we beat them, we had what it took to go to that (national championship) game and probably win because we knew what kind of defense we had, and the offense was getting strong, and if they showed up – and they didn't really show up in that game as they did throughout the season – I knew we had the best team in the country. But it was just the mental hurdles, can we get over them and I wasn't sure we could get over them. Because Saban is who he is and is one of the greatest coaches of all time and it's hard to beat that sometimes. So, yeah, I really had no clue. It could have gone either way but I think with it being a defensive game that's what really helped us and I knew it would have to be that way for us to win, one of those Alabama-LSU type games for the national championship."
Davis said when Kelee Ringo intercepted Bryce Young's pass and scored on a record-breaking 79-yard interception run to clinch the championship, a lot of emotions came forth from the UGA fans.
"A lot of people were wondering, if we win are you gonna cry?" he said. "And a lot of people were crying after the game. But it was with about eight minutes left in the game, I was thinking about how hard the defense had played and thinking back to the times we had played Alabama in the national championship game and also when we played them in the SEC championship game a few years earlier, I had never seen a team fight that hard and want to beat a team so badly. I was thinking about comparing it to that and it seemed like they wanted it even more than they did back then, and I didn't think that was even possible at the time. But it was and to be so stout and have such a good cohesive defense against such a good team and a good coach, it finally hit me that no matter what the referees called, how the ball bounced, whatever Nick Saban did, this team was a champion to me and I could absolutely live with how they played because I knew it was the best I had ever seen. Yes, offense and defense were extremely impressive and I'm very proud of them."
Davis said the Bulldogs winning the championship this season was especially gratifying to him. "I learned that I was a fourth-generation Bulldog this year when I graduated as my family gave me my great- grandfather's class ring and it was from 1942. I first wasn't sure I was going to go to the championship game but after I got that ring and realized the year, I decided I would have to be there," said Davis, aware of the significance of 1942, when the Bulldogs of Frank Sinkwich and Charley Trippi captured the first of Georgia's three national championships in the Rose Bowl.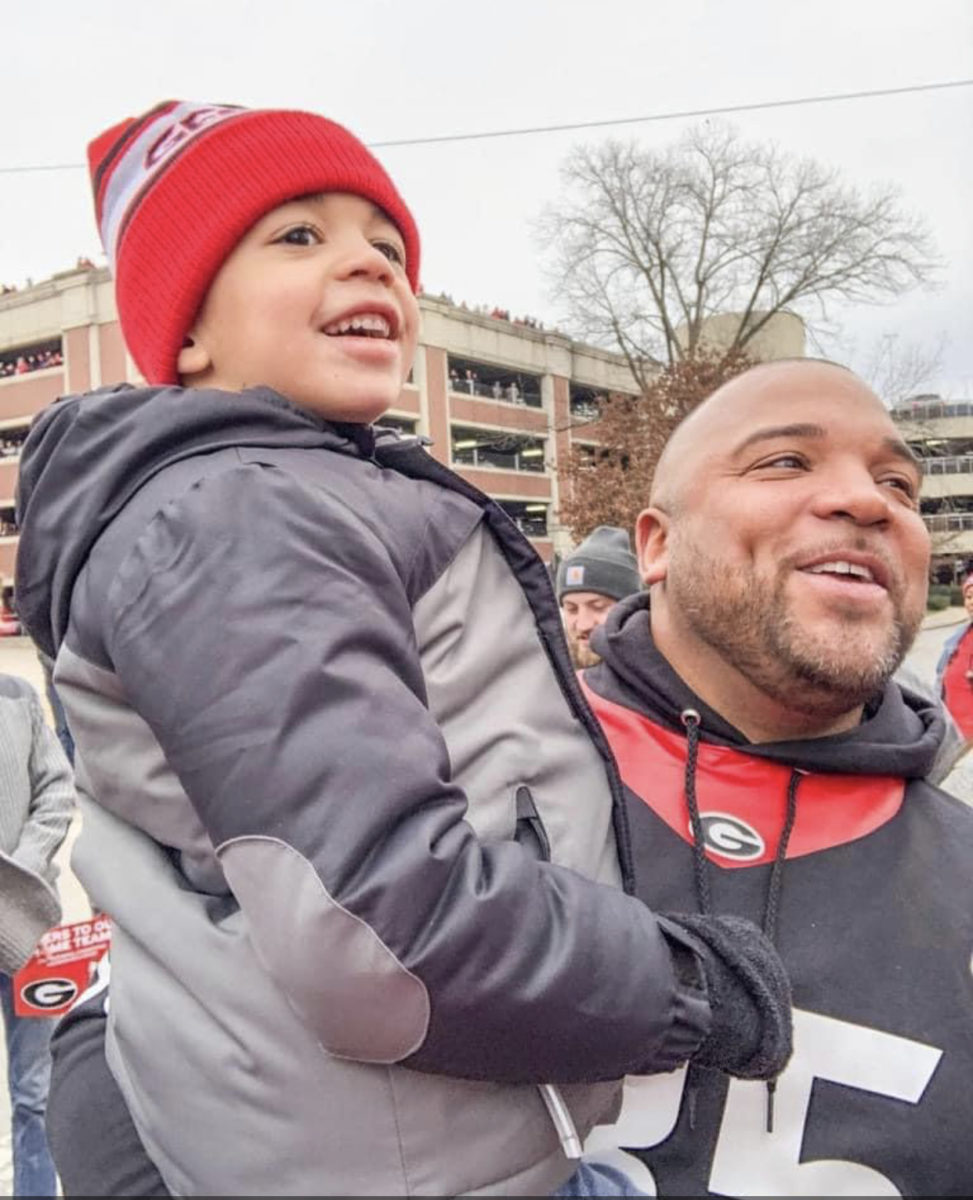 Mark Richt's Dawgs
Des Williams was a fullback for the Bulldogs, playing for Richt from 2003 to 2006, before graduating from UGA in 2007.
"I think for sure we laid the foundation," said Williams, of his years at Georgia. "I was the first commitment out of that 2003 class. My mindset in high school as a senior, with that 2002 Dawg bunch with Terrance Edwards, a crazy defensive line and David Greene at quarterback, man, if we had had the college football playoff then, that team would have won in 2002 because they had so much momentum," he said.
"They crushed Arkansas in the SEC Championship Game and they beat Florida State in the Sugar Bowl. And I went to the Sugar Bowl that year to watch them so, as a high school senior, I was like, man, we've got David Greene, David Pollack, (D.J.) Shockley, Tim Jennings, Thomas Davis, Greg Blue and all those guys coming back and Kedric Golston. I was like we are going to win a national championship while we're here," Williams said. "So seeing that momentum like the 2002 class built … I came in with Kregg Lumpkin, who was a 5-star running back behind Reggie Bush; we were kind of poised like we were going to win. We played for the SEC championship in '03 and lost to LSU but had some great years and talent. Shockley led us to the SEC championship in '05 by beating LSU and then we kind of pushed momentum to 2007 which was Matt Stafford and Knowshon Moreno and everybody."
Williams said the Bulldogs had an abundance of talent in those early seasons under Richt, many who had been recruited earlier by Jim Donnan.
"We were so talented," he said. "Coach Richt came in in 2001 and from the tail end of '01 to that 2002 class, I really felt we gained momentum from there. That was Richt's turning point as he was starting to get his recruits in and you know we pushed the envelope right off the bat. And I think our mindset coming in as recruits was we're going to win the national championship in the next couple of years and, obviously, it's a lot harder now and we waited so long for it to happen this season. Even in the Richt era, I thought we had a chance when I was there," Williams said. "Obviously, in 2007 and 2012 we had a chance and then Kirby took over. We wish we could have won it in 2017 but, man, we had a lot of talent and we were so close so many different times."
Williams said the Georgia teams he played on and the entire Richt era unquestionably built a lot of positive momentum for Smart to "come in and do his thing."
"I'll say too with this transfer portal age, when we were there you committed to the University of Georgia because you love Georgia and we didn't have a whole lot of people leave," he pointed out. "Obviously, Shockley was probably the biggest example of that. He could have left and started for any team in the country but he let the chips fall and had one awesome year (in 2005). But because of his character and what he did and what he did in the league for a couple of years, obviously, he's got a great job and career for life (in broadcasting), and I think that's kind of testament to what we all were.
"Myself as a fullback," said Williams, "I had to wait my time after Jeremy Thomas and when he left I was poised for that starting job. But I got hurt my true sophomore year right before camp and we had Brannan Southerland come in and he did a marvelous job. We were kind of a running back by committee and fullback by committee and it was one of those things where it would have been easy to say I'm gonna go play for Auburn or Tennessee or Georgia Tech. But no, we wanted to all stay together and push the program forward, be there for each other in case somebody got hurt and again try to go and win as much as possible, win that championship."
Williams, who now lives in Buford and owns a successful landscape/pool/lighting business, didn't get to make the national championship game in Indianapolis due to helping coach his 12-year-old son's football game in Buford.
But he was blown away by the national championship celebration, with the parade, Dawg Walk and Sanford Stadium ceremony that was held on the UGA campus Jan.15 with close to 100,000 fans attending.
"I just think they did an incredible job with the celebration in Athens," Williams said. "I didn't know how they were going to do the parade and then turn around and do the Dawg Walk and then get everybody in the stadium in the time of that two-hour span. But they did a tremendous job. I was talking to Sean Chapas who is in development now and he was a fullback a couple of years behind me, and Shaun said they had some initial plans kind of ready before the championship game but as soon as that Monday hit, they went into a go-mode and were able to get it done.
"But man, it was just tremendous. They had a really awesome setup on the field for former players and obviously friends and parents and family. And man, just to see that place rocking … I thought D.J. Shockley did a great job of emceeing the event and just the way they pulled everybody in…D'Andre Swift, letting some of the seniors speak and they just really put on a great heartfelt celebration that we all took in. And if you were a recruit, and I think they had about 50 recruits there, you couldn't help but see this is just a celebration and we got the stadium packed! It just shows what we are as a Bulldog Nation.
"As a player, I thought we all were kind of a building block to push the envelope and get the program to where it is now," said Williams, "but I'm excited and proud like a fan just as much as I am for being a former letterman at Georgia. And I think that speaks a lot for Coach Smart's excitement what he's grown this to and everything."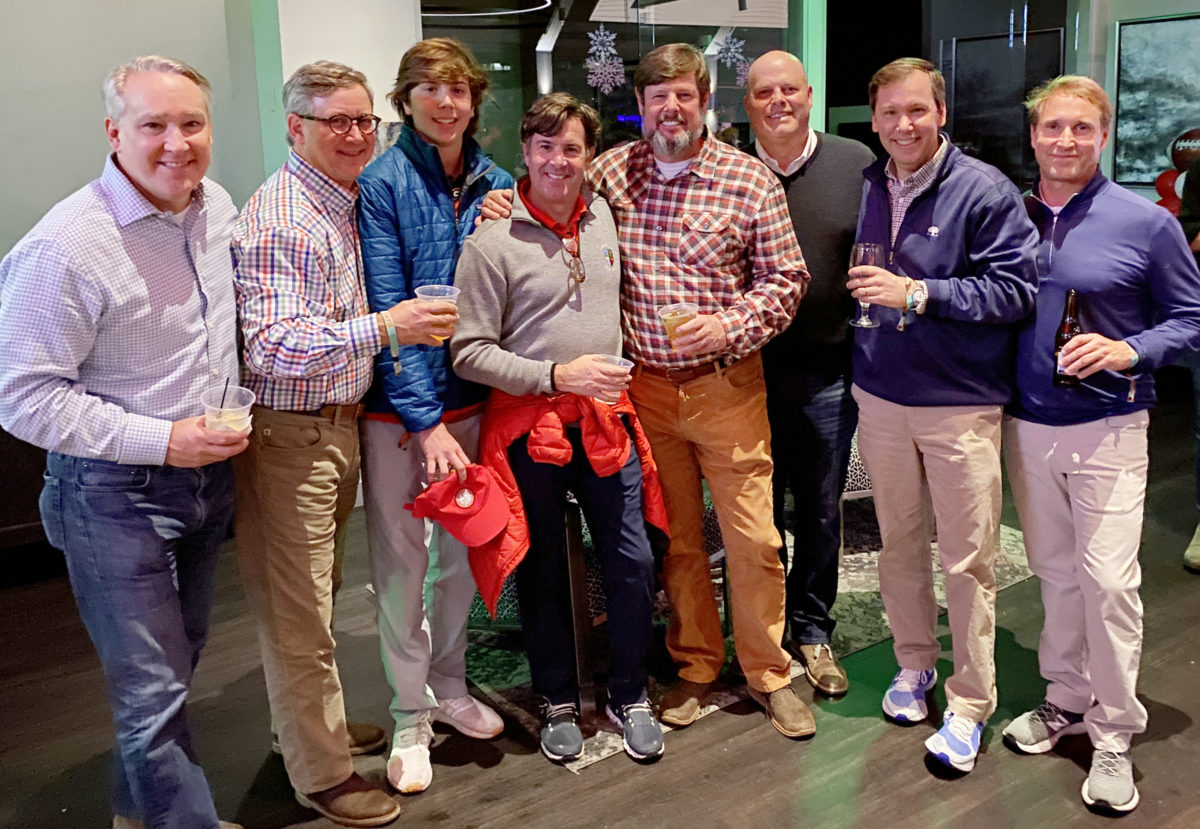 The late 80s/early 90s Dawg fans
Don Scully was a student at the University of Georgia from 1986-91. So in his days of supporting the Bulldogs, he's really experienced the lowest of lows and highest of highs with his football team.
"The hardest thing for me, I live in Baton Rouge and the last 20 years, LSU has won three national titles," Scully said. "And now, we finally got ours! The worse thing about it is watching, Florida, LSU, Alabama and Auburn win national titles with the same talent we've got. We have the same talent and we couldn't put it together. And we finally did it," he said. "We finally got it done. It took all these years. A load has been taken off.
"Like I say, I live in Baton Rouge and everybody here is all upset and sad," Scully said. "I'm out here in the prairie with the Indians, you understand. So when the Dawgs win, nobody says anything but when the Dawgs lose, everybody says, 'Hey man, what happened to the Dawgs?' They rub it in here and here I am. This has been going on for years and so the flip side of that is you win it all and now everybody says congratulations, you finally got off the shot."
Scully said it's remarkable what Smart has done for the football program over the past six years.
"Kirby has paid his dues, learning not only how to be a coach but to develop players and to achieve excellence. I watched Nick Saban here in Baton Rouge taking an LSU team that was pathetic and basically get them into position where no one was going to beat them. And they got stronger as the season went on (en route to 2003 national championship). So I watched what Kirby did and Kirby strived for excellence," he said. "I watched something last night and they were recapping (the championship game) and this guy was talking on the game and they kept playing what Kirby said, 'You're either Elite or you're not.' It was incredible and what it is, Kirby actually taught those boys how to win the game.
"So after all these years, Kirby finally brought us to the promise land," declared Scully. "After that 2017 national championship game, Kirby was (upset) and so was I. We had them (Alabama) beat, we put it in the hands of the referees and lost the game but to me it was especially painful because the player that caught the touchdown pass (Devonta Smith) is from right down the road in Baton Rouge. He's from Hammond, Louisiana. So I'm sitting there watching the game and thinking we've got 'em beat and the next thing you know this player from Hammond is running down the sidelines catching a pass from Tua (Tagovailoa)."
Scully believes there is a Biblical analogy in the Bulldogs' championship run this season.
"I'm serious," he said. "This may sound crazy but it's been on my heart for years. If you look at the Bible and you look at what happened to the Jewish nation when they escaped Egypt, they wandered in the desert for 40 years. And it was Moses who led them all the way through. But Moses got from God, "you ain't going into the Promise Land. So Moses wound up dying and it was Joshua who took the tribe of Israel into the Promise Land. So if you look at what we did, we went through 40 years wandering in the desert, no Promise Land…40 years!
"I thought 2020 was the year but it wasn't, it was 2021, "said Scully. "2020 completed 40 years. I used to think that Richt was Moses and Kirby was Joshua but I was wrong. (Former AD Greg) McGarity was Moses and this year guess who our new athletic director is? …Joshua (Brooks)! Just think about it, we completed 40 years in 2020 and last year was the year we fought all our battles. If you look at the battles the Jews fought, they ended up losing only one. We lost only one this past season, and it was Joshua that brought us through. It just lined up perfectly. I'm not saying our athletic director could be responsible for this, I'm just pointing out the typology. And by the way, you know where our athletic director, Joshua, is from? … Hammond, Louisiana!
"But I've been here through all the pain and suffering and finally, with this championship, it feels like a big load has been lifted off," Scully said.
That's certainly how most of Bulldog Nation has to feel as well!