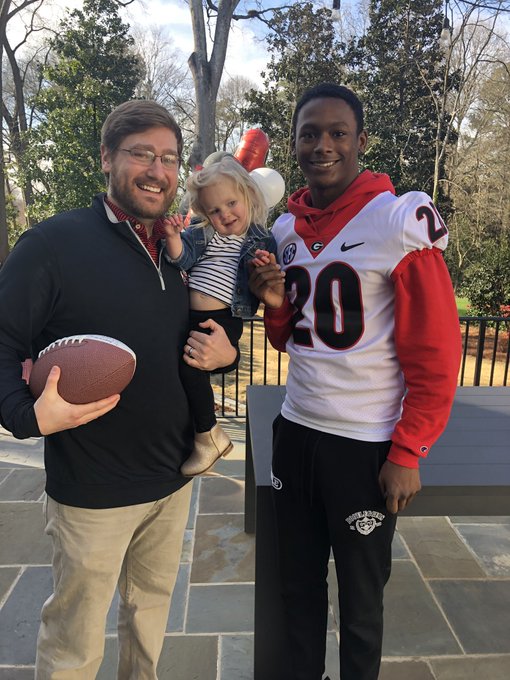 Over the next couple of weeks, we here at Bulldawg Illustrated are going to be looking at Georgia football's incoming freshman class of 2020 in a new series called First Year Look. The Bulldogs' 2020 class features 25 signees that collectively finished as the No. 1 recruiting class in the country, according to 247Sports and Rivals.
All 25 of Georgia's incoming freshman have reported to campus before workouts started on June 8. Now, they are prepping for their first preseason camp. Over the past couple of days, Bulldawg Illustrated has taken a look a good portion of the 2020 class, and today we will move on to Major Burns.
Burns was one of Georgia's six incoming freshman that enrolled early back in January. So, he got to experience offseason workouts for the first time before the coronavirus outbreak ended all spring activities back in March.
Burns committed to his hometown school, LSU, before the start of his senior season. Towards the end of his senior season, Burns opened up his recruitment and that's when Kirby Smart and his staff ramped up their effort to get him. He took an official visit to Athens two days after de-committing from LSU, and then joined UGA's class on Dec 17. The next day he signed his official letter of intent and his recruitment was over.
Burns is a four-star prospect that was ranked No. 180 overall in the 247Sports industry-generated Composite. He's listed as the No. 13 safety in the country and the No. 7 player in the state of Louisiana for the class of 2020. This was a huge get for the Bulldogs because Burns was a high-profile want with offers from over 30 schools.
"For me, Georgia has got a standard of winning. I'm a winning person," Burns told former UGA quarterback D.J. Shockley in an interview. "I like winning, competing. You know, sharks swim with sharks. I just wanted to go somewhere where they would get the best of me and I would get the best of them. What really jumped out to me was the academics here. They've made sure that we are on it. They take care of us like we are their children. Teammates look after us like we are their brothers. That stood out."
"Long, lean, big-framed defensive back prospect. Narrow through the core but broad-shouldered, angular, athletic build that should support quality bulking in college. Projected to safety but recruited by numerous schools as a cornerback. Should be able to provide valuable personnel flexibility at the next level. Truly big corner when aligned outside and isn't afraid to mix it up with receivers. Plays physical and has a ton of press potential. Oozes swagger and confidence. Size and aggression manifest in tackling ability. Closes fast downhill. Experience at receiver makes ball skills at DB a strength. Displays impressive high-pointing acumen and body control to adjust to balls in flight. Long-strider with good top-end speed verified at 4.58 in the 40. Needs to improve lateral mobility and fluidity to reach coverage ceiling. Must continue to add bulk/strength to fill out and maximize frame. Gets too handsy in coverage at times. High-major DB who could play safety, corner, or nickel and provide plenty of options in the secondary. Potential to become an impact Power 5 starter with long-term NFL Draft ceiling."

Gabe Brooks, Midlands Region Recruiting Analyst, 247Sports

The Bulldogs don't have a lot of manpower at the safety position and Burns could help fix some problems on the depth chart. The one good thing is that UGA does have a bunch of tough, physical cornerbacks who can transition to fill a role at safety if needed. The projected starters at safety are Richard LeCounte and Lewis Cine. Chris Smith would be the next man up followed by Latavious Brini, even though he hasn't made quite the impact he was supposed to after signing in 2017. With a strong fall camp, Burns could jump the depth chart in front of Brini and maybe possibly Smith.
But for that happen Burns will have to continue to add weight during the summer and put a show in the weight room. Standing at 6-foot-2, he has the length that Smart and Charlton Warren love at that position. but his slim build will need to bulk up. Due to the coronavirus outbreak, the media wasn't able to see Burns in action during spring camp. So, only time will tell if he really can add on the weight to make an impact. Still expect to maybe see him on special teams, though.
Check out the these other First Year Look profiles as well: