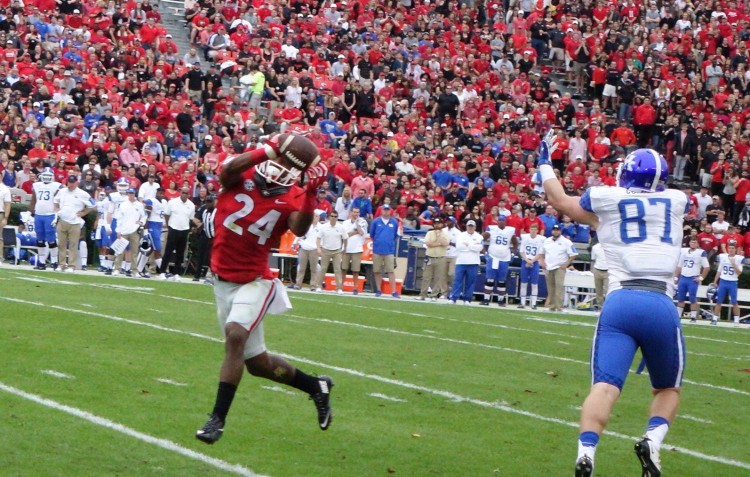 [su_spacer size="20″] Businesslike. That is the word I would use to describe the mood of the team and staff as they approached the Kentucky game. Somehow, in spite of the distractions that erupted last Wednesday and Thursday, the staff was able to gather control of a situation that could easily have resulted in a lack of focus and install a game plan that kept Kentucky on its heels.
[su_spacer size="40″] The crowd was late arriving. Based on sparse attendance at the Dawg Walk and te number of empty seats as the teams warmed up, I thought we might see an attendance figure under 60,000, but as kickoff approached red and black clad fans began to slowly made their way inside Sanford Stadium. Considering the weather and the team's record attendance was good, and the crowd was into the game. More than a few fans at the Dawg Walk were asking questions like "Where do the buses stop?" and "Will the team walk right by me?", leading to the assumption that a fair number of season tickets were being used by first-time attendees.
[su_spacer size="40″]
While Terry Godwin's performance was not a surprise, his talent, and athleticism where, perhaps, fully showcased to Georgia fans for the first time Saturday. Godwin's scoop and score of a fumbled handoff to Sony Michel turned what could have been a momentum killer into a highlight reel fixture.
Godwin directing the 'Wild Dawg' formation is a scene that we are sure to see for the rest of 2015. Mark Richt mentioned in his post-game presser that the team is working on run/pass option plays from the formation. My guess is that Auburn will see both runs and passes from the former high school quarterback, Godwin.
[su_spacer size="40″]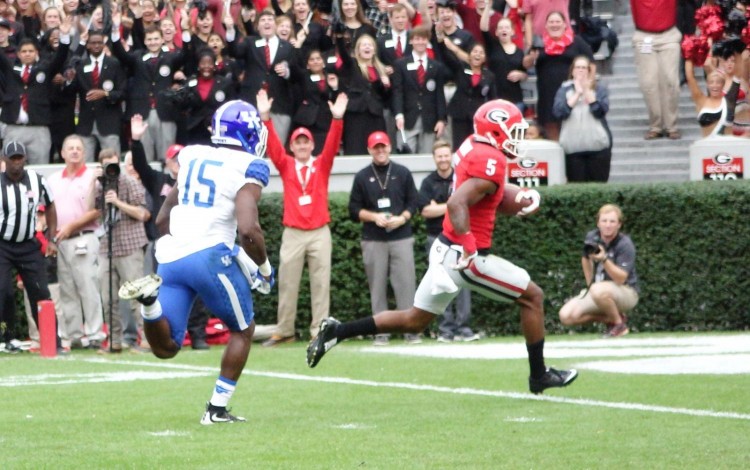 [su_spacer size="40″]
To say that Keith Marshall is a crowd favorite would be a gross understatement. Marshall discarded his knee brace for the first time this week, and he ran with power and quickness that reminded one of his form of two years ago. The sideline run for a touchdown after catching a screen pass from Lambert was a thing of beauty that included a Gurley-esque stiff arm.
[su_spacer size="40″]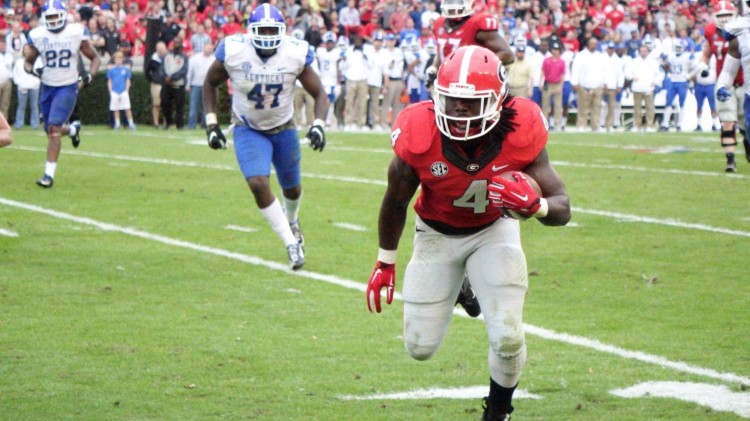 [su_spacer size="40″]
Miscues and missed opportunities still haunt the Dawgs. Isaiah Mckenzie fumbles at the Georgia 20 yard line allowing a Kentucky field goal that turned out to the 'Cats only points. Dominick Sanders' fumble after intercepting a pass deep in Kentucky territory and Marshall Morgan missed a field goal at the end of the first half.
Georgia's young defensive back continue to improve and impress. Juwuan Briscoe and Rico McGraw are making significant contributions as true freshmen.
Offensive line performance improved after the lineup was revamped this week. Kolton Houston told me after the game that the line was determined to forget everything and just have fun on the field. After Isaiah Wynn was poked in the eye and left the game, the position deck was shuffled again as Greg Pyke reentered the lineup, but blocking continued to be good as UGA wore down Kentucky's defense.
The Bulldogs needed a solid performance against Kentucky to provide a positive jumping off point for next week's matchup against Auburn on the plains. The WarTigerEaglePlainsmen beat TAMU at College Station Saturday and will be ready to extract revenge from the Dawgs.