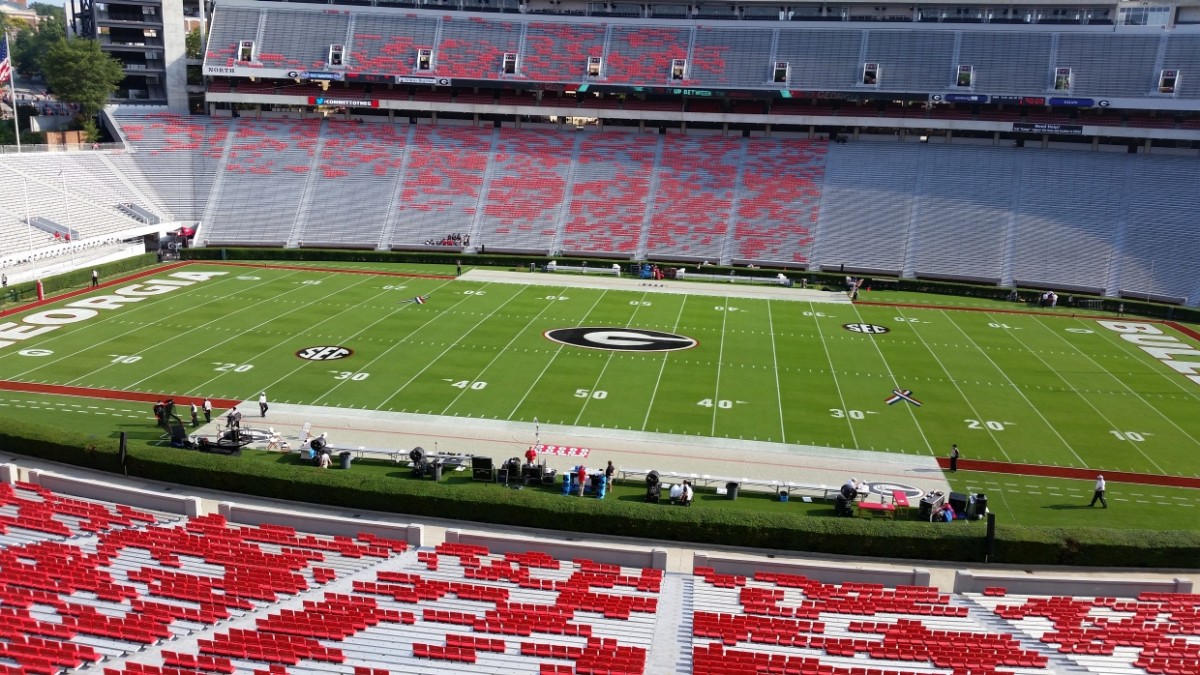 As I start this, kickoff for Georgia's 2015 football season is just two hours away.
And it's a season greatly anticipated by Bulldawg Nation, one they're hoping that will see the Bulldogs back in the SEC championship game for the first time since 2012, when they lost that grueling down-to-the-wire thing to Alabama in the Georgia Dome.
While another 10-3 season this fall would be respectable, Georgia players, coaches and fans are hoping for much more as they gear up to watch an expected power running attack behind Heisman Trophy candidate Nick Chubb and a defense that under second-year coordinator Jeremy Pruitt is expected to grow fangs over the course of this 2015 campaign.
Certainly, with the South Carolina Gamecocks not arriving on the schedule until the Bulldogs' third outing Sept. 19, these Bulldogs have two favorable outings to fine tune their game. With Louisiana-Monroe today and the Vanderbilt Commodores next week in Nashville – a Vandy bunch that was stunned by Western Kentucky Thursday night – Georgia's young performers have a chance to get the butterflies and subsequent mistakes out of their belly before a team of real substance.
So here we are, at the start of another glorious college football season. There's nothing quite like this sport, one which is guaranteed to stoke the emotions of the Bulldog fan base the season long.
All that said, as Mark Richt's charges get set to face the Warhawks (truly a great nickname) at noon, here is what I'm wondering about today's season debut.
If Georgia's newly-named, and somewhat surprising, starting quarterback, Greyson Lambert, will run this football team smoothly. Will the Jesup native and former Virginia starter look cool under fire, throw the ball on time and with accuracy and keep his mistakes to a minimum against a Warhawk defense that can be sticky at times?
If now backup Brice Ramsey, he of the cannon arm, will see action in the first half in a rotation of sorts or will Lambert get almost all of the reps over the first two quarters? And will the team's  hardest worker, Faton Bauta, get in the game if the Bulldogs build an insurmountable lead? … Hope so.
If Georgia's very experienced and talented offensive line live up to its preseason billing and provide gaping holes for Chubb, Sony Michel, Keith Marshall and Brendan Douglas to run through or will those holes be tighter than expected against a gang-tackling Warhawk defense?
If Malcolm Mitchell and Georgia's young receiving corps will impress right out of the gate and, in particular, will the super prepster, Terry Godwin, live up to his reputation of being maybe the naton's top athletic recruit coming out of high school?
If the Bulldogs' defense is going to get off with a bang, making life absolutely miserable for the ULM running backs and quarterback? How will that defensive front play on opening day and will a freshman named Trenton Thompson show immediately he's got the makings to be a truly great one?
If that Georgia outside linebacking crew … Leonard Floyd, Jordan Jenkins, Lorenzo Carter and Davin Bellamy … will meet expectations of them being maybe the top unit in America and will the new starters at inside backer complement them well?
If the Bulldogs' secondary, under Pruitt's tutelage, be one of the top ball-hawking units in the Southeastern Conference, what with the experience this group has over last season?
If Marshall Morgan can be one of the top place-kickers in the country this fall and will Collin Barber put last season's bad punting year behind him and regain his freshman kicking form?
So, lot of questions to be answered as we go full throttle into this new football season.
For the record, the Bulldogs get it going superbly today … with a 52-17 smashing of the Warhawks.
[su_spacer size="80″]