[su_spacer size="20″]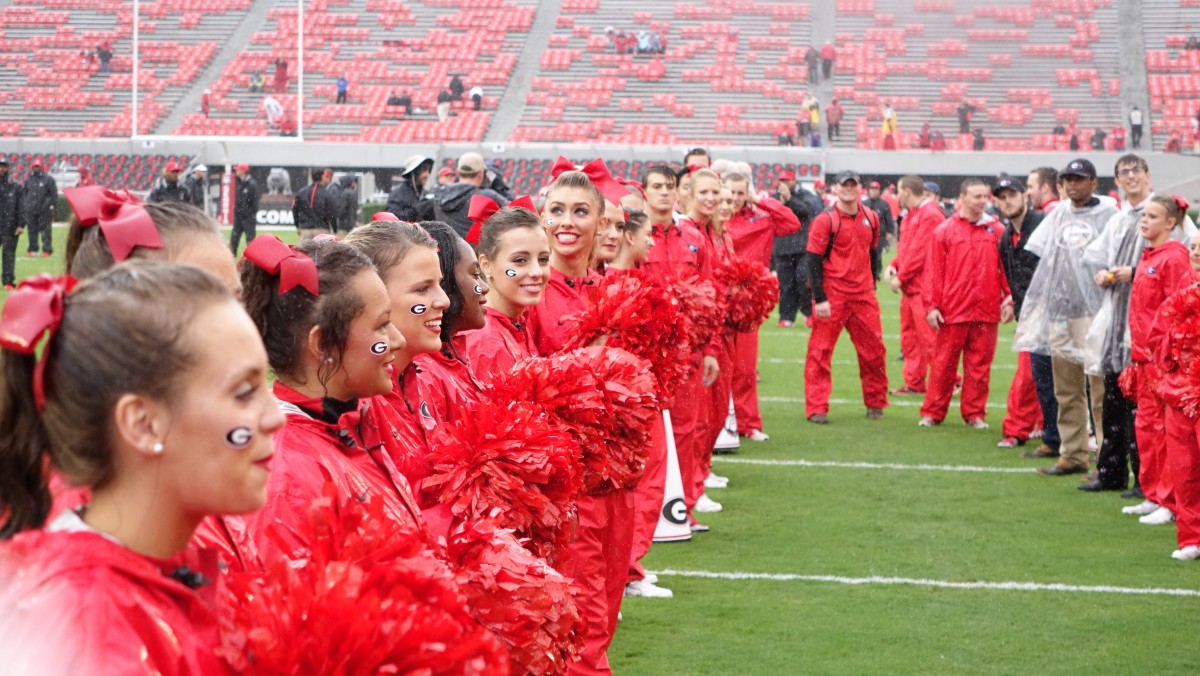 [su_spacer size="20″] Well, one of the most prestigious Georgia football games in some time will be kicking off in roughly one hour here between the hallowed hedges of Sanford Stadium.
[su_spacer size="20″]
[su_spacer size="20″]
Notice, I said "prestigious," not the most important. Today's SEC skirmish against the Alabama Crimson Tide isn't any more vital − as for as conference title hopes are concerned − than were those league battles last season against South Carolina and the Florida Gators when the Bulldogs floundered mightily and saw their hopes of making it back to the Georgia Dome go by the wayside.
And, too, even with a loss to Nick Saban's team this afternoon, Georgia would still have a strong chance to win the SEC East Division crown and earn the early December trip to Atlanta to face the eventual champion out of the West.
Now, that said, the unbeaten Bulldogs' confrontation with regal, once-beaten Alabama is still HUGE on so many fronts. Win this game and you go to 5-0 and likely surge toward a top five national ranking. Win this game and your hopes are very much alive for the four-team college football playoff at season's end. Win this game and you gain enormous respect around the country, which automatically is bestowed on any team that conquers the vaunted Alabama Crimson Tide.
And maybe best of all, a taking down of the Tide this afternoon would provide Mark Richt's team with a sense of redemption and gratification after the ugly 41-30 blackout loss to 'Bama here in the stadium on that 2008 night and the grueling 32-28 setback to the Crimson Tide in the 2012 SEC title game, when the Bulldogs finished five yards away from Richt's third conference crown and a berth (and likely victory) against Notre Dame in the BCS championship game.
So, as mentioned, while another loss to Alabama won't necessarily derail Georgia's SEC title aspirations, it would agonizingly send this thought throughout the Bulldawg Nation: "Are we ever going to beat 'Bama again?" And likewise would again stir up all the discussion about Richt struggling in the big-game scenarios.
I think it's pretty simple as to what today's game will boil down to: Namely, who's going to best run the football against the opposing team's stout defensive front? Indeed, can the potent Nick Chubb and Sony Michel-led Georgia rushing attack find success against the SEC's leading run defense, as Alabama yields a meager 56 yards per game on the ground? And, likewise, can Jeremy Pruitt's defensive unit slow the power running of the Tide's 242-pound running back, Derrick Henry (an original UGA commit), as well as the quick bursts of Georgia native Kenyan Drake?
If both teams' running games are tempered somewhat today, that would put the contest into the hands of the two opposing quarterbacks, Georgia's Greyson Lambert and Alabama's Jake Coker. And again, here is where that defensive pressure comes in. Lambert, overall, has performed splendidly since making the transfer from Virginia as the Jesup product has completed 76.5 percent of his pass attempts with seven touchdown passes thus far and nary an interception. But, today, he's going to be facing the toughest pass rush of his collegiate career. How will Lambert handle it? And, also, how will 'Bama's Coker (who like Lambert also stands 6-5 in height), deal with the Bulldogs' pass rush of Leonard Floyd, Lorenzo Carter, Jordan Jenkins and the like? Admittedly, Coker's play thus far has been a bit spotty as the Florida State transfer has completed just 55.3 percent of his passes and has thrown four interceptions.
With these two football teams being identical in so many areas, as always this game will likely come down to which team avoids killing turnovers and which one performs the best in special teams play.
Bottom line, folks, if the Georgia Bulldogs are ever going to defeat the Alabama Crimson Tide, this is the day to do it. I don't care if 'Bama's back is to the wall and the Tide is smarting coming off that second consecutive loss to Ole Miss two weeks ago or that Alabama is upset over being an underdog for the first time in 72 games, if Georgia has the better football team the Bulldogs will go out and show that to the collegiate nation today. No excuses not to win this football game … none!
On a wet and soggy day between the hedges (and both teams have to play in it), it's Georgia 28, Alabama 21!
And, as always, GO DAWGS!
[su_spacer size="80″]