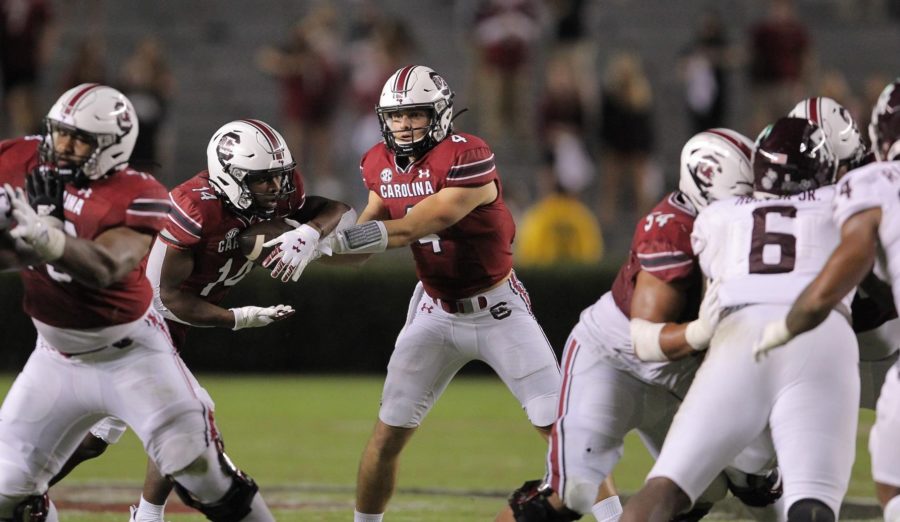 Mike Bobo (Interim Head Coach)
Two weeks ago, Mike Bobo was named South Carolina's interim head coach after Will Muschamp was fired. Bobo played football at Georgia in the 1990s and coached in Athens as an offensive coordinator under former head coach, Mark Richt. This will be his first time returning to Sanford Stadium as a coach since taking the gig at Colorado State in 2014. Bobo will be campaigning to take over as the full-time head coach next season at USC, so he will be looking to knock off Georgia and beat a close personal friend in Kirby Smart.
Luke Doty (QB, #4)
South Carolina freshman quarterback Luke Doty took over the second half of their matchup with Missouri last Saturday. The Myrtle Beach, South Carolina native completed 14 of 23 passes for 130 yards with no touchdowns and one interceptions. It seems like he will be starting quarterback moving forward against Georgia. Doty was a four-star dual-threat signal caller out of high school, and has seen limited action this season behind Collin Hill. Saturday could be Doty's first start of his career in Columbia.
Kevin Harris (RB, #20)
South Carolina sophomore running back Kevin Harris currently leading the SEC in rushing yards despite being a three-star coming out of high school. As a freshman, Harris only played in six games and rushed for 179 yards on 21 attempts with four touchdowns. The Hinesville, Georgia native has already surpassed that number and had his breakout game a couple of weeks ago against Ole Miss. Harris rushed 25 times for 243 yards and five touchdowns in the loss. Georgia could have their hands full as Harris prepares to show out against the team from his home state that didn't offer him.
Nick Muse (TE, #9)
Former William & Mary transfer tight Nick Muse has been a productive part of South Carolina's offense so far this season. The senior has hauled in 22 catches for 294 yards, although he hasn't broken the plain yet for a score. He had a season-high six catches for 67 yards against Missouri last week. Muse is used more downfield rather than short go-routes across the middle. With wide receiver Shi Smith injured, Muse should take on a more primary role in the passing game. Look for him to try and continue to gash Georgia's secondary on Saturday.
Kingsley Enagbare (DL, #52)
South Carolina junior defensive lineman Kingsley "JJ" Enagbare has been a key factor so far this season for the Gamecocks. He's 6-4, 270-pound and is a bullet coming off the line of scrimmage. The Atlanta native has a potential career in the NFL if he can keep producing at a high level. He is currently tied for most sacks in the SEC. Enagbare has a knack for getting after the quarterback, so Georgia's offensive line will have to keep him within arm's length.
Ernest Jones (LB, #53)
South Carolina's Ernest Jones is one of the best at his position in the conference. The junior linebacker ranks among the top-three in the SEC in total tackles. Jones has been an anchor for the Gamecocks on defense again this season after leading the team in tackles as a sophomore in 2019. His coaches love his physical nature and on-field intelligence. At 6-2, 230-pound, Jones has the size and physicality to compete at the next level. The Waycross, Georgia native was a three-star coming out of high school, but has now propelled his way up to being one of the best defenders in the SEC. If the Bulldogs want to be successful on offense, they're going to need to keep Jones occupied.