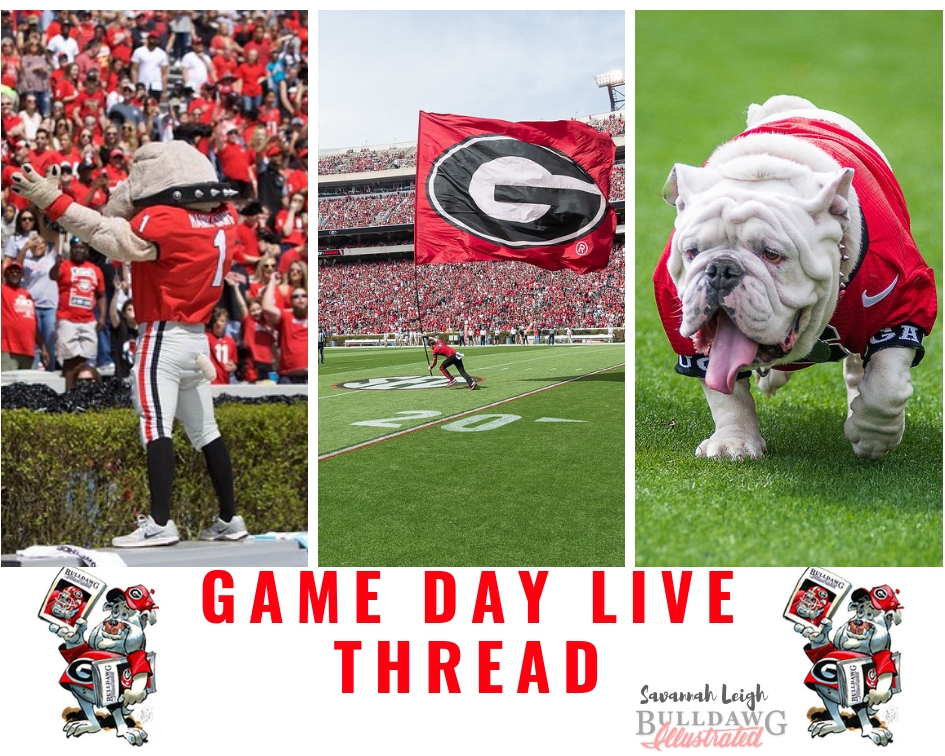 Welcome to Bulldawg Illustrated's Game Day Thread for the matchup between No. 2 Georgia and Vanderbilt. This is week six for the 2018 football season as the Bulldogs take on the Commodores. We have your game day info, where to watch or listen to the game, college football scores, and a live chat! Tune in here for great insight into Georgia and Vanderbilt. 
Game Day Information & Timeline
Match-up: #2 Georgia (5-0)(3-0) vs. Vanderbilt (3-2)(0-1)
Date: Saturday, September 29, 2018
Location: Sanford Stadium, Athens, GA
Roster:
Schedule:
Season Stats: 
GAMEDAY ACTIVITIES:
7:00 a.m. —Tailgate locations open on campus
3:00- 5:00 p.m. — Butts-Mehre Heritage Hall Open
5:15 p.m. — Dawg Walk
5:30 p.m. — Gates Open
7:39 p.m. — Kickoff
For any questions concerning game day and going into the stadium
---
T.V./ Radio Info
TV:
CHANNEL:  SECN @ 7:30 p.m.
LIVE STREAM: GEORGIA DOGS
TV ANNOUNCERS:
Play-by-Play: Tom Hart
Color Analyst: Jordan Rodgers
Sideline: Cole Cubelic
RADIO:
BULLDOG NETWORK STATIONS:
WSB AM 750 & WSB FM 95.5 (Atlanta, GA)
WGAU AM 1340 & WNGC FM 106.1 (Athens, GA)
Audio Stream: GEORGIA DOGS| TuneIn
Satellite: Sirius 81, XM 81, internet 81
BULLDOG NETWORK RADIO ANNOUNCERS:
Play-by-play: Scott Howard
Color Analyst: Eric Zeier
Sideline: Chuck Dowdle
---
GEORGIA vs. VANDERBILT MATCHUP
Georgia leads  56-20-2 in the all-time record against Vanderbilt where the series dates back to 1893. The Bulldogs finally get to host their first night game of the season. Since 1922, Georgia is 76-18-2 in Homecoming games. Vanderbilt will be Georgia's homecoming matchup for the 25th time and is 20-4 against Vanderbilt. However, it was the Commodores who beat Georgia last on Homecoming in a 17-16 nail-biter. Georgia outscored Homecoming opponents 2,536 to 1,192.
Last season, the Bulldogs defeated the Commodores 45-14. The Bulldogs run game was in full force tallying 423 yards on 54 carries. Sony Michel rushed for 150 yards, Nick Chubb rushed for 138  and scored three touchdowns. The win over Vanderbilt last season gave Georgia its first 6-0 start since 2005 and first six-game winning streak during a season since 2012.
Georgia averages 43.2 points a game while its opponents average just 13. The Bulldogs are on pace to set a record for scoring average in a season having scored 40+ points in the first four wins and 38 against Tennessee. The 2012 Georgia team holds the school record at 37.8 points a game. Georgia's offense already has 24 touchdowns this season while the defense and special teams each scored two touchdowns apiece themselves.
Interesting Tidbits about the 2018 Georgia team
–Jake Fromm is on pace to shatter school records in 2018. Georgia's school record is 67.9 completion rate by Hutson Mason in 2014. The SEC record is 72. 3 percent held by Tim Couch from Kentucky. Fromm is 17-2 as the starter, including 5-2 versus top-25 schools. He ranks No. 3 in the nation in Completion Percentage and No.1 in the nation in Passing Efficiency. Fromm completes 72.5 percent of his passes and has a 166.28 passing efficiency.  Missouri marked the first time this season Fromm played past the third quarter.
— Georgia has a four-headed monster this year at running back. Elijah Holyfield leads the way with 52 carries for 368 yards and two touchdowns. He averages 7.1 yards a carry. D'Andre Swift is close behind him with 52 carries for 240 yards and four scores. He averages 4.7 yards a carry. Brian Herrien has 26 carries for 156 yards and one score while averaging 6.0 yards a carry. Lastly, James Cook has 23 carries on 109 yards averaging 4.7 yards per carry.
— The Bulldogs offensive line returned 4-of-5 starters on the line. Sam Pittman's OL helped pave the way for 473 total yards against South Carolina. 271 of those yards were on the ground. Against Missouri, the Bulldogs piled up 445 yards of offense and then 441 against Tennessee. The Volunteers gave up 251 yards on the ground.
— Georgia's defense is tied for 3rd in the SEC in Scoring Defense. The Bulldogs defense held opponents scoreless in 11 of 20 quarters.
— Rodrigo Blankenship is on his way to putting his name in the Georgia record books. He's 27-of-27 in PATs and has made 7-of-9 field goals. Blankenship leads the nation with 37 touchbacks on 39 kickoffs. He has 125 career touchbacks and is on pace to beat Kevin Buttler's 169 touchbacks. He has made 116 consecutive PATs and is three PATs away from getting the record over Blair Walsh.
*Special thanks to Georgia sports communication for the game information*
---
Scores Around the Country
---