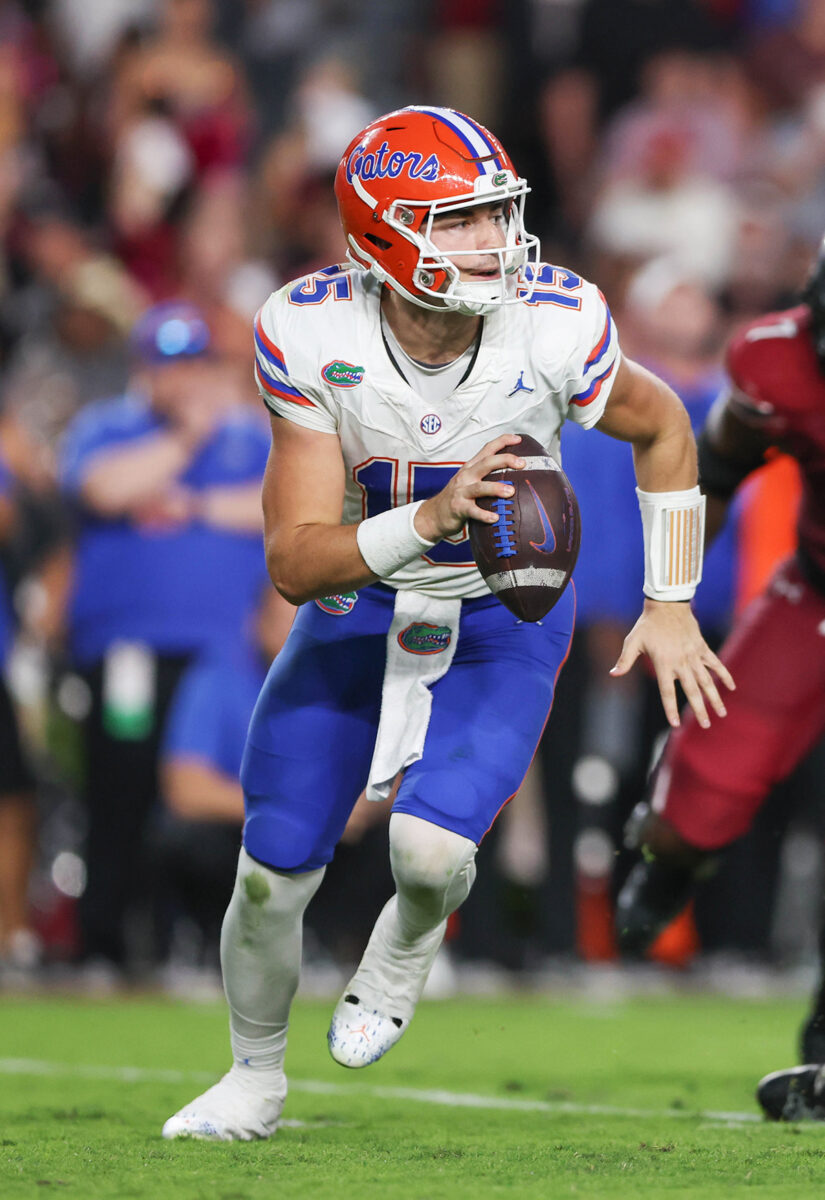 Billy Napier (HC) – Napier is entering his second season as the Gators' head coach, and it has certainly been a bit of a roller coaster. The Gators struggled mightily during his first season leading the Gators, even with a top-five draft pick at quarterback. This season, Napier has picked up multiple impressive wins such as dismantling Tennessee and beating South Carolina in Columbia, but they have also been handed two brutal losses against Kentucky and Utah. If Napier wants to prove that he is fit to be the head coach in Gainesville, then he needs to pick up a win against Georgia, something that will be no easy task.
Graham Mertz (QB #15) – After being the laughingstock of the quarterback position while at Wisconsin, Mertz has quietly put together an impressive season since transferring to Florida. So far through 2023, Mertz has thrown for 1,897 yards, 12 touchdowns, and just two interceptions. His completion percentage is nearly up 20% from 2022, and Mertz is less than 300 yards away from eclipsing more yards than he did all of last season. Passing against Georgia's secondary has not been easy so far through 2023, but Mertz will need to have a monster game if the Gators hope to upset their archrivals.
Ricky Pearsall (WR #1) – Pearsall is having his best statistical season in 2023 having caught 44 passes for 619 yards and three touchdowns. The Chandler, Arizona product is coming off his best game in a Gator uniform recording ten receptions for 166 yards and a game winning touchdown against South Carolina. Pearsall is in his fifth and final season and has been Mertz's go to target. The wideout is an impressive route runner and can line up both in the slot and on the outside. Limiting Pearsall's production will slow down the Gator passing attack.
Montrell Johnson Jr. (RB #2) – Johnson Jr. is the Gators' leading rusher so far through 2023 having carried the ball 85 times for 438 yards and four touchdowns. Florida's offensive strength lies within their two running backs, and a lot of Florida's passing game success can be credited to Johnson Jr. and Etienne opening up the defense through successful rushes. Johnson Jr. is an extremely physical back and seeks contact. He also has never given up a fumble since arriving at Florida. The Gators will utilize Johnson Jr. heavily against the Bulldogs.
Trevor Etienne (RB #7) – Trevor Etienne, younger brother of Travis Etienne (Jacksonville Jaguar running back), is having another impressive season, having already recorded 407 yards and three touchdowns on 69 carries. Etienne splits carries with Montrell Johnson Jr. but is certainly not a back up running back. The Louisiana native is an extremely versatile back and thrives catching passes out of the backfield. Look for the Gators to take advantage of Etienne's skillset as he looks to replicate his brother's success in EverBank Stadium.
Shemar James (LB #6) – The sophomore from Mobile, Alabama is the Gators' leading tackler by 19 total tackles so far this season. The talented linebacker has already surpassed his numbers through 2022 and has a minimum of five games remaining to add to that tally. James is especially effective against the run as he is exceptional at clogging rushing lanes, however, his coverage skills are not meant to be discounted as he is a true three-down linebacker. James will be asked to lead the Gators' defense against their toughest test of the season against the Bulldogs.
Princely Umanmielen (DE #1) – Umanmielen is the Gators' most impressive edge rusher having tallied three sacks so far this season. While he is effective at getting to the passer, Umanmielen has a high motor and is not afraid to chase down players and make plays all over the field. Georgia has had multiple injuries to key players at the right tackle position through the first seven games, so Umanmielen certainly poses a problem when rushing from that side. The Bulldogs will need to handle the talented pass rusher to keep Carson Beck comfortable in the pocket.