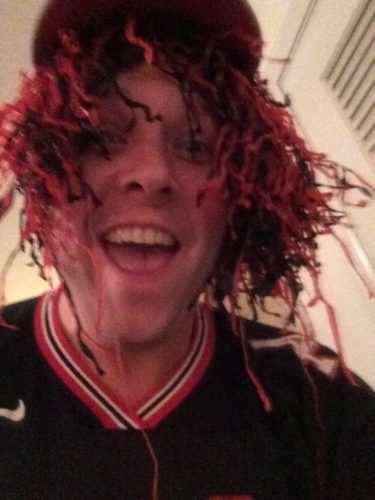 Han Vance on Georgia football: Far from the greatest football program ever, though a solid and old one to say the least, the Georgia Bulldogs do have one legitimate argument for the single greatest college football bowl games program of all-time. The University of Georgia will face the University of Texas at 8:45 p.m. (EST) on the first day of 2019, a year I have pointed to since 2016 as being a potential spot for the great and last glory most coveted by the fanbase, especially alumni.
Folks can argue this point all they want, and they do, but it just means more when you attended the school and are a rabid fan of the football program through thick and thin. If you grew up with a Georgia-themed room but didn't go there, it is lessened. If you went there but abandoned the team when they had a dip to .500 – like loads of Alabama fans did their team – the meaning is less. The alumni who consistently bleed Red-and-Black are the people I want a crystal trophy for the most, and as an alumnus myself I want it won only the right ways, within the archaic existing rules.
Going to go on a brief little ramble here, before I go back to the cold hard football realty. This is my last article of my contract wth Bulldawg Illustrated, and that's what I want to do with it. I'm going personal history, then UGA bowl history, then I'm out. Thank you for reading me!
A "New Year's 6" member, the Sugar Bowl has profound meaning for me this season. As the three states I grew up in are Texas – I was even born right in Austin – and Georgia and Louisiana. This is a personal coalescing I would have surely witnessed firsthand any other year. But, after attending the Memphis-based Liberty Bowl and Pasadena's fabled Rose Bowl, and noting the national championship was to be played, later, in California, which I frequent, I promised my lovely wife I wouldn't be bowl tripping in the holidays. For her part as an alumna, she made sure I will be watching the game in comfort, at a beach house in tony Rosemary Beach, Florida, another Southern state where I lived, in '95.
Unrelated, I also lived in S. Carolina for a young year and Tennessee for one wonderful summer. So these fables I spin around football and myriad other subjects, here and elsewhere, have a distinctly Southern, some call that Faulknerian, backbone. I make no apologies for being Southern.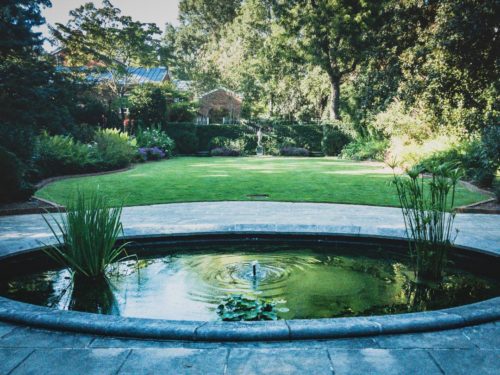 Photo by: Michael Santini
Bowl-wise, I've been to: Peach (7x), Rose, Liberty, Outback and Music City. Love bowl trips. I've written (travel/culture articles) about bowl trips for BI to Memphis and Pasadena.
Way back when I showed up at UGA in 1990, the legendary Vince Dooley era was suddenly fading in the rearview, as Ray Goff was coaching. The former Georgia quarterback, known primarily as a good recruiter, actually even hauled in current Georgia head coach Kirby Smart as an All-SEC to-be defensive back, before eventually getting axed. Georgia had suddenly resurged, after some typical Goff era struggles early in his tenure. Georgia made the Independence Bowl in Shreveport and beat future SEC member Arkansas. The next year was Goff's peak, as Andre Hastings, the first friend I made up in Athens, at orientation, and Garrison Hearst, who I only saw off-field in person wearing a gaudy gold Georgia watch in advisement, had the ball distributed to them by my fellow Marietta High alum Eric Zeier. They won the second-tier Citrus Bowl in Orlando over a strong Ohio State and were a few points away, against newly-SEC East Tennessee and Florida, from perfection.
You see, I had moved schools a bunch, three elementary schools, four middle, three high schools, one twice. A few times I became a a shiftless or wild boy, partially by pieces of my nature, but now I feel, it was mostly from these transient gypsy experiences. One place I'd be a straight-A leader in student government, top athlete in my grade playing multiple sports. The next I'd reinvent, with mixed results. Over-and-over. In fact, I'm writing a (poetry) book about reinvention, called "RE: invent" (2019 release date, Silver Stone Press).
Only went to one college, though. Twice. 1990-1993, 1996-1998. 1785 forever! Love UGA, it symbolizes permanence to me. It has a vivid past, an active present, a glorious future…for me.
I had been routing for flashy Miami in a big way in high school and almost went to school down there, but the student loans would have been so huge, it being an elitist private school and Georgia being in-state and easier to get into at the time. My sophomore year grades were bad, and I eventually decided to either go straight to UGA or attend Georgia Southern – who I still have a big soft spot for as a result – and transfer to Ol' Georgia. I also considered playing my senior year of high school football back at Lassiter High, with my best friend from my graduating class Jeff Childers (RIP), after being away from the sport for a few years and attending an open campus high school called Oakwood. I would have played wide receiver for current national champion Valdosta State, if I'd chosen that path. Always regretted Zeier and I not timing out right in Marietta proper.
Back to it: Replacing a legend is said to be the toughest thing to do in college coaching and Vince Dooley loomed with a huge shadow as athletic director. Soon enough, it was the Donnan of a New Era, as the T-shirts said,  Jim Donnan coming on board to coach Kirby and company after Ray Goff (2-2 in bowl games). Donnan went 4-0 in bowls. His replacement Mark Richt was a great bowl coach, best in the whole SEC in winning percentage at a time that he coached and going 2-1 in Sugar Bowls. He battled Steve Spurrier, Phil Fulmer, Urban Meyer and Nick Saban, and my current family member by marriage, Houston Nutt. At a not so distant point in time, Saban was just .500 in career bowls.
For all his deserved accolades, the athletic director that hired all of these Georgia football leaders, Coach Dooley, was not a great bowl coach. Dooley is most-noted for close losses in the 1982 and 1983 Sugar Bowls, after winning the (January) 1981 Sugar Bowl. He cost Texas the 1983 national title by beating them 10-9 in the old Cotton Bowl after that regular season, the year after Herschel bolted early for the USFL to play for owner Donald Trump. (Yes, it's a crazy world!)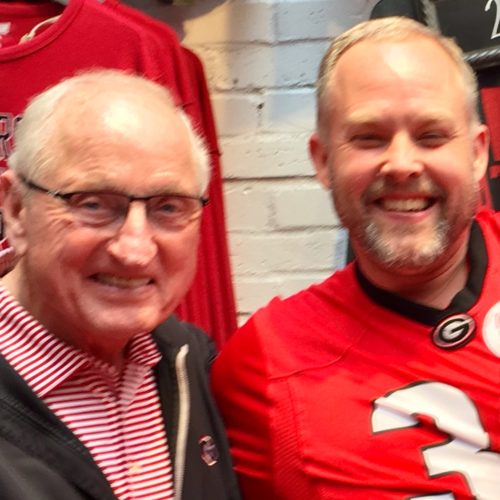 Photo by: Mrs. Jami Buck-Vance
Georgia has moved into second nationally in total bowl appearances, with all CFP games counting as bowls. Bama has 69, Georgia 55, Texas 55, Nebraska 53, Tennessee 52. By winning the Rose Bowl and thusly advancing, UGA tied Texas for the 2nd-most bowl games of all college football programs, across the wide country. Lots of teams, lots of schools.
Not only did our league champion Georgia Bulldogs tie the Tennessee Volunteers for second-most SEC titles (13) last season, UGA passed the beleaguered Vols in SEC teams'  bowl appearances by qualifying for the Rose and the national championship game, Vols disqualified due to their record. Georgia sits alone at second in the SEC in bowl appearances by three whole games after Tennessee failed again, losing their would-be spot to little Vandy. Note: I counted this year's scheduled games.
Most bowl wins: Bama 40, USC 34, Georgia 31, Oklahoma 29, Penn State 29, Texas 27. Texas is a truly legitimate football school and nice bowl pairing for the Dawgs, y'all.
Behind only the VATech Hokies who barely qualified this season by rescheduling a weather-related cancelled game, Georgia has the second-longest recognized bowl appearances streak going at 22. I was at our family's house in S. Carolina cheering lustily for Virginia to end them the week prior. Before failing to qualify on the field this season, FSU had actually played in more consecutive than either, prior, but eligibility problems caused them to have their streak vacated. Vacated means it does not count for said school, according to the rules of NCAA records. Ohio State suffered a similar fate to their long bowl streak, in an invalidated Sugar Bowl win over Arkansas.
These three rankings looked at cumulatively do show the high quality of UGA's football program, and in the bowl appearance streaks category otherwise superior Bama is not up there. They were straight garbage. No other school shines in the top three in all three of these key categories, just mighty Georgia. I love the bowls, and this proves that we are easily one of the most-consistent programs now and in the entirety of the college bowl era.
One more hurdle to jump, out on the horizon. With national titles way-way back in 1942 (split) and way back 1980 (unanimous), it has been so rare and such a long time since Georgia dominantly shined at the highest level. While Bama has 17 national championships. Longer piece by me on this forthcoming elsewhere: the Alabama-Georgia series has replaced the wild "Wide Right" of Miami and FSU as the national story of history repeating in two top-tier programs, one somehow always winning over the other the same way. FSU would have way more national titles if they had just quit doing that sooner. Just ask Miami coach Mark Richt, an alumnus of Miami and former FSU assistant.
Georgia alum Kirby Smart was hired by Greg McGarity to improve the program over Richt and is 2-1 in bowl games. They look for him to stay above .500 in NOLA. A loss here to an upstart, who is in a resurge, would be somewhat devastating to the program, I feel. Although, everybody speaks to the greater motivation being firmly on the Longhorns' side. Georgia still needs it.
Next year's champions…the national championship game of next season will be played back in the same dumpy dome in the Big Easy on January 13th, 2020. 20-20 visions of extended excellence.
31-20-3 overall in bowls, the University of Georgia is extending the longest active bowl streak in the SEC at a time it was generally considered the toughest football conference almost every year. Georgia has been in the Sugar Bowls in the Januarys of: 1947, 1969, 1977, 1981, 1982, 1983, 2003, 2006, 2008 and 2019. In all of Georgia's biggest years – except for after the 1942 and 2017 regular seasons when it played in the Rose Bowl both times – UGA played in the Sugar Bowl. The sUGAr matters.
Georgia lost one game in calendar year 2017 and three in 2018. Could 2019 be the year? If so, Georgia will have to win it all in the biggest game, played well into 2020. That's how the biggest bowl game works. Make no mistake that the national championship games of the CFP are still bowls.
Thanks, again. GO DAWGS!!! – Han Vance (BA '98)
on Twitter: @ h a n v a n c e
on Facebook: Big Hairy Blawg