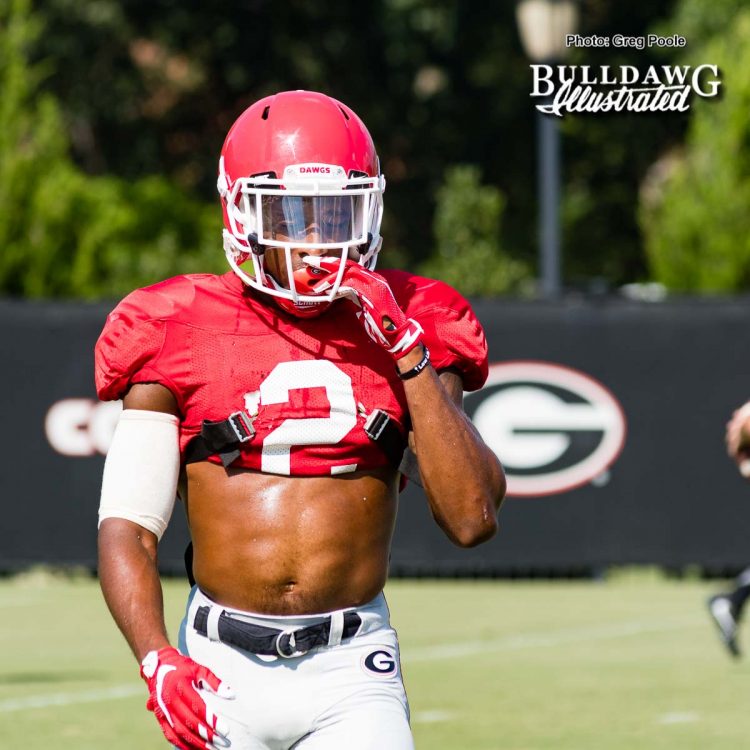 In the Bulldogs first practice in preparation for Florida on Monday afternoon, coaches were constantly preaching physicality and technique to their players.


Offense:

The wide receivers got a lot of encouragement from receivers coach James Coley to be physical and to catch the ball. Coley said, "There isn't going to be any cuteness out here, it's all about being physical." He also encouraged his guys to be violent when working against opposing defensive backs. He specifically told Trey Blount that he had to be more physical and gave Javon Wims praise for his physicality.


Coley was encouraging this because he expects the Florida Gators to run a lot of press man when covering Georgia's wide receivers, which he specifically mentioned. This group seems to be healthy for the most part but I did not see Jayson Stanley working with the group during the media viewing period.


Coley also wants his receivers to consistently catch passes and not drop the ball as he said, "If we can make it Monday, Tuesday, and Wednesday, then we can make it Thursday." I believe Coley is saying that if you can make catches and do your job now then you can do it at any time. Mecole Hardman did have one drop on a tough over the opposite shoulder ball, but he caught everything else in practice.


The offensive line for Georgia has been pretty steady with who they are starting and that did not change in Monday's practice. The Bulldogs look to be working with the same starting offensive line with Isaiah Wynn, Kendall Baker, Lamont Gaillard, Solomon Kindley, and Andrew Thomas being the guys from left to right.


Defense:

Daquan Hawkins-Muckle was the only person missing on the defensive side of the ball. Rashad Roundtree was out there, but he was in street clothes and not participating. Reggie Carter, Trenton Thompson, and David Marshall all seemed to be regular practice participants.

Defensive line coach Tray Scott was telling his guys to stay down, stick your man, turn and burst. Scott was also constantly yelling for pad level so he's clearly preaching leverage to his group. While Scott preached this, defensive coordinator Mel Tucker was working with the defensive backs and he was constantly telling his guys to keep their hands inside and tight. The Bulldogs may be running some press of their own against the Gators.


Scout's watch

There was a scout from the Cardinals and Giants and they both seemed to have their focus mainly on the Bulldogs defensive players.


Georgia will continue preparing for their Saturday game with SEC East rival, Florida, on Tuesday.



---
Recent Articles by Michael Pope


[pt_view id="b8629e37y8″]