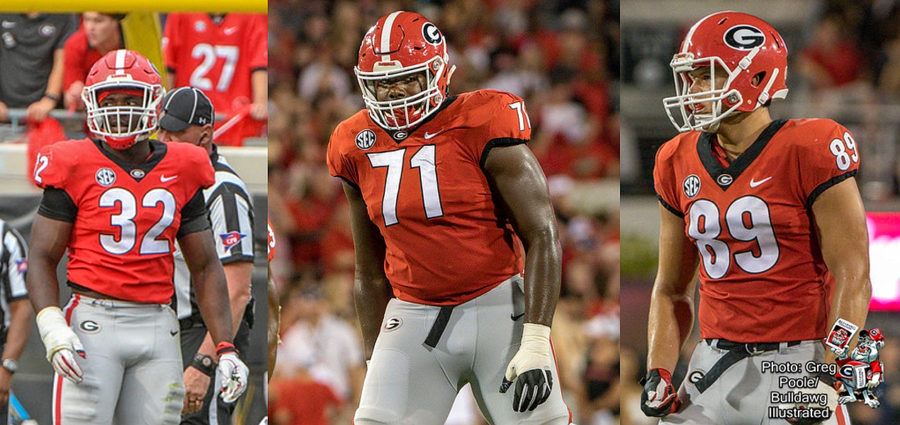 Junior inside linebacker Monty Rice, junior offensive tackle Andrew Thomas, and senior Charlie Woerner have been named the three captains for the UGA football team for Saturday afternoon's game against Murray State
Game 2 — here we go! 😤#ATD #GoDawgs pic.twitter.com/M5tY71aV3A

— Georgia Football (@GeorgiaFootball) September 6, 2019
Monty Rice, No. 32
Monty Rice is a 6-foot-1 and 235 lbs junior inside linebacker who was part of UGA's 2017 recruiting class out of James Clemens High School in Madison, AL. Rice has played in 25 games for the Bulldogs, starting over seven of them, and has racked up 88 tackles, including 3.5 for a loss, and 1 forced fumble. Last week, in Georgia's season opener on road versus Vanderbilt, Rice had a team-leading 7 tackles along with defensive back Mark Webb, Jr.
Andrew Thomas, No. 71
Andrew Thomas is a 6-foot-5 and 320 lbs junior offensive lineman out of Pace Academy in Lithonia, GA. He was part of the Bulldogs' 2017 signing class. Thomas started as a true freshman at right tackle in 2017. He played in and started all 15 games for the Dawgs that season and was named to the Freshman All-America Teams by ESPN, USA Today and the Football Writers Association of America. In 2018, Thomas moved over to left tackle where he played in and started in 13 games for Georgia. Last week Saturday in Nashville, TN, Thomas played in and started in his 29th game for UGA and was named SEC Offensive Lineman of the Week for his performance versus the Vanderbilt Commodores.
Charlie Woerner, No. 89
The son of former Bulldog legend and NFL safety Scott Woerner, Charlie followed in his dad's footsteps and signed with the University of Georgia in 2016 out of Rabun County High School in Tiger, GA. Charlie Woerner played in his 41st game for UGA when he got the start at tight end for the Dawgs' season opener versus Vanderbilt in Nashville, TN. The 6-foot-5 and 245 lbs senior has 27 receptions for 305 yards over his college football career at Georgia.