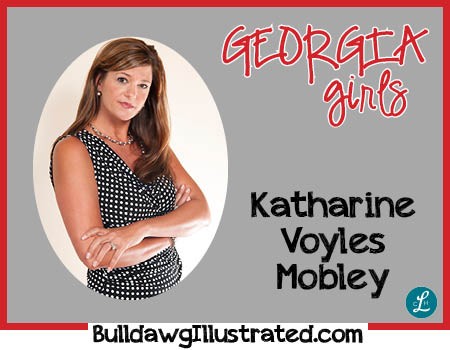 Name: Katharine Voyles Mobley
Hometown: Kennesaw, GA
Current town: Woodstock, GA
Years at UGA: 1994-1998
School: Terry College of Business, Marketing
Family: Fun-filled Mom of two boys (11 & 8) Oldest Middle Name Brooks for Brooks Hall, Dogs (Buttercup & Baxter – yes for Baxter St. in Athens), Loving wife, Marketing Mixologist (aka CMO) for WeCareCard – think GoFundMe meets MasterCard®
Describe Athens in three words:
Eclectic, Timeless, Charming
Share a favorite memory from your time at UGA: 
That is EASY – UGA vs. Tennessee October 7, 2000 – UGA beats Tenn 21 – 10 for the first time in 12 years – we jumped the hedges and took to the field. Not going to lie it was a bit scary being near the goal post when it came down but seeing it carried thru the streets of Athens while the crowd chanted "It's great to be a Georgia Bulldog" over and over was something that will always stay with me.
Band you heard while living in Athens:
Mel and the Party Hats, Nathan Shepard, and of course Widespread Panic (who can forget that infamous FREE concert)
A favorite restaurant in Athens:
Everyday – Sons/Steve's – you couldn't beat 32oz of cold beer, hot fries and crispy chicken fingers. Special Occasions – The Last Resort, East West Bistro (best sesame crusted chicken EVER – if they still serve it)
A favorite shop in Athens:
Sadly it isn't around anymore. Junkman's Daughter's Brother – Now it is the UGA Bookstore – my kids LOVE IT!
One thing few people know about you:
I was declared a ward of the court at 13, lived with multiple families until I graduated high school and put myself through college via scholarships/grants/loans and working my butt off as a waitress!
Favorite books and blogs:
Any book by Max Lucado, Atlanta Tech Blogs and  Hypepotamus.com
Describe your typical Bulldog game day:
Rise before sunrise, grab a Chick-fil-a biscuit, find the perfect tailgating spot (just off Hull Street), hang out with friends and drink a few cocktails, head in for kick off and cheer for the DAWGS!
Share a tailgate recipe:
Complements of my mother
The Perfect Bloody Mary
1 Lemon wedge or 1 Lime wedge
2 oz Vodka
4 oz Tomato juice
2 dashes Tabasco Sauce
2 tsp Prepared horseradish
2 dashes Worcestershire sauce
1 pinch Celery salt
1 pinch Ground black pepper
Garnish with Pickled Okra – or celery for those less brazen
Previous Georgia Girls Spotlights:
Christy Griner Hulsey from Statesboro, GA
Katie Foote Weinberger from Charleston, SC
Sidney Wagner from Charleston, SC
Nan McCollum Myers from Thomasville, GA
Helen Castronis from Atlanta, GA
Beth Bridges Lacefield from Smyna, GA
Carol Southerland Williams from Athens, GA
Brandi Ray West from Charleston, SC
Molly Dozier McDowell from Augusta, GA
Lucy Addison Williams from Richmond, VA
Jenny Greer and Erin Bickley from Macon, GA
Breckyn Alexander from Athens, GA
Meredith Gurley Johnson from Sandy Springs, GA
Erika Hollinshead Ward from Atlanta, GA
Lindsey Epperly from Atlanta, GA
Sterling Eason from Charleston, SC
Annie Griffin and Robin Gerber from Atlanta, GA
Mary McGeachy Butin from St. Simons Island, GA
Cullen Albright O'Steen from Athens, GA
Amanda Maddox from Washington, D.C.
 Valarie Davis Lee from Columbia, SC
Julianne Taylor from Charleston, SC
Gabrielle Bratton from Raleigh, NC
Rachelle Hutchinson from Snellville, GA
Wendy Walker Way and Haley Way from Perry, GA
Sarah Chancey from Conyers, GA
Jenny Sligh and Kitty Culpepper from Athens, GA