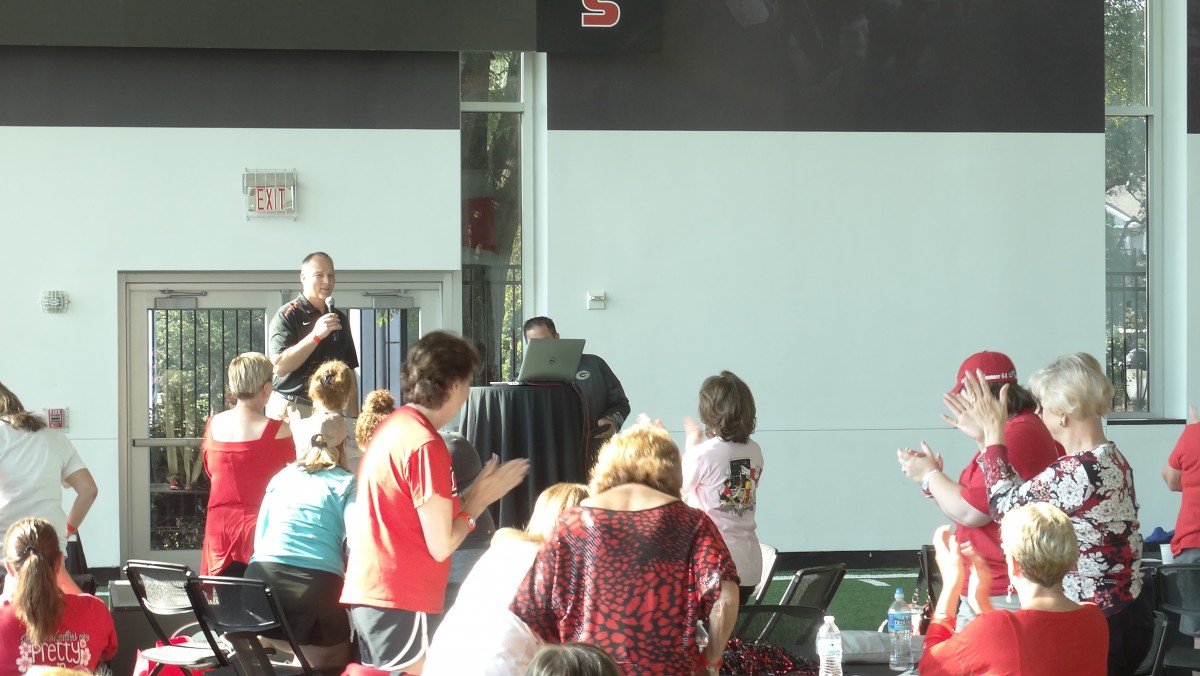 [su_spacer size="20″] The annual Mark Richt Women's Clinic was held yesterday at Butts-Mehre and on the practice field immediately behind the Nalley All-Purpose Center. The attendees were treated to instruction by the entire offensive staff and had the opportunity to participate in a workout run by head strength and conditioning coach Mark Hocke.
[su_spacer size="40″] [su_youtube_advanced url="https://www.youtube.com/watch?v=bJAInDpPzvk" autohide="no"] [su_spacer size="40″] Coach Richt described the new indoor practice facility that will replace Nalley. Richt indicated that the new facility would begin at the back wall of Butts- Mehre – meaning that the Nalley will disappear. The new building will be on grade with the two current turf fields. The news there is the excavation that will be required remove 12 to 14 feet of earth to match the grade of the northernmost fields.
[su_spacer size="40″] Coach Richt also said that the indoor facility will include a full-size field with a 7-yard clear space outside the field to any wall. On top of that the will be a separate drill area in the area of the building nearest to the current outdoor track.
[su_spacer size="40″] Richt also mentioned that the building would extend 15 yards further toward E. Rutherford Street (E. Rutherford is the street that runs alongside Foley Field and Butts-Mehre) than currently. From his description, the facility will be very close to E. Rutherford and on the same grade as the street.
[su_spacer size="40″] [foogallery id="57553″]