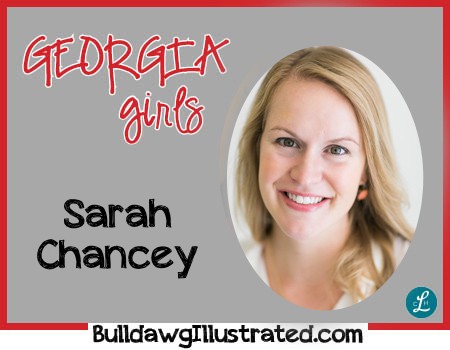 Name: Sarah Chancey
Hometown: Conyers, Georgia
Current Town: Decatur, Georgia
What Years at UGA: 2004-2008
School: Lamar Dodd – Art-Interior Design
Profession:  I am a luxury wedding designer and owner of Chancey Charm.  We have offices in Atlanta, Charleston,Richmond, Washington D.C. and Columbus, Ohio. Using skills and processes I gained during undergrad, like custom renderings and design boards, I serve as the designer for an incredible team planning beautiful weddings throughout the Southeast. Our unique approach, which is very visual, encourages an open creative process with our clients, and clear communication with all the vendors involved in each bride's big day.  I'm currently focusing more of my time on the brand and mentorship of my team as we are rapidly expanding to new markets. It's an exciting season and I feel incredibly blessed by the opportunity to share what I've learned and developed with other women.
Describe Athens in three words: 
Inspiring, Non-Stop, Delicious
Share a favorite memory from your time at UGA:
During one of my classes in the Interior Design school, we took a field trip to the Day Chapel at the Athens Botanical Gardens.   I'll never forget seeing the enchanting chapel for the first time and discussing the intricacies with my class.  Little did I know that years later, I would get married in that little chapel to the love of my life, whom I met at UGA.  Obviously, my time in Athens was life changing on so many levels!
Band you heard while living in Athens: 
I think my favorite Georgia Theatre experience was watching Eric Hutchinson perform, as the intro for G Love and Special Sauce.  We enjoyed the show so much, that we went to one of his shows in Denver, while living out there. It was a soulful experience!
A favorite restaurant in Athens: 
Seriously, can I even choose one?  Of course, I'm always a fan of The Last Resort (who isn't), but I also love to get a smoothie and fish tacos from Cali-N-Titos!  We used to live within walking distance, which was very dangerous!
A favorite shop in Athens:
 Encore will always be a favorite.  When we moved back from Denver, my husband took me on a mini shopping spree there, to get me back into some southern style after too many years of Patagonia out west! I love their dresses and how they have such a great assortment of super fancy to casual night out wear.
One thing few people know about you: 
I actually clogged for over eleven years growing up, and still remember all my old routines.  It's a fun fact, that usually leads to a dance request or two!
Favorite books and blogs: 
Last year, I really enjoyed reading Sheryl Sandburg's book, Lean In.  It was challenging and inspiring for a new mom.  Right now, I'm diving into Laura Casey's new book, Make It Happen!
Describe your typical Bulldog gameday: 
I'll be honest, it's really all about the food for me.  I love, love, love to get dressed up and snack on delicious tailgate treats before, during, and after the game.
Tailgate Recipe: 
While I do enjoy cooking, I'm no Martha Stewart, so let's stick with a simple classic, the Arnold Palmer!
Previous Georgia Girls Spotlights:
Christy Griner Hulsey from Statesboro, GA
Katie Foote Weinberger from Charleston, SC
Sidney Wagner from Charleston, SC
Nan McCollum Myers from Thomasville, GA
Helen Castronis from Atlanta, GA
Beth Bridges Lacefield from Smyna, GA
Carol Southerland Williams from Athens, GA
Brandi Ray West from Charleston, SC
Molly Dozier McDowell from Augusta, GA
Lucy Addison Williams from Richmond, VA
Jenny Greer and Erin Bickley from Macon, GA
Breckyn Alexander from Athens, GA
Meredith Gurley Johnson from Sandy Springs, GA
Erika Hollinshead Ward from Atlanta, GA
Lindsey Epperly from Atlanta, GA
Sterling Eason from Charleston, SC
Annie Griffin and Robin Gerber from Atlanta, GA
Mary McGeachy Butin from St. Simons Island, GA
Cullen Albright O'Steen from Athens, GA
Amanda Maddox from Washington, D.C.
 Valarie Davis Lee from Columbia, SC
Julianne Taylor from Charleston, SC
Gabrielle Bratton from Raleigh, NC
Rachelle Hutchinson from Snellville, GA
Wendy Walker Way and Haley Way from Perry, GA