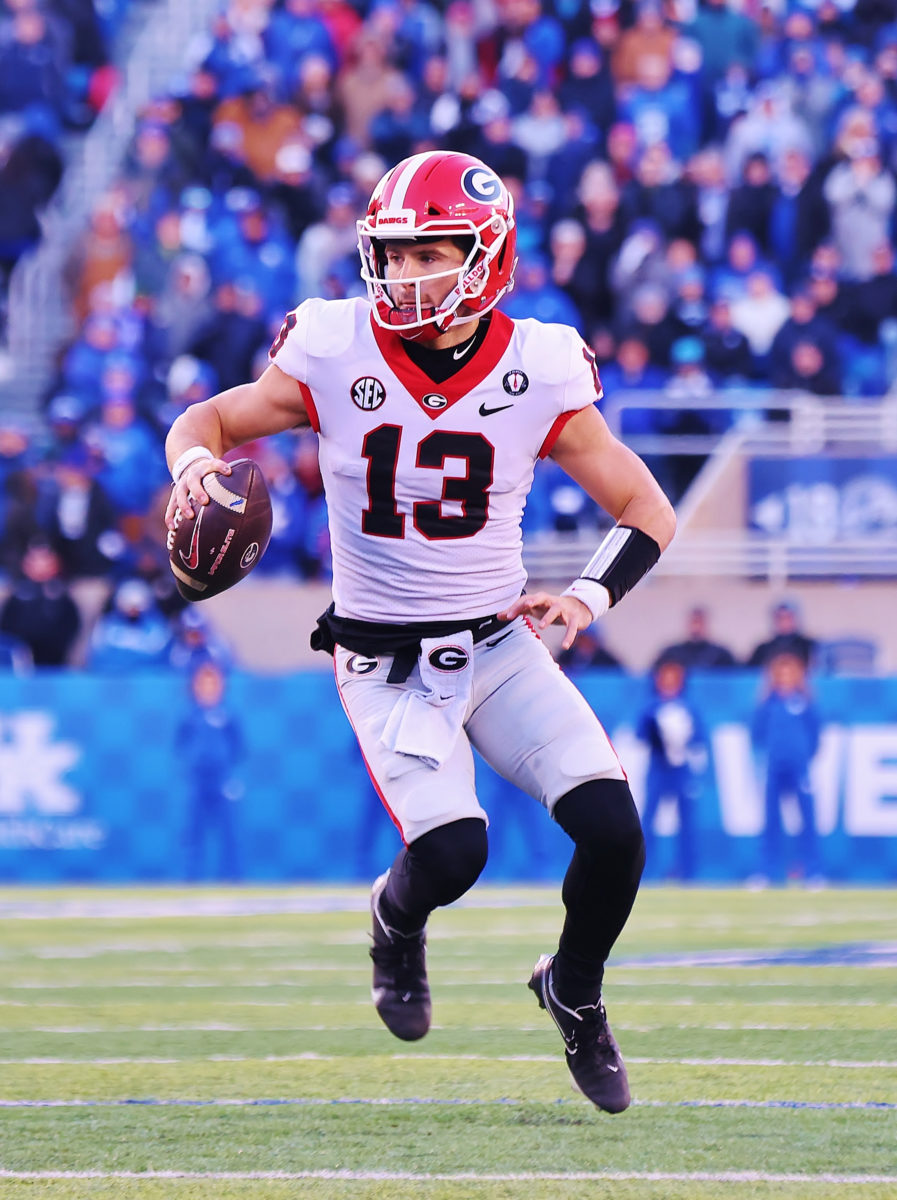 Legendary Hall of Fame Georgia coach Dan Magill always called the annual battle with the in-state rival Yellow Jackets, "the biggest game of all." There may be some teams that Bulldog fans would rather beat, but there is no foe where a loss stings more.
It's a high noon kickoff Between the Hedges, as top-ranked, 11-0 reigning national champion Georgia hosts 5-6 Tech.
Georgia is coming off a physical, old school 16-6 victory over Kentucky in frigid Lexington, which wrapped up Southeastern Conference play for the Bulldogs with a perfect 8-0 record. Kirby Smart's Bulldogs have posted 8-0 SEC records in back-to-back years. That's only the third time that has happened since the league split into division play back in 1992. Steve Spurrier led Florida to back-to-back 8-0 conference marks in 1995 and 1996, and Nick Saban (with a young Smart as his defensive coordinator) led Alabama to consecutive 8-0 SEC records in 2008 and 2009.
Overall, the Bulldogs have won 29 of the last 30 games, dating back to 2020. Georgia has won 13 straight contests, going back to last season's Orange Bowl victory over Michigan in the College Football Playoff, and the Dogs have been victorious in 26 successive regular season contests.
For the fifth time in the last six seasons (with 2020 being the exception), the Bulldogs are bound for the SEC Championship Game with a record of either 11-1 or 12-0. A victory over the Yellow Jackets would make it the latter.
While Tech is seeking the upset. After a rough start to the season, the Yellow Jackets parted ways with Geoff Collins, who had been at the helm on North Avenue since 2019.
Things looked bleak for the Jackets. But Brent Key took over and has turned things around.
The Yellow Jackets were 1-3 when Collins was fired. Since, Key has led them to four victories, highlighted by a stunning 21-17 victory over North Carolina this past week in Chapel HIll. A win in Athens, where the Jackets are 3-3 in their last six games with Georgia in Sanford Stadium, would push Key's team to bowl eligibility. That seemed like an extreme long-shot back in September.
Smart's Bulldogs have won four straight against Tech by a cumulative score of 180-35. Since 2001, Georgia is 17-3 against the Yellow Jackets.
There is so much on the line. A win over Tech would not only deliver the Governor's Cup, state pride and bragging rights, it would greatly increase the odds of Georgia returning to the College Football Playoff.
A raucous crowd similar to the one that helped deliver Georgia's epic victory over Tennessee would be a big lift, as these Bulldogs of 2022 continue to march towards making their own history.