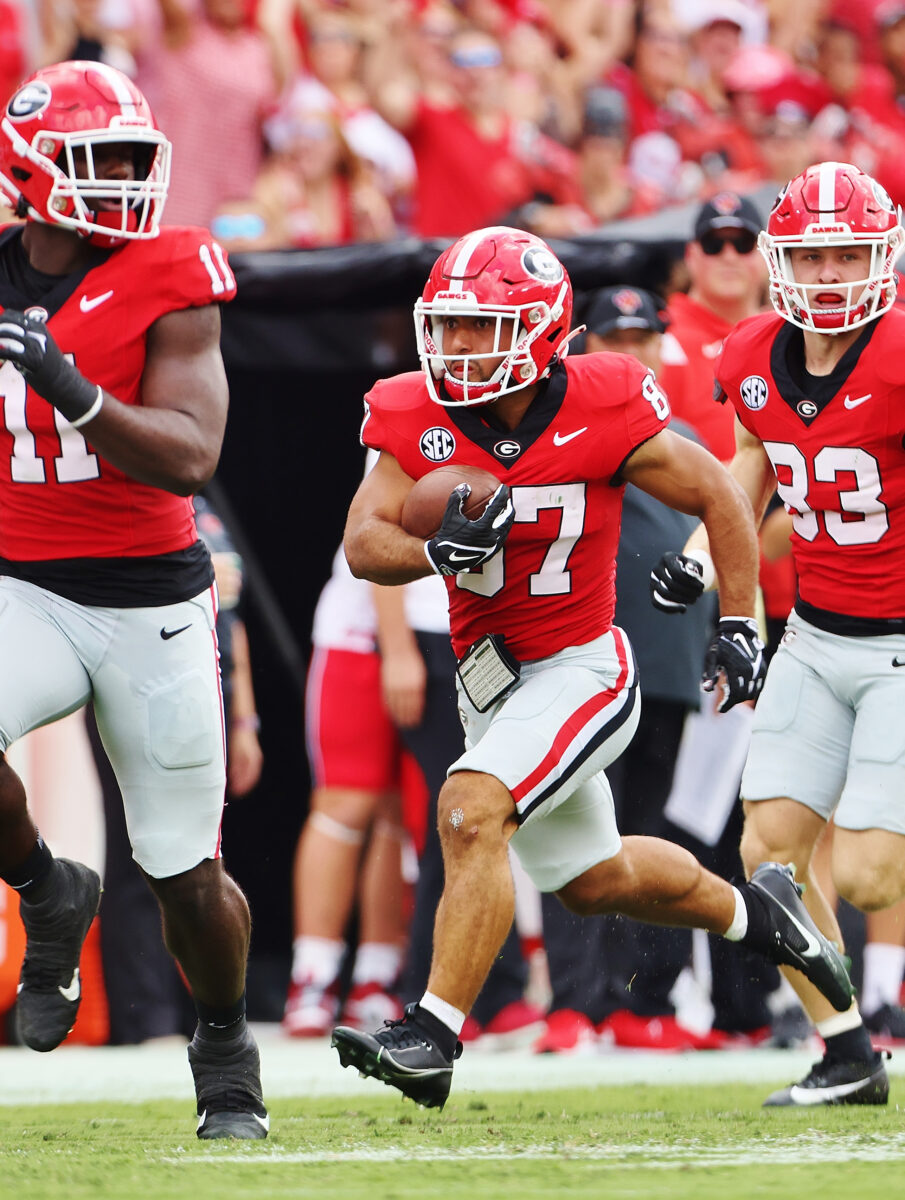 Now Georgia steps into the heavyweight division.
It's the Southeastern Conference opener, as top-ranked two-time defending national champion Georgia hosts South Carolina Saturday afternoon Between the Hedges on Dooley Field in Sanford Stadium. The 2-0 Bulldogs have beaten UT Martin 48-7 and Ball State 45-3, extending the longest winning streak in school history to 19. South Carolina comes in at 1-1. The Gamecocks lost the season opener to North Carolina 31-17 in Charlotte, then bounced back with a 47-21 win over Furman in Columbia.
Georgia is in the midst of a glorious era, with six straight top ten seasons, highlighted by the 2021 and 2022 national championships. The Bulldogs have won 35 of the past 36 games, and have captured a school record 19 consecutive victories, a streak that began with Georgia's 34-11 Orange Bowl victory over Michigan in the College Football Playoff en route to the '21 crown. The Bulldogs have won 20 consecutive games in Athens, last falling at home to South Carolina – coached then by current Bulldogs co-defensive coordinator Will Muschamp – 20-17 in double overtime in 2019.
Back-to-back, 35 of 36, 19 in a row overall, 20 in a row at Sanford Stadium, glory days. But as the architect of this Georgia dynasty always has this reminder … humility is just a week away. And South Carolina, including that aforementioned 2019 upset, has some history on stages like this.
Since falling to the Gamecocks in Athens in 2019, the Bulldogs have posted three straight impressive victories over South Carolina. In the Covid year of 2020, the Bulldogs stormed past the 'Cocks in Columbia 45-16, the second win in the current run of 35 of 36. Georgia defeated South Carolina 40-13 in Athens in 2021. Last year, the Bulldogs played – along with the season-opening 49-3 victory over Oregon and 65-7 trouncing of TCU in the National Championship Game – one of their most complete games. Georgia won 48-7 at Williams-Brice Stadium. All-American Brock Bowers scored three touchdowns to highlight the Georgia triumph.
South Carolina has the edge in experience at quarterback with Spencer Rattler. Protecting him is a key for the Gamecocks to pull off the upset, pressuring him is vital for Georgia. Hot take. In the Gamecocks season-opening loss to North Carolina, the Tar Heels sacked Rattler nine times. Last week versus Furman, Rattler was an amazing 25 of 27 for 345 yards and three touchdowns.
Since South Carolina came into the SEC and the league split into divisions, this game has usually been played early in the season, like this year. The loser has a long, long road back in pursuit of a berth in the SEC Championship Game, while the winner has an early leg up in the race to Atlanta.