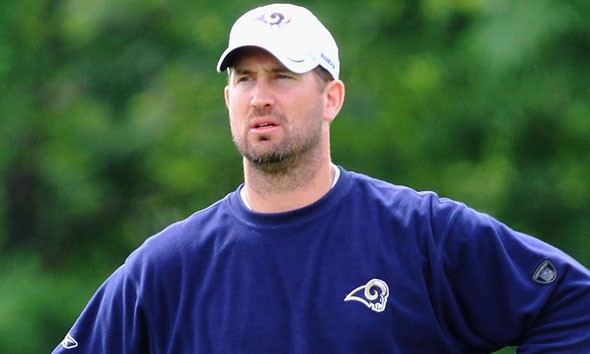 .
Veteran NFL coordinator and quarterbacks coach Brian Schottenheimer has been named Offensive Coordinator and Quarterbacks Coach at the University of Georgia according to an announcement Wednesday by UGA head coach Mark Richt.
Schottenheimer has served as offensive coordinator with the St. Louis Rams the last three seasons after holding the same position with the New York Jets from 2006-2011.  He has also held positions as quarterbacks coach with the San Diego Chargers (2002-05) and Washington Redskins (2001). Earlier in his career, he held assistant coaching positions with Southern California (2000, TE¹s), Syracuse (1999, WR¹s), Kansas City Chiefs (1998), and the Rams (1997) in his coaching debut under head coach Dick Vermeil.  He Coached for his father, Marty, with the Redskins and Chiefs.
"I'm excited to have Brian join our coaching staff," said Richt. "His NFL experience will be a perfect fit for how we like to play offensive football here at Georgia.  He¹ll be excellent in developing our players in both the running and passing games which will benefit them while they are at Georgia and for their future."
"This is a great opportunity to become a Georgia Bulldog for both my career and my family," said Schottenheimer.  "I¹m thrilled to be part of an elite program with such national tradition and a great staff already in place.  I look forward to working with young men and being a positive and significant influence on their lives as we develop them athletically, Academically, and socially."
A native of Denver, Colorado, he attended Blue Valley High School in Stillwell, Kansas where he quarterbacked his team to the Kansas Class 5A football championship as a senior in 1991. He earned first team all-state and honorable mention All-America honors throwing for 2,586 yards and 26 touchdowns in his career.
He attended the University of Kansas in 1992 before transferring to the University of Florida where he played for the Gators from 1994-96.  He graduated from Florida in 1997 with a degree in exercise and sports science. During his NFL career, he has coached Drew Brees and Phillip Rivers in San Diego, Brett Favre and Mark Sanchez with the Jets, and Sam Bradford with the Rams.
He and his wife, Gemmi have a son, Sutton, and a daughter, Savannah.