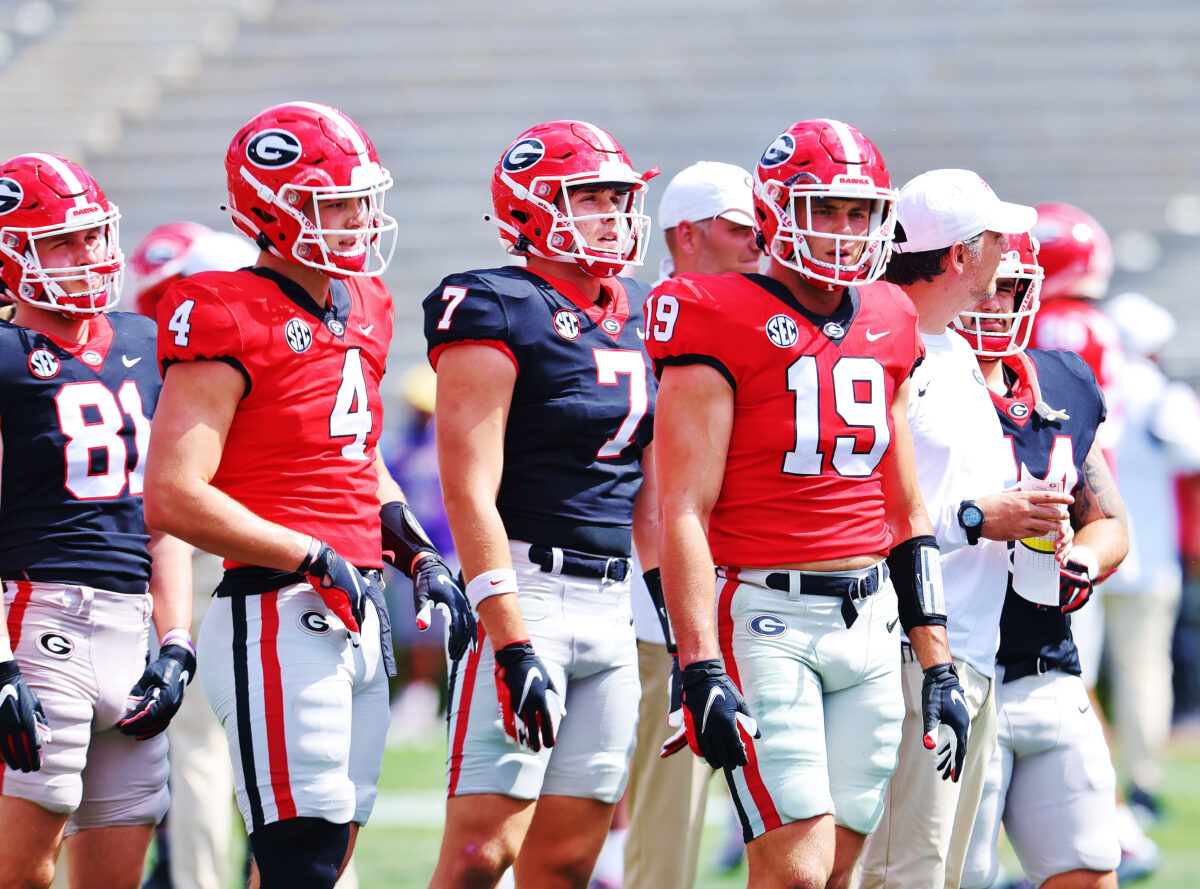 The 2023 Bulldogs return experience and talent in many position groups and are poised to make a run at bringing a third-consecutive College Football Playoff trophy to Athens. Unlike the uncertainty the Dawgs faced last year following 15 draft departures, this year's team is comprised of many familiar faces. Sticking with our cover theme "Going for the Turkey" (meaning three titles in a row rather than three straight strikes in bowling), all the triad groupings in this article are uniquely named for their main contribution to the team and they consist of Bulldogs who have been on the team since the multiple titles run began. Enjoy reading about these 2023 Turkeys …
AIR DAWGS
Carson Beck: The gunslinger from Jacksonville, Florida is finally getting his opportunity to quarterback the Bulldogs after years of patiently waiting. Beck deserves plenty of praise as he could have entertained his options in the transfer portal years ago, but credit to him, he wanted to be the starting quarterback at Georgia. There's a lot to be excited about regarding Beck's future under center. He is extremely fluid in the pocket and has a cannon of an arm. His ability to make deep throws and throws to the far hash will be exciting to watch this fall.
Ladd McConkey: McConkey highlights a wideout group that has only gotten stronger since the end of the 2022 season. With the transfer additions of Dominic Lovett and Rara Thomas generating plenty of buzz in the offseason, McConkey's production should not diminish despite the room becoming undeniably stronger. Ladd is an elite route runner who now has plenty of experience in critical moments in big games. Not only can McConkey drop Tennessee defensive backs on the floor on double moves going deep, but the receiver excels at making defenders miss in catch-and-run scenarios. Expect McConkey to equal if not exceed last year's production in his final season as a Bulldog.
Brock Bowers: Bowers very well may be the best player in college football. He's an absolute unicorn of a tight-end prospect, and his versatility is what makes him unique. He is bigger and stronger than most any receiver yet can be just as fluid and elusive as anyone in that position group. On top of that, Bowers blocks exceptionally well and isn't afraid to do the dirty work necessary to open gaps for the Bulldog's running game. Bowers will once again prove to be a matchup nightmare for opposing defenses.
BACK-END BANDITS
Javon Bullard: No player had a better second of the season than Javon Bullard in 2022. Bullard played nickel corner, which the Bulldogs refer to as the "Star" position. While in this position, Bullard established himself as a threat on corner blitzes and developed into one of the hardest hitters on the defensive side of the ball, despite being "undersized." Bullard finished the season being named the Defensive MVP of both the National Championship Game as well as the Peach Bowl. Bullard is expected to move to safety this year. Expect the pairing of Bullard and Starks to be the best safety duo in the country.
Tykee Smith: After an injury-ridden start to his career at Georgia, Smith is finally expected to break out in a big way in his final season as a Bulldog. Smith is expected to play "Star" in 2023 where his physical style of play will complement Georgia's "Junkyard Dawg" defense. Expect Smith to continue to progress in coverage as the defensive back played exceptionally well last year in that role against Missouri and TCU.
Dan Jackson: Jackson is one of the more appreciated veteran players in the Georgia locker room. Having worked his way from a walk-on scout team player to, at one point, a starter, Jackson's remarkable progression has earned him significant respect among his Bulldog peers. On the field, expect to see Jackson back in pass protection packages where he played in both 2021 and 2022 before a foot injury ended his season.
GET LOOSE 2023
Daijun Edwards: Edwards has been exceptional for the Bulldogs despite getting very little attention nationally. The running back from Colquitt County displays exemplary patience when running the ball, finding gaps between the tackles at a rate few others can do. Edwards should play an important role, not just in running the ball for the Bulldogs, but also in the passing game as Edwards will be expected to fill Kenny McIntosh's role as the primary pass catcher out of the backfield.
Kendall Milton: Since he arrived at Georgia, Milton has been praised as being "the most talented" player in the running back room. Like Tykee Smith, though, Milton's career has been plagued by injury. Last year, we saw a fully healthy Milton return for the SEC Championship game where he ran just eight times, but for 113 yards. Milton is an extremely physical and powerful back that Georgia will rely on to sustain drives. Mike Bobo certainly loves to use his running backs and Milton will be heavily featured in 2023.
Sedrick Van Pran: Van Pran returns as the best center in college football. Many expected the talented offensive lineman to go pro after an exceptional 2022 season, but the team captain elected to return to Georgia for a final year with the hopes of bringing a third national championship to Athens. Van Pran is phenomenal as a run blocker, and if Edwards and Milton are to break open some explosive runs in 2023, Van Pran will be relied upon to open the gaps.
TRENCH BRUISERS
Warren Brinson: Brinson brings the juice to this Georgia football team. He's an energetic guy off the field with a vibrant personality that is infectious to the media. On the field, Brinson will be relied upon to sustain Georgia's reputation as a team with an impossibly stout run defense. The product from Savannah, Georgia is also dominant on passing downs as he produced 14 quarterback hurries last season. Expect Brinson to bring energy to the Bulldog's defense this fall.
Tyrion Ingram-Dawkins: Ingram-Dawkins is a player to keep your eyes on in 2023. The South Carolina native has shown glimpses of his athleticism and versatility as an interior pass rusher as well as an effective run defender. This season, Ingram-Dawkins's role should only increase with the departure of Jalen Carter, and watch out, because Tyrion has all the tools necessary to become another defensive-line great at UGA.
Zion Logue: Logue is a crucial leader that Bulldog players are thrilled to have back in the locker room. Not only is Logue terrific on the field, but the talented defensive lineman is the vocal leader on the sideline for the defensive unit. Logue will headline a defensive unit that is extremely familiar with each other, as the Bulldogs return almost the entire room except for Jalen Carter.
STOPPERS AND POPPERS
Chaz Chambliss: Chambliss is now a veteran in an uber-talented outside linebacker room. In 2022, Chambliss was thrown into the fire after a pectoral injury derailed Nolan Smith's season. This year, Chambliss will be relied upon to grow on the field as a pass rusher but will also need to grow into a vocal leader to get the young Bulldogs where they need to be.
Jamon Dumas-Johnson: Last year's Butkus Award finalist was an absolute monster in the middle of the field for the Bulldogs. This year, Dumas-Johnson will be looking to exceed his already dominant levels of production which included 70 total tackles and four sacks. With the Bulldogs having all the necessary talent around them to have another dominant defense in 2023, Dumas-Johnson will be relied upon to keep the Dawgs focused during a season with fewer marquee matchups.
Smael Mondon: Mondon compliments Dumas-Johnson as the second inside linebacker. Mondon has been described by Coach Smart as "maybe the most athletic player I've ever coached." His athleticism was shown in his special teams' play in 2021 and in his elite linebacking play in 2022. As Mondon continues to develop as a linebacker, there is certainly reason to believe that he could be the first inside linebacker off the board in the 2024 NFL Draft.
HERE'S THE BEEF
Amarius Mims: Mims is an offensive tackle seemingly built out of a lab. The rising third-year athlete is massive, even though he is extremely lean and moves tremendously well as a pass blocker. After receiving meaningful minutes last year rotating with Warren McClendon, Mims will look to build off his late season starts to establish himself as one of the premier tackles in the country.
Tate Ratledge: King Mullet had a terrific 2022 campaign after picking up a season-ending injury just a few plays into his first career start in 2021. Ratledge is a physically dominant interior lineman who is only improving the more he plays. Ratledge, Van Pran, and Truss make up the best interior offensive line in the country.
Nazir Stackhouse: Stackhouse is an interior lineman that will be looking to get the respect he deserves in 2023. Stackhouse has quietly been an absolute monster in the middle of the field for the Bulldog defense. He clogs running lanes better than just about any player in the country and will be looking to improve his pass-rushing ability this fall. Expect Stackhouse to earn the respect he deserves nationally come the 2023 season.
NEED FOR SPEED
Kamari Lassiter: Simply put, Lassiter is one of the most underrated players in the SEC. Lassiter had a terrific 2022 campaign opposite to Kelee Ringo and will now be relied upon as Georgia's number one corner. Lassiter is extremely intelligent and possesses the necessary experience to show the country why he is a lockdown defensive back.
Marcus Rosemy-Jacksaint: Rosemy-Jacksaint has grown into a vital piece of this Georgia offense. While Rara Thomas's transfer has drawn much attention, Rosemy-Jacksaint's sure hands and consistent production will be relied upon this season. The lengthy receiver catches everything, is excellent in jump ball scenarios, and has shown his versatility in catch-and-run opportunities in 2022. Expect MRJ to continue his under-the-radar production in 2023.
Arian Smith: There's no faster player on the Georgia football team than Arian Smith. Smith is another player who has been extremely unfortunate with injuries over the course of his career. When healthy, he is lightening in a bottle. Smith's deep-threat ability opens a wide variety of play calls for Mike Bobo, not just to get No.11 the football, but also to get other playmakers the ball in space.
BATTLE-TESTED STUDS
Xavier Truss: Truss, along with Van Pran and Tate Ratledge, make up that nasty Front Three in the interior offensive line for the Bulldogs. Truss is a mammoth of a man, standing at 6'7" and weighing 320 lbs. Truss is one of the longest-tenured Bulldog players, and his presence will be beneficial to young tackles Amarius Mims and Earnest Greene.
Tramel Walthour: While his name might not be in the headlines, Walthour has been an integral part of the Georgia defense in both 2021 and 2022. The JUCO transfer started 13 of 15 games for the Dawgs in 2022 and had notable performances against Tennessee and LSU. Walthour's experience and consistency will be greatly important to the Dawgs' defensive line.
William Mote: Mote is another veteran on this team and is heading into his fourth season as the starting long snapper. Mote finished as an All-SEC Second Team player in 2022. While not much credit will ever be given to long snappers, consistent special teams' play has been a vital component of the previous two championship teams, and Mote is at the center of it all with his snaps.