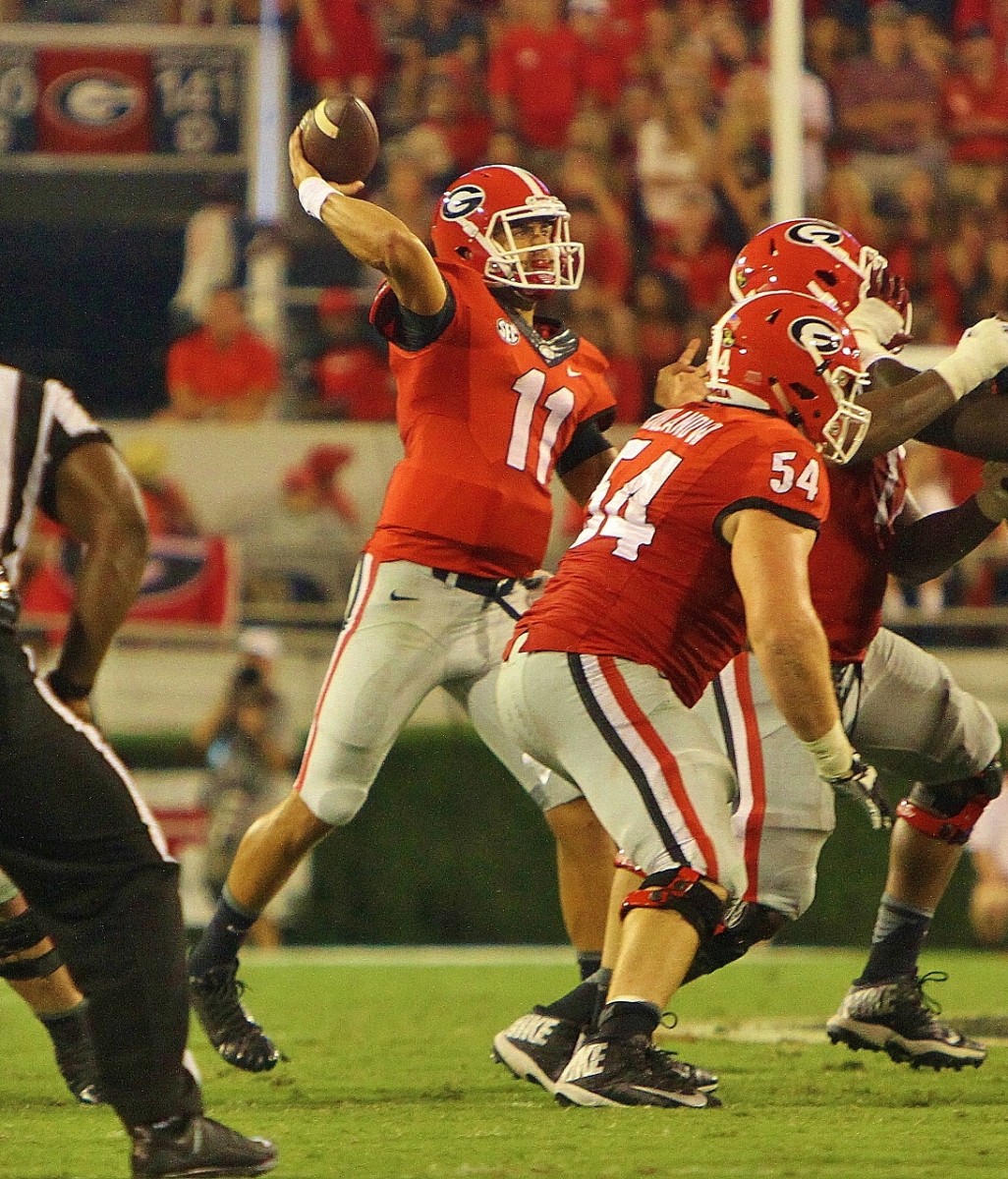 [su_spacer size="20"] Greyson Lambert has made a few adjustments since departing from the University of Virginia, but he also has kept some of the same mechanics since arriving in Athens. Lambert answered questions about his progression as a quarterback at Georgia.
[su_spacer size="20"]
Lambert has learned on the fly during his short time at UGA but has kept many of the same mechanics from his time at the University of Virginia. When asked about what changes he ad to make, he had this to say:
[su_spacer size="40"]
Little tweaks, here and there. I don't know if  I took probably but five to ten snaps all year, my last year playing at Virginia, under center. So I had to work on a lot of the drops and footwork and ball handling when it comes to under center, but that was probably the biggest change.
[su_spacer size="40"] However, mechanics wise Lambert says that for the most part he is the same quarterback that he was last year. The other changes Lambert has made are just natural progressions and learning and he also says that he has worked on a few things with Coach Schottenheimer that will help him make certain throws.
[su_spacer size="40"] Lambert threw 11 interceptions last season and has not thrown a single interception this season. When asked on what the difference was from this season compared to last season he had this to say:
[su_spacer size="40"]
I guess it just comes from experience and just trusting what I see. Being able to have that experience from last year has definitely helped me with situational football… If it's not there, don't try to force anything… You always want to end in a kick, whether that be a punt, field goal, or an extra point.
[su_spacer size="40"] Lambert has made the necessary adjustments to become a very effective quarterback for the Bulldogs. As he continues to progress, he has the potential to becoming one of the best quarterbacks in the SEC.
[su_spacer size="40"] [su_youtube_advanced url="https://www.youtube.com/watch?v=ZlvQI2Hte8w" autohide="no"] [su_spacer size="80"]