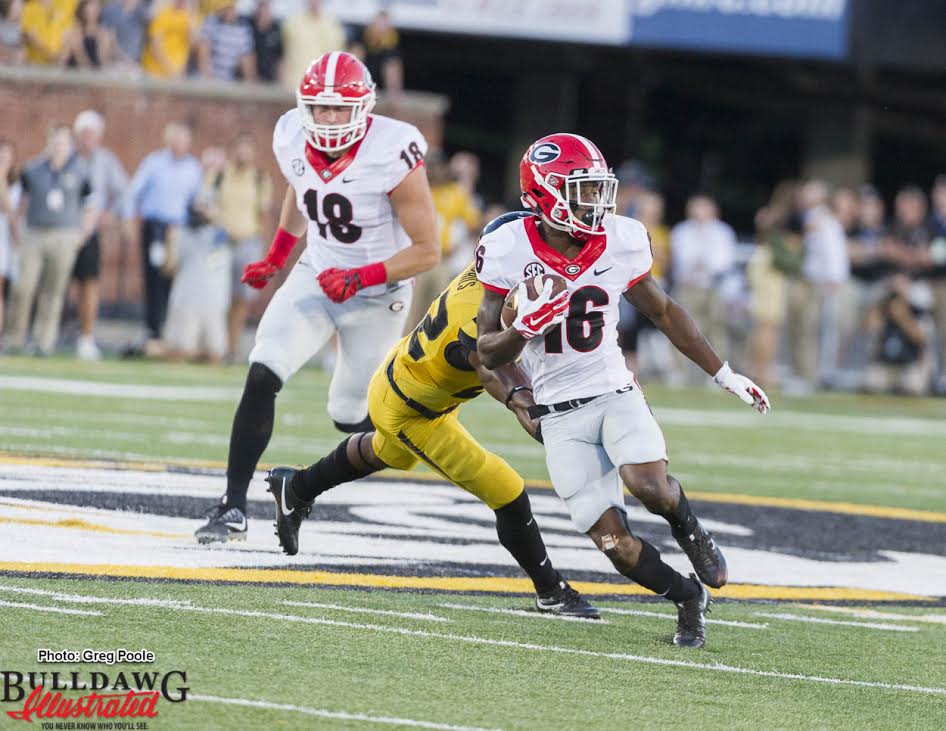 Georgia vs Mizzou: In their first Southeastern Conference game of the 2016 college football season, it has been a back and forth affair for the in Columbia, MO, but the Bulldogs went into halftime with a 21-20 lead over the Tigers.
Junior Isaiah McKenzie had a couple of pivotal plays on Georgia's first scoring drive after it trailed 10-0. He had a 31-yard catch for a first down on a 3rd and 7 and later a six-yard scamper for a TD to cap a 13-play, 75-yard drive in 5:05. In the second TD drive, he caught an 8-yarder for a first down on a 3rd and 6 as Georgia eventually took a 14-10 lead with 12:48 in the second quarter. In the first half, he had a career-high seven catches for 96 yards and one TD. The TD catch covered 20 yards and tied the game at 20-all with 1:48 left, and the PAT would give Georgia a 21-20 lead. McKenzie had four catches in Georgia's six third down conversions for 63 yards.  Also, he had nine punt return yards.
Tough Yards For Chubb
Junior tailback Nick Chubb provided 34 rushing yards on 12 carries as the Bulldogs went to the aerial attack in the first half, getting 219 yards passing and just 33 on the ground for 252 yards.
Eason Gets Another Start At QB
In the first half, freshman QB Jacob Eason had already established career highs, going 18-for-28, 219 yards and 2 TDs.) He made his second career and consecutive start. He completed passes to seven different Bulldogs.  On Georgia's first TD drive, he was 4-4 on 3rd down conversions as the Bulldogs found themselves down 10-0.


For Starters
There were no first-time starters today. A couple of Bulldogs extended their team-leading starting streaks with center Brandon Kublanow at 28 consecutive games for the offense and cornerback Malkom Parrish at 16 in a row for the defense.  In the first half, Georgia had already used 60 of the 70 players it brought to
tonight's
game.
Bulldog Firsts
Freshman Elijah Holyfield (RB) made his Bulldog debut, playing on the opening kickoff coverage unit and later in the first quarter freshman Mecole Hardman (DB) also made his debut on kickoff coverage. In the second quarter, freshman Solomon Kindley (OL) saw action. Junior Christian Payne (FB) caught his first career TD pass, a two-yarder from freshman Jacob Eason to cap a 10 play, 61-yard drive, which made it 14-10 Bulldogs.  In the first half, Payne had a career-high four catches for 34 yards.
Defensive Attack
At the half, Georgia was led in tackles by sophomore Natrez Patrick with five stops. In the first half, Missouri ran 40 plays, tallied 20 points and 343 yards of total offense (322 passing, 21 rushing). The Tigers took the opening kickoff, 72 yards in 10 plays in
2:07
for a TD, ending a TD drought against Georgia that spanned 124:25, dating back to 2013 meeting.  Georgia won 34-0 in 2014 and 9-6 in 2015 as the Tigers failed to score a TD in the two previous contests.
No Points Off 1 Turnover
In the first half, Georgia got no points off one turnover.  In the second quarter, Georgia's Juwuan Briscoe recovered a fumble at the Tiger 31. Georgia was forced to punt. For the year, the Bulldogs are Even in Turnover Margin and have converted four turnovers into only six points.
Trailing By 10 Again
For the second time this season, Georgia fell behind by 10 points in a game.  In the season opener against #22 North Carolina, Georgia trailed 24-14 with
6:34
left in the 3rd quarter. Georgia eventually won 33-24.
Tonight
, Georgia trailed 10-0 at the
8:20
mark in the first quarter and later went ahead 14-10 in the second quarter. At halftime, Georgia led 21-20.
Captains for Georgia
Tonight's
captains were junior Sony Michel (TB), senior Quincy Mauger (FS) and senior Greg Pyke (RT).