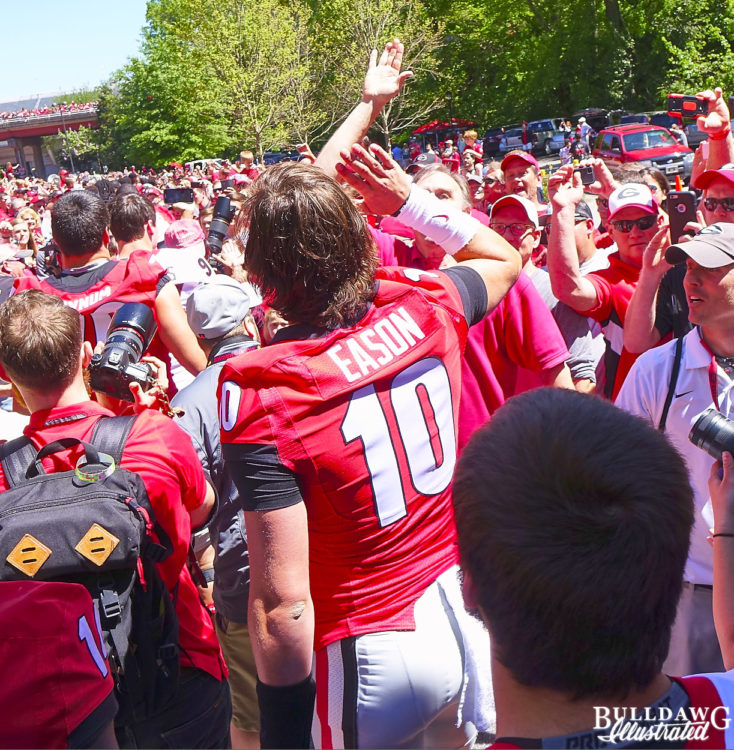 Yesterday, we started the Top 10 with Daquan Hawkins at No. 10.  Today, we move to the offensive side of the ball for No. 9. 


At No. 9 on the list, Jacob Eason arrives.  I went back and forth multiple times on whether or not to include him on this list but there is a definitive reason why he made this list which I will detail shortly. 


At the QB position, heading into fall practice, the starting position is wide open.  There is an argument that can be made for each scholarship QB on the roster to be under center Week 1.  Furthermore, I believe more likely than not, all three QB's will see snaps in game action before a starter is locked in before the Bulldogs arrive in Oxford, Mississippi to play the Rebels.


The game against the Rebels is the first time the Bulldogs will face an elite level SEC defense and this is where the Eason's importance becomes clear.  To beat a team like the Rebels, on the road in a hostile environment, UGA is going to need a quarterback under center who can make the explosive plays to win the game.  Based upon a weight of the evidence, Lambert is uncomfortable in the pocket and doesn't trust his reads down the field – he appears to be a game manager and not much more.  Thus far in Brice Ramsey's career he is far too inconsistent with his accuracy, tends to make questionable decisions and appears to lack confidence in himself.


That leaves Jacob Eason.  Yes, it was only a spring game, but in front of 100,000 people, with 95,000 of those people looking at him as the savior of the program, he rose to the occasion and exceeded everyone's expectations.  He warmed up with two swing passes in stride to Brendan Douglas and then dropped everyone's jaws with a beautiful fade pass to Riley Ridley dropping it perfectly over his outside shoulder.  It was the first of several wow moments. 


Jacob Eason makes this list because with him at starting QB I believe the Bulldogs chances of beating the Ole Miss, Tennessee and Florida increase greatly.  Those three programs have the personnel to load the box in an attempt to stuff the UGA rushing attack and the cover corners to make the windows very tight for the quarterback.  Eason has the arm talent and confidence to attack those small windows and force the defense to respect his ability to stretch the field.