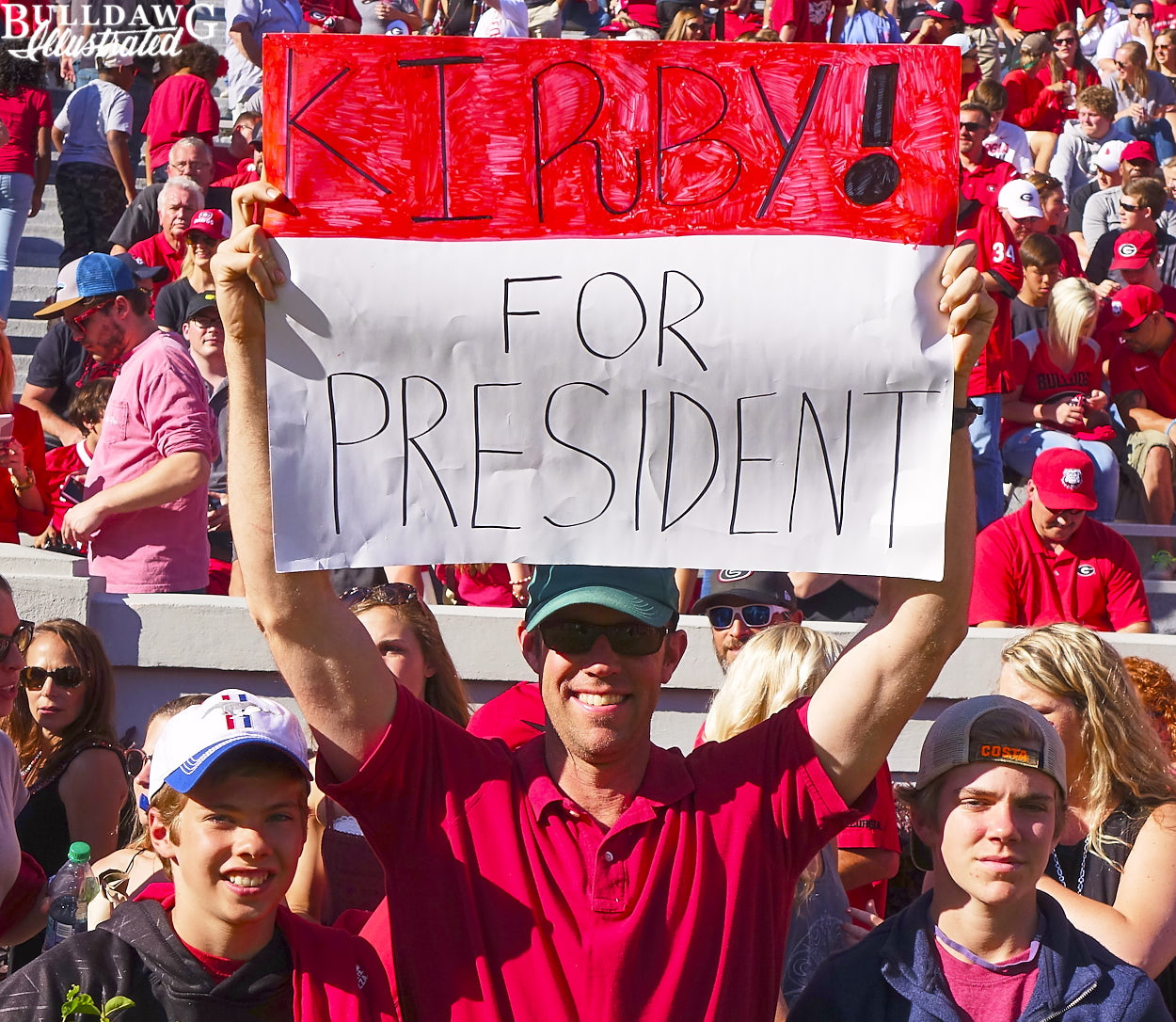 Huck's Corner – My notes, thoughts and musings from a once in a lifetime day in Athens.


G-Day got off to a fantastic start with the commitment of William Poole III.  Poole is right there with Deangelo Gibbs as the best corner in the state of Georgia.  He has the size, length and ball skills you look for in a cornerback.  Adding him to the puzzle in the secondary alongside Richard Lecounte III has the Bulldogs secondary recruiting off to a blazing start.


The fans that assembled in Sanford Stadium was truly fantastic.  It shouldn't have been #93KDay it should have been #100KDay.  It was a standing room only crowd and it was a little bit of a different crowd.  I can't tell you how many people there had never before been to UGA game but I would bet that number was very high.  It was a must attend event and turned out to be quite the spectacle.


If UGA tries to do the #93KDay again they need to do a much better job with the planning/logistics of parking and traffic control.  It was an absolute nightmare.  They need to issue parking passes very similar to the way they do for a UGA football game.  It was the only bad part of the entire weekend.


Watching the offensive line and defensive line get after it in one-on-one drills was a lot of fun.  You could see why Julian Rochester was so highly thought of.  He gets a very nice push on the bull rush and as he gets bigger and stronger he will be hell to deal with.  Jonathan Ledbetter was also very impressive in that same drill with his combination of speed and power.


The tight ends looked fantastic.  It was great to see Jordan Harris get some action and his speed was something to behold.  However, even more impressive was the play of true freshmen Isaac Nauta.  He is clearly strong as an ox, a fantastic athlete with a lot of confidence and swagger.  He seems to have a little "Gronk" in him.


The receivers put on a performance much better than I expected.  Jayson Stanley, Reggie Davis, Riley Ridley, Shakenneth Williams and Michael Chigbu who will be relied upon heavily all caught the ball extremely well.  It was a very pleasant surprise.


Greyson Lambert is who he is.  He looks hesitates too often with his reads and gets happy feet in the pocket.  I was hoping to see more decisiveness in his second year in Athens but he seems to be the same guy he was.  Brice Ramsey put in a very nice performance in my opinion.  He made a couple ill-advised throws but overall he did a very nice job, especially when throwing the deep ball.  What can you say about Jacob Eason?  I didn't think it was possible but he surpassed all expectations.  He is clearly head and shoulders above the other QB's in pure talent.


I was a bit disappointed by the offensive line.  Going back and re-watching the game on TV I thought they struggled some.  Not a surprise given the fact that only Brandon Kublanow is playing the same position he did last year.  There is definitely some talent and some big bodies up front but they need to get better at operating as a unit.


The lack of depth at running back is very concerning.  We all hope Chubb will be 100% at the start of the season and with the progress he has already made, along with his work ethic it wouldn't be a surprise.  However, if he needs more time the Bulldogs are incredibly thin.  There is a huge opportunity for Elijah Holyfield to come in and make an impact.


UGA was very vanilla on offense and defense but you saw a couple of the basic changes that UGA will implement.  First, UGA will keep three defensive linemen in the game for nearly all snaps.  Second, UGA is going to use a lot more combination routes and rubs/picks in the passing game then last year. 


I have already discussed the QB race but I will end this with my thoughts on the QB job.  In my opinion the race should be between Brice Ramsey and Jacob Eason.  Lambert may give UGA the best chance not to lose the game from the QB position, but he is certainly not the best option for UGA to win the game.  When Georgia needs a game winning drive in the 4th Quarter I would rather have Ramsey and/or Eason in the game. 


---