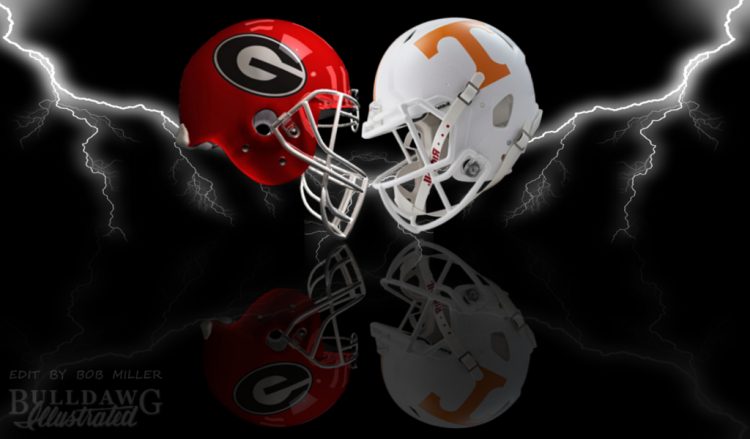 In Week 5 the Bulldogs travel to Knoxville for their first SEC road test of the 2017 season against the Tennessee Volunteers. On paper, this is the most difficult team to figure out on Georgia's schedule. The Volunteers suffered significant losses on offense with Josh Dobbs graduation and their top offensive skill position players including Alvin Kamara and Josh Malone leaving early for the NFL. Add in the loss of team leaders and productive defensive players – Derek Barnett, Jalen Reeves-Maybin, Cam Sutton – and there are more questions than answers about this Volunteer team. Who will step-up and be leaders? What will the team identity be? The opener against Georgia Tech and a road test in Week 3 against Florida will give the Georgia staff will have some good tape to watch.

2017 will not only see Tennessee replacing a great deal of talent on the offensive side of the ball, they will also have a first year, first-time offensive coordinator in Larry Scott. Scott has been coached multiple positions in his career but this will be his first time calling plays on a Saturday. That is a difficult position to be in, especially in the SEC. Fortunately for Scott, the Volunteers should have a strong offensive line. They return a great deal of experience and depth and add to that corps the #1 offensive lineman in the country. The big decision for Scott come at quarterback. Will it be 6'4 215-pound pocket passer Quenten Dormandy or will the Vols choose dual-threat Jarrett Guarantano? The answer will tell everyone about what the Vols are looking to do on offense in 2017.


Regardless of who wins the quarterback job Butch Jones is going to run his system. It has been the same system since 2007 when hired as head coach of Central Michigan. The offense primarily operates out of the shotgun with a great deal of motion, misdirection and underneath routes with the occasional deep ball downfield. The tactics of the running game will be largely dependent upon who wins the QB battle. Last season Dobbs led the Vols with 150 carries. If Guarantano wins the QB battle the results could be very similar. If Dormandy wins the job the tailbacks will play a much larger role and the quarterback will likely finish the season with under 50 carries.


There won't be many changes is in the Volunteers passing offense. Neither Dormandy nor Guarantano is transcendent talents at the quarterback position and both have similar skill sets as passers to Josh Dobbs. They have solid arms but have not proved to be overly accurate in their Tennessee careers. Both are capable scramblers who extend plays making life difficult for opposing secondaries. However, there is a severe lack of depth and production outside Jauan Jennings at the receiver position in Knoxville.


On the defense, the Volunteers enter their second season under defensive coordinator Bob Schoop. In the mold of a typical Schoop defense, the Vols will be an ultra-aggressive attacking unit. Historically, his defenses have improved drastically in his second season. Much like the offense, there are more questions than answers. No loss looms larger than that of Derek Barnett to the NFL. The school's all-time sack leader was a one man wrecking crew and forced opponents to scheme around him. It will be a group effort to replace his production. The Vols have potential along the defensive front, but they don't appear to have another game changer currently on campus. This group needs to prove they can stay healthy which has been a struggle in the past. The linebacker unit is average by SEC standards and there are question marks at cornerback but the Vols have potential to be elite is at safety with Todd Kelly, Jr., Nigel Warrior, and Micah Abernathy. Those are three excellent football players that can cover many deficiencies for the front 7 and cornerbacks.


This is a monumental game for both teams. For Tennessee, if they beat Florida in Week 3 and can follow that up with a victory against the Dawgs they are in excellent position in the SEC East. However, if the Vols lose to the Gators and follow that up with a loss to the Dawgs they are all but done with LSU and Alabama remaining on the schedule. This is a key early season SEC matchup.

KEY PLAYERS – OFFENSE:

Jarrett Guarantano – QB – 6'4 210 – Quenten Dormandy is likely going to be the Vols starting QB but Guarantano is going to play a significant role. His legs bring a dynamic similar to Dobbs and he could prove to be a big-time weapon in the red zone.


Jauan Jennings – WR – 6'4 205 – 40 Catches – 580 Yards – 7 TD's – The Vols only proven commodity at wide receiver heading into the 2017 season, Dawgs know exactly what Jennings is capable of. He is a big physical receiver who attacks the ball at the point of attack.


Ty Chandler – RB – 5'11 190 – Chandler brings elite top-end speed to the backfield in Knoxville as a true freshman. If he gets the ball in his hands in the open field he is going to make a lot of very fast people look very slow.

KEY PLAYERS – DEFENSE:

Jonathan Kongbo – DE – 6'6 270 – 11 Tackles – 3 TFL – 1 Sack – Kongbo arrived last season with huge expectations as the #1 JUCO prospect in the country. He didn't live up to expectations but the athleticism is there. With Barnett and Vereen gone, he is going to have every opportunity to be productive.


Kyle Phillips – DE – 6'4 260 – 15 Tackles – 2 TFL – Phillips came to Knoxville two years ago with huge expectations after dominating the US Army All-American game but has not lived up to the hype. Much like Kongbo, the physical ability is there but can he turn ability into production.


Nigel Warrior – S – 6'0 195 – 22 Tackles – Warrior is a throwback football player and has ALL-SEC potential at the safety position. It took him some time to adjust to the game as a true freshman but he was outstanding through the entire spring and looks forward to taking a big leap forward as a sophomore.

WAY-TO-EARLY PREDICTION

UGA 23 – Tennessee 17



---
Recent Articles by I'mYourHuckleberry

[pt_view id="d18572ftik"]