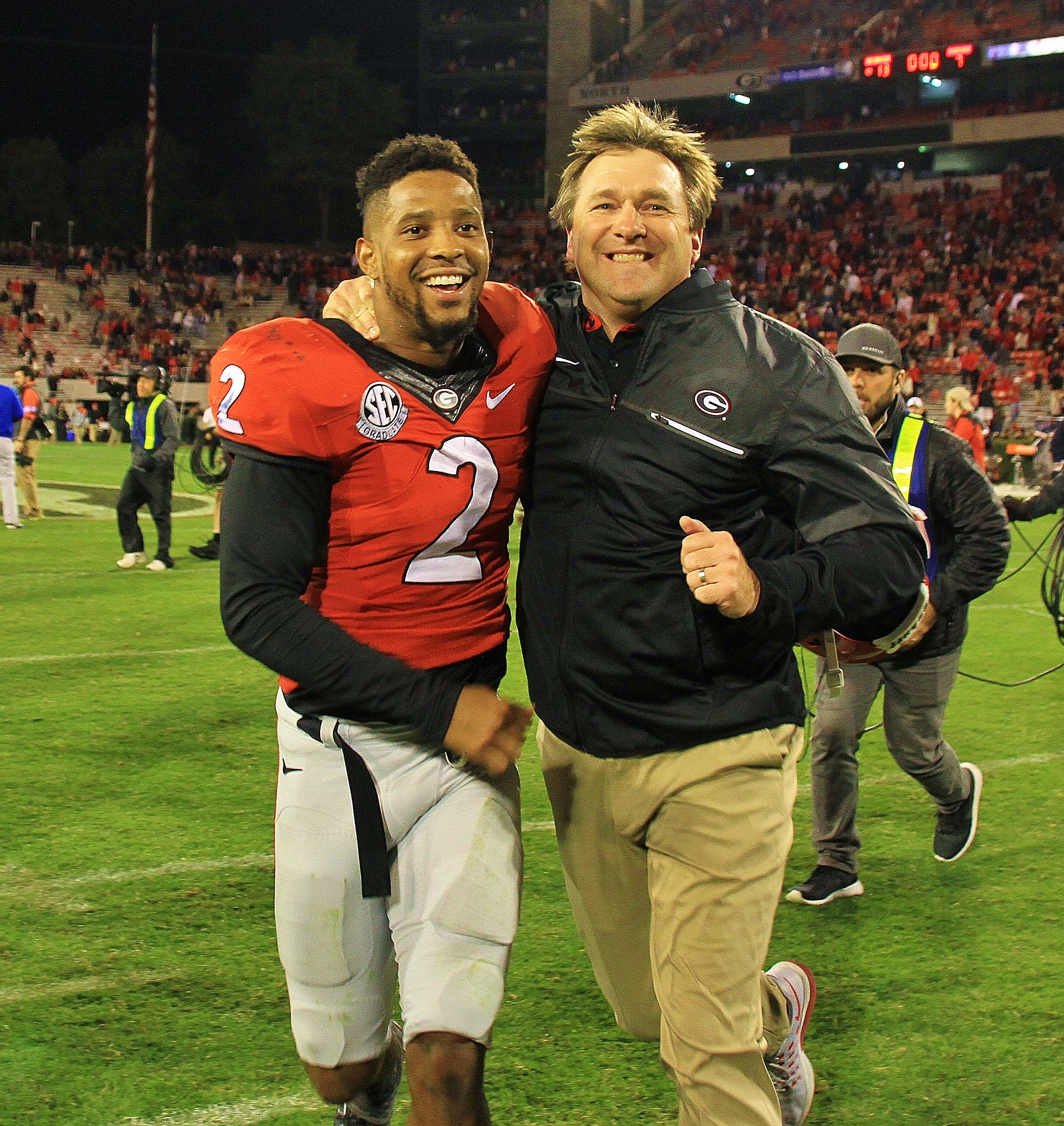 The Bulldogs got a huge win over the No. 9 Auburn Tigers that can be much attributed to the shutdown defense that they played. This game marks the defense's best performance since their game in the dome against North Carolina, but the offense still has some work to do.



Offense:

The Bulldogs offense did not have their best performance in this huge win, but this was a game where the Bulldogs did not have any crucial turnovers out of their running corps or quarterback. Jacob Eason did a great job of finding open receivers and not forcing too many throws. Eason also did a great job of converting third downs and keeping drives alive with his ability to throw the ball in an effective matter.


Nick Chubb also had a great rebound game after putting the ball on the ground twice last week against Kentucky. Chubb finished the game with 101 yards on 23 carries, and although he did not have the best stats, he still did a great job of helping the team move the chains.


The Bulldogs offensive line did have a few plays where they broke down, but overall they did a much better job of opening holes for Nick Chubb in the running game. They also did a great job of giving Eason a much cleaner pocket, except for on one drive where they gave up the Tigers' only two sacks of the game. This offensive line performance is even more impressive to me because they lost starting left guard Isaiah Wynn in the second quarter.


Defense:

This defensive performance by the Bulldogs was one of their best and most dominant performances of the season. They amazingly did not allow a single first down in the second half to one of the SEC's most potent offenses. This outstanding performance can be attributed the Bulldogs ability to shut down Auburn's running game and force them to have to earn first downs through the air, an area in which they had almost no success. Stopping the run started with impressive play out of the Bulldogs front seven.


Every member of the defensive line seemed to get great pressure on the quarterback in the passing game and did a great job of containing the Tigers' running game. This constant pressure from the defensive line played a key role in keeping players like Kerryon Johnson in check. Holding the SEC's best rush offense to only 127 rushing yards was definitely the difference maker in the game because it completely threw Auburn's offense off track.


Moreover, Auburn already had one of the SEC's worst passing offenses coming into this game and it showed against the Bulldogs defense. Forcing a team like Auburn to try to gain yards through the air, completely took them out of their element and they struggled substantially. The Bulldogs held Auburn quarterback Sean White to only 27 passing yards and one interception, which ended up being taken back for the Bulldogs only touchdown by Maurice Smith. This defense was absolutely dominant and this performance should point to how this team will perform on this side of the ball for the rest of the season.


Special Teams:

Rodrigo Blankenship missed a tough 49-yard field goal, which would have matched his career long, but still went 2/3 on the day and had all of his kickoffs reach the end zone. Overall I have to say that Blankenship's performance was impressive and he should be commended for having a great week in both field goals and kicking the ball off to the end zone.


The Bulldogs lost punter Marshall Long to a knee injury and had to rely on Brice Ramsey to pick up the slack in his absence. Ramsey was shaky on a few punts but overall had a nice performance and pinned the Tigers inside their own 20 on 3 out of his 6 punts. They will need more stability out of Ramsey in their future games, but if he can continue to perform at this level then he should do just fine for the Bulldogs in replacement of Long. In the punt return game, Isaiah McKenzie also had a great 20-yard return and did not make any mistakes returning the ball. McKenzie did a good job of managing punts and deciding when he should call fair catch, which is an area he's struggled with in past games.


Overall, This performance was one of the Bulldogs most complete games, but the offense still has some improvements that need to be made. However, the defense and special teams performed very well and they seem to be clicking on all cylinders. Coach Kirby Smart has to be pleased with the growth and development that this team has accrued over the season and it should be encouraging to him as to what this team may be able to do in the future.