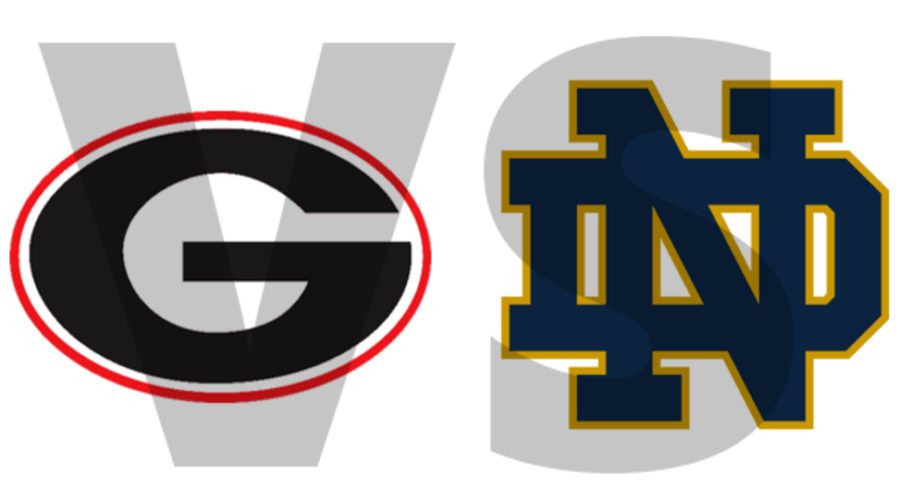 Yes, the Notre Dame Fighting Irish were a poor 4-8 last season under ultra-successful career head coach Brian Kelly.


And because of those immense struggles in the 2016 season, that's why the 2017 Irish will be primed high to prove something on Saturday night at Notre Dame Stadium when the Georgia Bulldogs come calling.


Kelly's present football team wants to make a resounding statement to the rest of the nation, in this NBC nationally-televised game, that the Fighting Irish are back this season … ready to assume their rightful place among college football's elite and thereby climb back toward the country's top 10-ranked teams.


And, certainly, a win over the 15th-ranked Bulldogs Saturday evening would enable now 24th-ranked Notre Dame to take a giant step in that direction.


But hey, Kirby Smart's Georgia team also feels it has something to prove as well when the ball is teed up at 7:30 at this legendary venue in South Bend, Ind. As everyone in Bulldawg Nation is aware, Smart's first season at the UGA helm was anything but satisfactory. A 7-5 regular season record with home losses to Tennessee, Vanderbilt and state rival Georgia Tech — as well as another Bulldog defeat down in Jacksonville — pretty much left a sour taste in the mouths of Georgia fans from Dalton to Brunswick and all points in between.


And here in a season when Kirby's second Bulldog team has been picked to win the SEC East Division title and thereby earn a trip to the new Mercedes-Benz Dome for the conference championship game, Georgia's players want to begin showing against Notre Dame that they fully intend to become the football team the preseason prognosticators have pegged them to be.


The Bulldogs took care of business just fine in the season-opening contest against an always upset-minded Appalachian State team, building a 31-0 lead in the third quarter before the Mountaineers put 10 points on the board in the final quarter against the Georgia back-ups.


But this game fast approaching on Saturday night, this is a leprechaun of a different color, so to speak, and a number of questions loom as to whether Georgia will be traveling back to Athens sporting a 2-0 mark in the young season or saddled with a 1-1 record with even more questions looming for a tough schedule ahead.


Such as: Can the Bulldogs' O-line step up against a much-larger Irish defensive front and create running lanes for Chubb and Michel … which admittedly was hard to come by in the early going against a small but quick Appy State defense? … Can freshman quarterback Jake Fromm, who will be starting his first game as a college quarterback, play with the poise he exhibited on opening day after relieving injured starter Jacob Eason in the first quarter against the Mountaineers? … Will the Georgia defense handle Notre Dame's mammoth offensive front and be able to slow down quarterback Brandon Wimbush, ace receiver Equanimeous St. Brown and the talented Irish running backs?  … And finally, will the Bulldogs' special teams perform again in the brilliant manner they did in the first game, thereby continually flipping the field in Georgia's favor Saturday night?


Indeed, I think the Bulldogs are fully capable of making all these things happen against Notre Dame. Won't be easy but look for Kirby Smart to score a landmark win for his program, with the Bulldogs outlasting the Fighting Irish by 28-24 in a thriller of the first magnitude.



---
Recent Articles by Murray Poole


[pt_view id="2fb799183g"]