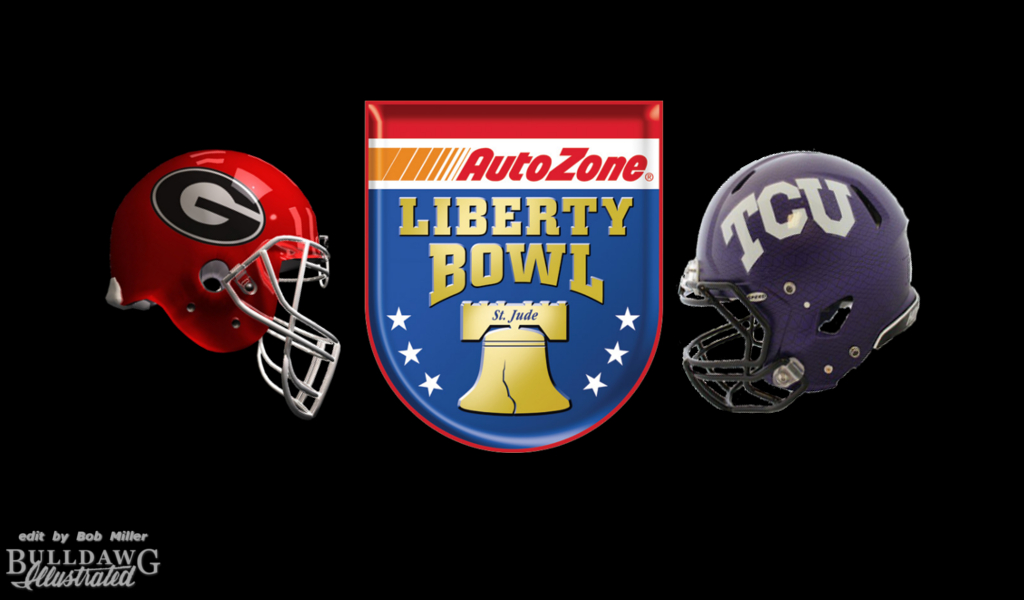 After finishing the regular season with a 7-5 record, the Georgia Bulldogs have been selected to face the (6-6) TCU Horned Frogs in the Autozone Liberty Bowl on December 30th in Memphis, Tennessee.
This will be Georgia's fourth trip to the Liberty Bowl since it's creation in 1959. The game was originally played in the city of Philadelphia, PA and after five years was moved to the Atlantic City Convention Center before it came to rest in Memphis, Tennessee in 1965. The Bulldogs first played in the Liberty Bowl in December of 1967 losing to North Carolina State 14-7. Twenty years later, in 1987, Georgia would again be invited to the Liberty Bowl where they would emerge victorious over Arkansas 20-17. But perhaps the Liberty Bowl most Bulldog fans remember and would also like to forget is the one in 2010 against UCF where Georgia fell to the Knights 10-6 to finish the year with a losing record at 6-7.
This will also be Georgia's fourth time facing TCU. The last time the Bulldogs and Horned Frogs faced each other on the gridiron was back some 28 years ago when Georgia hosted TCU for a home game in Athens on September 10, 1988. The Dawgs beat the Frogs 38-10. In fact, Georgia has never lost to TCU on the football field and are 3-0 lifetime against the Frogs. An interesting tidbit of history, Georgia's very first bowl game victory came against TCU in the Orange Bowl on January 1st, 1942, where legendary Bulldog Frank Sinkwich would lead the team to a 40-24 win.
Both Georgia's J. Reid Parker Director of Athletics, Greg McGarity, and Head Football Coach, Kirby Smart, commented on the Bulldogs being selected to play TCU in the Autozone Liberty Bowl.
"We look forward to representing the SEC in the AutoZone Liberty Bowl in Memphis and competing against TCU," said UGA J. Reid Parker Director of Athletics Greg McGarity. "Rarely do we face an opponent from the Big 12, and we look forward to this matchup. Steve (Ehrhart), his staff and volunteers will take great care of our team, administrative staff and Bulldog fans."
"The opportunity to play an outstanding team in TCU is an exciting challenge for our coaches and players," said UGA head coach Kirby Smart. "This will be my first trip to the game as a player or coach but the Liberty Bowl has a long history of providing a quality bowl experience that I'm sure our players and fans will enjoy. We will face a quality Big 12 opponent in TCU and I'm sure Coach Patterson will have them at their best on December 30. We are anxious to begin practice and preparations for the trip to Memphis."
AUTOZONE LIBERTY BOWL GAME INFO
Friday, Dec. 30, 12 Noon ET
The Liberty Bowl Stadium, Memphis, Tennessee
(7-5) Georgia Bulldogs vs. (6-6) TCU Horned Frogs
Televised on ESPN
Live streaming online on WATCH ESPN
Game will also be audio broadcast on the Bulldogs Radio Network
Liberty Bowl Tickets On Sale Now to General Public
Tickets are on sale now. Sideline ($85) and Chairback ($95) tickets and can be ordered online now (click here) or by calling the Athletic Association ticket office 1-877-542-1231 between 8:30 a.m. – 4:30 p.m. Monday through Friday. All ticket orders will be filled in the order in which they are received.
Members of The Georgia Bulldog Club will receive the number of tickets to the bowl they requested during the pre-order process with Hartman Fund contributors receiving priority on ticket assignment based on their cumulative score. Members of The Georgia Bulldog Club who have not yet placed an order to AutoZone Liberty may order tickets at this time; however, they will not be assigned based on priority but in the order which they are received. Hartman Fund contributors, who have already submitted a request, are allowed to order additional tickets if needed as there will not be any limits on the number of tickets one can order to the AutoZone Liberty.
Hartman Fund contributors requesting AutoZone Liberty tickets will receive bonus points applied to their lifetime score at a rate equal to the purchase price of the tickets for the AutoZone Liberty excluding processing fee. For example, request four(4) tickets at $95 and receive 380 points (actual prices and bonus point totals may vary based on the tickets assigned). Bonus points will apply to the cumulative priority only and not toward annual donation requirements. Bonus points will be applied to participating donor accounts by January 31, 2017.
Also, all UGA Faculty/Staff ticket requests for the AutoZone Liberty Bowl will be fulfilled.
All tickets will be shipped via US Postal Service Priority Mail the week of December 12th.
For more information on the AutoZone Liberty Bowl, please CLICK HERE .