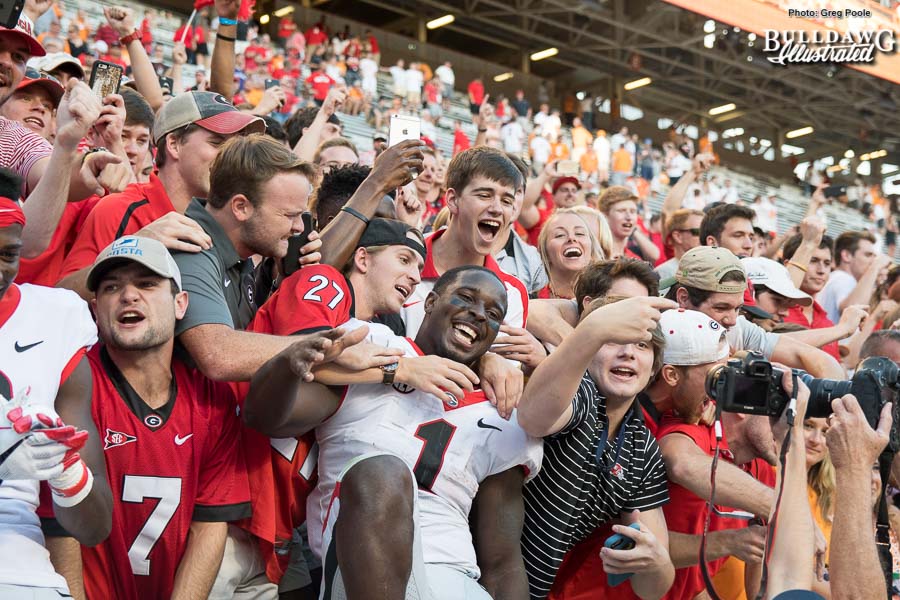 No blown leads in Knoxville this time. No crucial injuries to star running backs. Only a swarming, unyielding Georgia defense and a Bulldog offensive attack that got better as the game moved along at Neyland Stadium.



Folks, for the second consecutive Saturday,  Kirby Smart's football team has placed a woodshed whipping on a Southeastern Conference opponent. This time, it was the 7th-ranked Bulldogs all over a frustrated and floundering Tennessee team to the tune of 41-0.


Have you ever witnessed a Georgia football team stage two such impressive victories back-to-back? Don't think I have and, showing my age, I've been covering the Bulldogs for some 52 years now.


Clicking along now at 5-0 on the season and 2-0 in the conference, Georgia will rate a solid favorite over the likes of Vanderbilt and Missouri the next two weekends. Then will come the open date and then, will come that annual trek down to Jacksonville, Fla.


While the UGA offense sputtered a bit in the early going before shifting into another gear in the second quarter and enabling the Bulldogs to climb into a 24-0 advantage at the halftime break, that Georgia defense smothered the Vols' offense the entire four quarters … just as it did the Mississippi State offense the previous week. For the second consecutive game Mel Tucker's unit didn't yield a touchdown and while the Maroon Bulldogs did at least convert a field goal in their 31-3 loss to Georgia, Butch Jones' Tennessee team couldn't cash a single point.


Being shutout for the first time since 1994, the Vols were checked to a measly 142 yards of total offense — 62 on the ground and  80 through the air. Tennessee had just seven first downs. The SEC's leading rusher, John Kelly, was held to a measly 44 yards on 16 carries. The Bulldogs forced four turnovers. Tyrique McGhee picked off Vol quarterback Quinten Dormady on the home team's very first play from scrimmage, Lorenzo Carter recovered a UT fumble, J.R. Reed intercepted a Dormady pass that was deflected by Deandre Baker, and Reed also recovered a Vol fumble at the end of a lengthy pass completion, when Aaron Davis stripped the UT receiver of the  ball.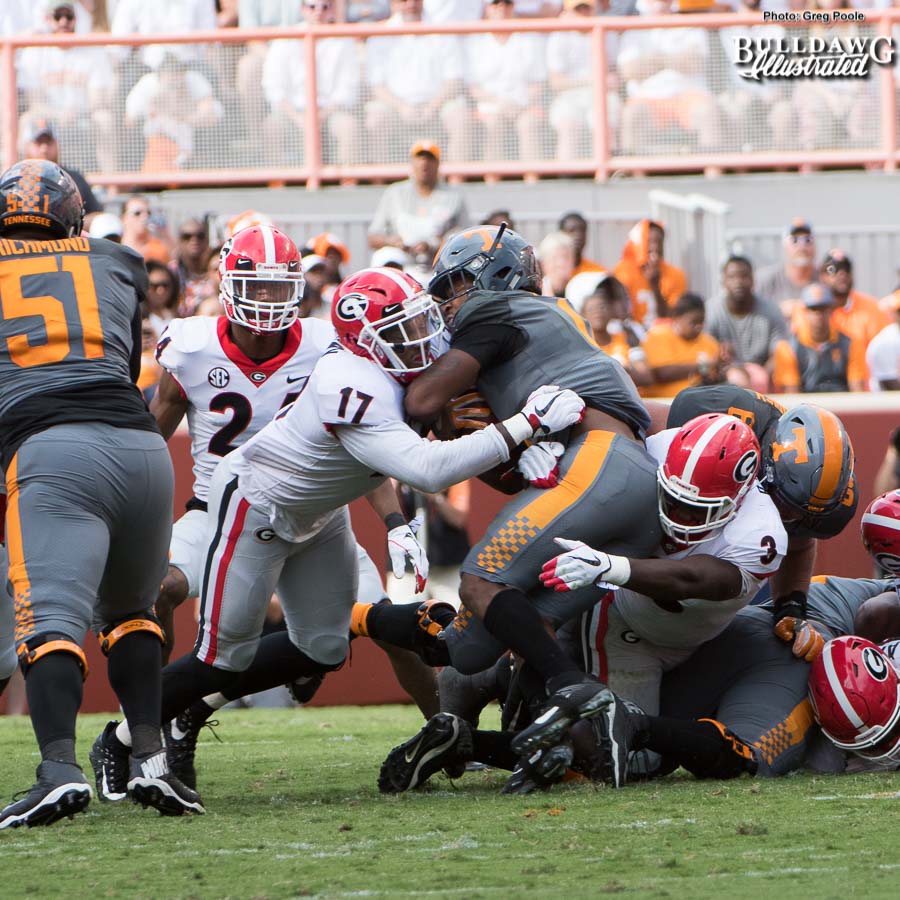 Once again, the Bulldogs' mercurial linebacker, Roquan Smith, was far and away Georgia's leading tackler with 11 total stops. Jon Ledbetter, Davin Bellamy and Julian Rochester all recorded QB sacks and D'Andre Walker was credited with a late punt block when the low kick by the UT punter banged off Walker's helmet.


On the offensive side of things, freshman quarterback Jake Fromm again exhibited amazing poise starting his first SEC road game. Fromm ran for a pair of touchdowns and threw for another one in directing another balanced effort by the Georgia offense. He threw only 15 times, completing seven for 84 yards and a 12-yard scoring pass to Javon Wims.


Fromm didn't have to pass that much, what with the Bulldog running game going for 294 yards. Senior tailback Nick Chubb once and for all erased the memories of his painful knee injury two years ago on this same turf by running for 109 yards on 16 carries. Sony Michel went for 64 yards on 11 carries including a 21-yard scoring run, Elijah Holyfield came in late and zipped for 51 yards on seven trips including a 32-yard dash and the freshman, D'Andre Swift, joined in the fun with 36 yards on five carries.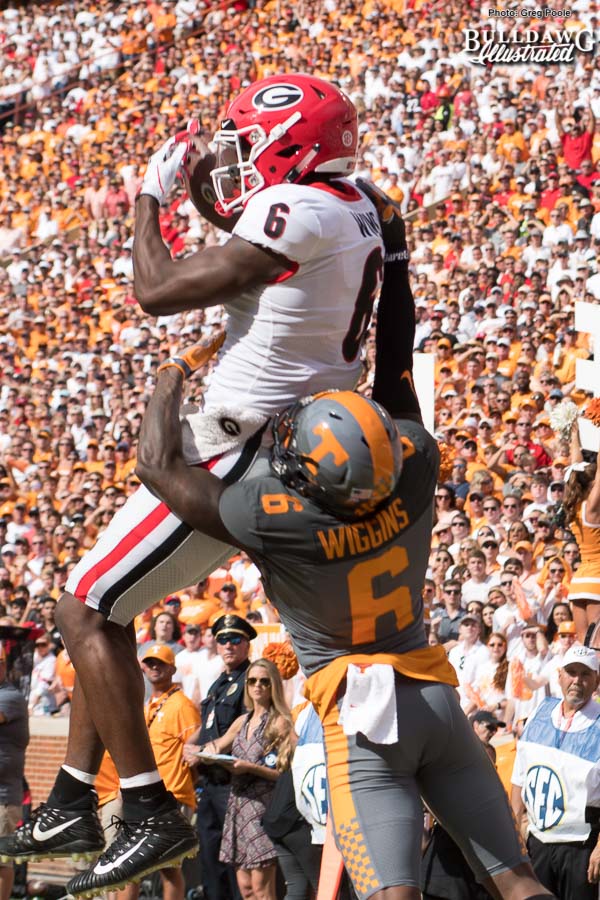 Wims paced the Bulldog receivers with three catches for 33 yards including a leaping 12-yard touchdown pass from Fromm, and Terry Godwin snared two balls for 43 yards.


For the record, en route to a 24-0 first-half lead, the Bulldogs cashed points via a 38-yard field goal by Rod Blankenship, the 12-yard pass from Fromm to Wims, who made a sparkling catch in the left side of the end zone despite tight coverage, a 9-yard keeper by Fromm and another scoring run by the quarterback from the Tennessee 4-yard line when a pass attempt broke down.


Over the final two-quarters, things only got worse for the gray-and-orange clad Volunteers as the Bulldogs put the cherry on top of this romp by notching the 21-yard scamper from Michel, a 1-yard run by Brian Herrien and a 19-yard field goal by No. 2 kicker David Marvin.


By the fourth quarter, the majority of the Volunteer faithful had emptied this huge stadium on the banks of the Tennessee River while, just like they did at Sanford Stadium after the win over State, all those delirious fans in red and black continued to stick around and celebrate deep into the Knoxville night.


Now, it's back to the volunteer state next weekend to clash with those Vanderbilt Commodores, who will be coming off a stinging loss to the Florida Gators.




---
Recent Articles by Murray Poole


[pt_view id="2fb799183g"]