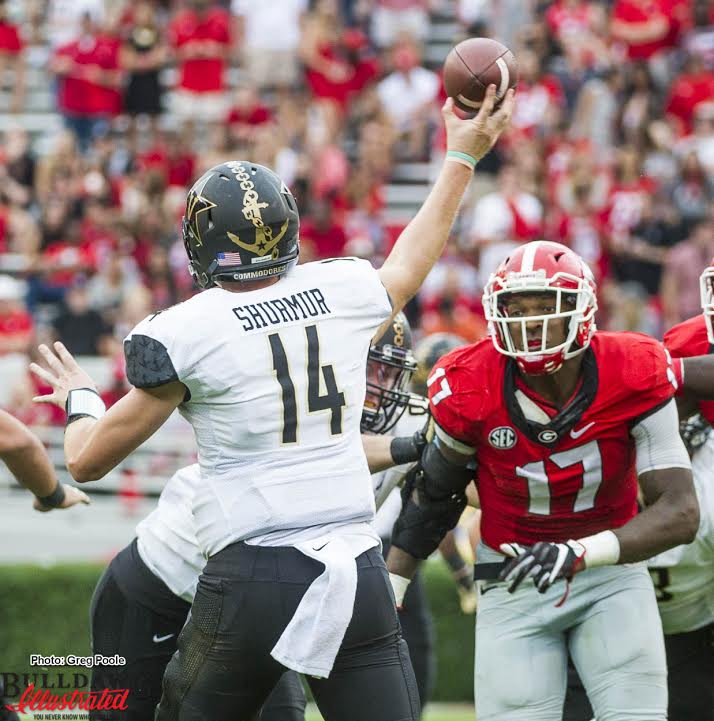 Kevin Butler, former University of Georgia legendary kicker and a member of the Georgia radio broadcast team, will each week during the 2016 football season select his offensive, defensive and special teams players of the week for Bulldawg Illustrated. Here are Butler's selections and reasons why for the Bulldogs' 17-16 loss to Vanderbilt on Oct. 15.
Compiled by Murray Poole
OFFENSE
Freshman tight end Isaac Nauta, who caught five passes for 74 yards including Georgia's only touchdown, a 17-yard reception from quarterback Jacob Eason.
"The freshman was about the only offensive threat UGA had Saturday," said Butler. "Nauta is becoming Jake's favorite receiver through the first half of the season and is producing nice numbers so far. Against the Commodores Isaac had five receptions for 74 yards and the lone TD for the day for an offense  that could not close it out in the red zone. Isaac's blocking ability has improved quickly and that will ensure more playing time for the star tight end."
DEFENSE
Junior outside linebacker Davin Bellamy, who had eight tackles including one-half sack and a tackle-for-loss for a Georgia defensive unit that limited the Commodores to just 171 yards total offense.
"When you start off the game evaluation with the defense giving up only 171 total yards, you would think the outcome would be good as well but, not so against Vandy," said Butler. "Bellamy led a stingy defense that was put in too many tough situations to overcome a relentless Vandy  offense. Davin's play was outstanding with eight tackles, a half a sack and one tackle-for-loss. He is a leader and can be dominant on the field when challenged, and he responded to that challenge this past game. We need his leadership and hard play moving forward."
SPECIAL TEAMS
Freshman place-kicker Rodrigo Blankenship, who tallied 10 of Georgia's 16 points with field goals of 45, 22 and 36 yards plus his PAT kick after Nauta's touchdown.
"Well, it is with great pleasure that I present the Special Teams player of the game to Rodrigo Blankenship," said Butler. "Que the song 'Wild Thing!' Placekicking has been an area of concern this year and Saturday was the best it's been this season. Field goals of 45 and  22 yards was all the  offense UGA could muster up in the first half and then Rodrigo added a 36-yarder in the fourth quarter. His kickoffs were consistent and sometimes deep and when it did not go out of the end zone, Rodrigo even made a tackle in the first half. I would rather see him making field goals instead of tackling moving forward into the second half of the season. His hard work is paying off. Very proud of  'Wild Thing!"