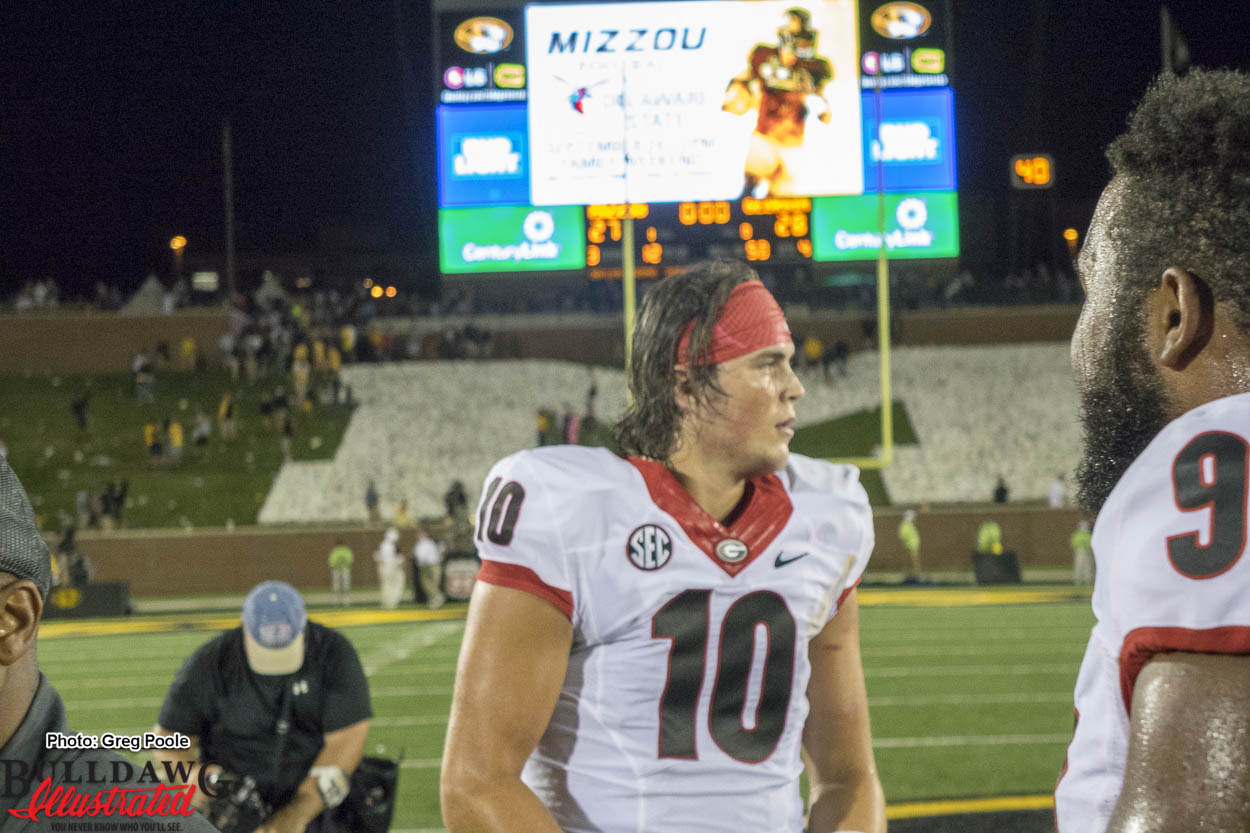 Kevin Butler, former University of Georgia legendary kicker and a member of the Georgia radio broadcast team, will each week during the 2016 football season select his offensive, defensive and special teams players of the week for Bulldawg Illustrated. Here are Butler's selections and reasons why for the Bulldogs' thrilling 28-27 win at Missouri Saturday.
Kevin Butler's Players of the Game compiled by Murray Poole
OFFENSE
Freshman Jacob Eason, starting and going the entire game at quarterback, led the Bulldogs to their first SEC victory by completing 29-of-55 pass attempts for 308 yards and three touchdowns, including the eventual game-winner on a fourth-and-ten, 20-yard scoring strike to Isaiah McKenzie with just 1:29 left to play. Eason marched the Bulldogs 80 yards on the winning drive.
"I am not sure if he can kick but he made a great hold on the last extra point" said Butler. "A 28 -27 victory over the Mizzou Tigers might have been the coming-out party for Jacob that we have all been waiting to happen. Well, it could not have come at a better time … Jacob going 29-55 for 308 yards with 3 TD's and 1 INT. As Coach Smart has said, 'not much rattles the young kid' and it was rattling in Mizzou when Jacob took over to manage the final winning drive. When touch was needed Jacob hit Isaiah McKenzie up the middle to tie the game at 27. Then the biggest play of the night, the HOLD for a successful extra point and a great win!"
DEFENSE
Sophomore inside linebacker Natrez Patrick, who sparked the Georgia defensive effort with nine tackles as the Bulldogs limited the Tigers to 95 yards net rushing.
"The sophomore out of Atlanta had a complete game, leading the defense with nine tackles which included seven solos and two assists," said Butler. "The combination of a scraping linebacker and also being able to drop back in coverage was key to stopping the Missouri aerial attack.
It took a complete 60 minutes to accomplish the goal and the defense never let up … led by Natrez. He'll need to up his game this coming week against the Ole Miss Rebels"
SPECIAL TEAMS
Senior snapper Trent Frix, whose perfect snap to holder Jacob Eason on William Ham's game-winning extra point with 1:29 left enabled the Bulldogs to leave Columbia, Mo. with a dramatic conference victory.
"Trent is a special person," said Butler. "Coming from a long line of long snappers he is carrying on the Frix family tradition. He gets my vote for special team player of the week this week for his toughness and willingness to help the team out when it might not be benefiting him physically. Playing with a broken foot and a nice dose of pain, Frix practices hard during the week and performed like a pro Saturday versus Missouri. When trying to shore up our field goal team Frix did not want to let his teammates down. Every snap was great and his effort and dedication to the Bulldogs hopefully will spread amongst all his teammates. Great job Trent, I know your dad is proud!"