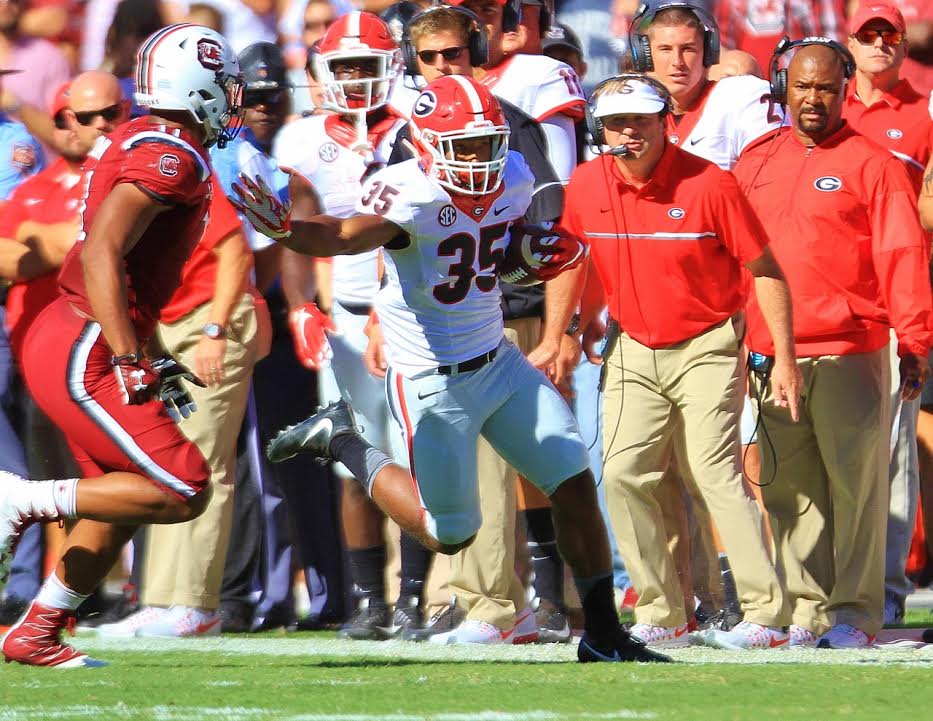 Kevin Butler, former University of Georgia legendary kicker and a member of the Georgia radio broadcast team, will each week during the 2016 football season select his offensive, defensive and special teams players of the week for Bulldawg Illustrated. Here are Butler's selections and reasons why for the Bulldogs' 28-14 win over South Carolina on Sunday.
OFFENSE
Kevin Butler gives the offensive award this week to the entire Georgia rushing attack, which hammered the South Carolina defense for 326 yards.
"The RUN GAME … 326 yards in a game where the passing game did not exist," said Butler, "Sony Michel, Nick Chubb and Brian Herrien ran at will against a Gamecock defense that could not muster up the energy to stop Georgia, The offensive player of the week goes to the entire offense led by an offensive line that works every day to get better, The three running backs performed outstanding and certainly deserve MVP for the week, One doesn't work without the other and that's why the Georgia offense is the player of the week."
DEFENSE
Malkom Parrish, the junior cornerback whose interception of a Perry Orth pass at the Gamecocks' 28-yard line set up the Bulldogs' second touchdown in the first half, Parrish also rendered three tackles and three pass break-ups as the Georgia defense limited South Carolina to just 30 yards net rushing.
"Parrish had his best game of the season against the Gamecocks," said Butler, "Three tackles, an interception and three break-ups let the SEC know that he wasn't going to take it anymore, In previous games Malkom has been the target of attack and Sunday against South Carolina he not only stepped up to the challenge but he won the challenge, The three break-up passes would all have been touchdowns if Malkom wasn't on his game.
This was a great step in helping our defense become the Dog defense we know it can be, Great job, Malkom."
SPECIAL TEAMS
Sophomore linebacker D'Andre Walker, who sparkled on the Bulldogs' special teams and led the kick coverage units in bottling up the Gamecock returners.
"When you get effort on special teams like D'Andre gave today while also playing a lot on defense, that is exactly what Georgia needs to make a difference on the special team," said Butler, "Walker had two 'tacos' and five kickoff coverages, in which three were returned, He is an unbelievable athlete that can make plays in any situation and his contribution on special teams does not go unnoticed, D'Andre has a lot of enthusiasm and he needs to make sure he can control that but his effort is undeniable."