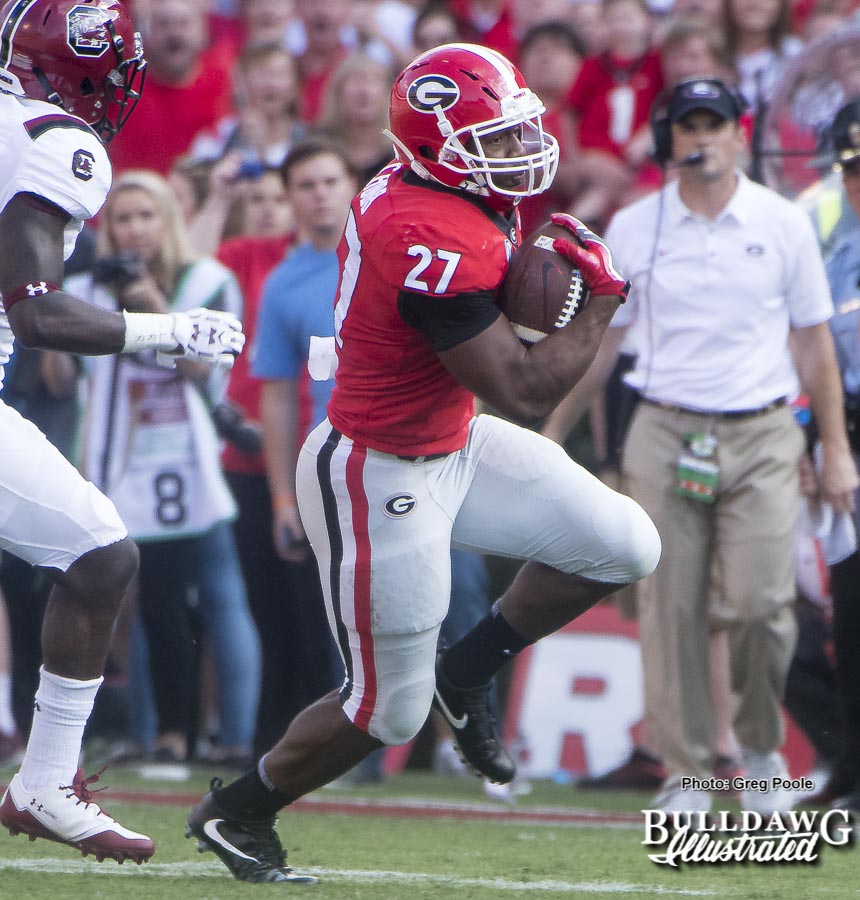 Kirby Smart was happy, and very relieved, after his No. 1-ranked and unbeaten Georgia Bulldogs walked out of Sanford Stadium early Saturday night with a hard-fought 24-10 win over the upset-minded South Carolina Gamecocks.
The win propelled Georgia to 9-0 on the season as the Bulldogs now turn their thoughts to next Saturday's trip to Jordan-Hare Stadium in Auburn, Ala. And the big news for Smart and his team came shortly after the Georgia victory when it was learned that the Ole Miss Rebels had upset the Kentucky Wildcats 37-34 on a late touchdown, thus delivering the Bulldogs their first SEC East Division title since 2012. Georgia, now at 6-0 in the conference, will be facing the eventual West Division champion on Dec. 2 in the SEC Championship Game at Atlanta's new Mercedes-Benz Stadium.
The Bulldogs' head coach, when informed that Ole Miss was about to upend Kentucky and thereby give Georgia the East crown, would only say he was about to go visit with prospective recruits and start preparing for Auburn. "There will be no celebration," said Smart. "I mean, what is there to celebrate? We play Auburn next week and that's where our focus is."
Smart had reminded all week that the Gamecocks, now 6-3 and 4-3 in the SEC, would be one of the most physical teams the Bulldogs have faced to date.
"That's how games are in the SEC – physical," said Smart. "South Carolina has a really good football team. The grind in the SEC is real every week. I think we learned tonight you've got to respect every opponent and do what it takes to win in the SEC. We were sloppy defensively on third downs tonight," Smart said, "which you can't do in this league."
On opening the game with a failed onside kick Smart quipped, "The defense saved the ol' ball coach there. But we said all week we were going to be aggressive. We saw something and felt it was there and felt it was the right thing to do. South Carolina made a heck of a play. Thankfully our defense stopped them and they missed a field goal. That was a good stop.
"But we expect games like this," said Smart. "Every game we go into, we expect a fourth-quarter game and we also want to be in games like this. We know we're not invincible. We've gotta keep going. We've gotta keep chopping. We've gotta be able to play those fourth-quarter games."
Freshman quarterback Jake Fromm paced the Bulldogs' offensive attack, which rolled up 242 rushing yards (Nick Chubb and Sony Michel ran for 102 and 81 yards, respectively) and 196 passing, by completing 16-of-22 attempts including touchdown passes of 10 yards to Javon Wims and 20 yards to Mecole Hardman … a pretty good retort by Fromm to South Carolina defensive back Chris Lammons, who quipped earlier in the week, "Georgia can't pass the ball."
"I knew he (Fromm) could throw the ball," said Wims, whose second sensational catch in as many weeks was first ruled out of bounds before a review said it was indeed a touchdown. "We throw as much as we run in practice. We all know he can throw the ball."
On waiting for his TD catch to be confirmed by replay, Wims said, "I just had to wait for them to confirm it. I was telling all my guys, 'I was in and I caught it.'"
Sophomore safety J.R. Reed, who along with Malkom Parrish rendered interceptions of Gamecock quarterback Jake Bentley, was proud of the defense's effort, which shut down the South Carolina run game to just 43 yards net rushing (although Bentley did throw for 227 on 36 attempts).
"Whether it's a big lead or not a big lead, we go out there and we want to stop a team every time," said Reed. "We try to get teams to 3rd and long and attack them there. They're a good team and they made some plays early on, but I thought we responded in stopping them. We always have the same confidence through the whole game. Our confidence in our motto is: we're gonna go out and stop any team, create turnovers and get after those guys."
Once again, junior linebacker Roquan Smith paced the Bulldog defense with nine total tackles including 1.5 sacks while senior linebacker Reggie Carter likely had his best game of the season with seven total tackles including a half sack and a tackle-for-loss.
"Georgia's got a really good football team," said former Georgia defensive back and South Carolina head coach Will Muschamp. "Kirby's done a fantastic job. I'm really proud of our team, the way we competed and fought. At the end of the day, the difference in the game was their running backs and third downs."
Now, for Georgia, it's on to the plains of Auburn, where the Tigers will in all likelihood present the Bulldogs with their sternest challenge of this season.
---
Recent Articles by Murray Poole


[pt_view id="2fb799183g"]