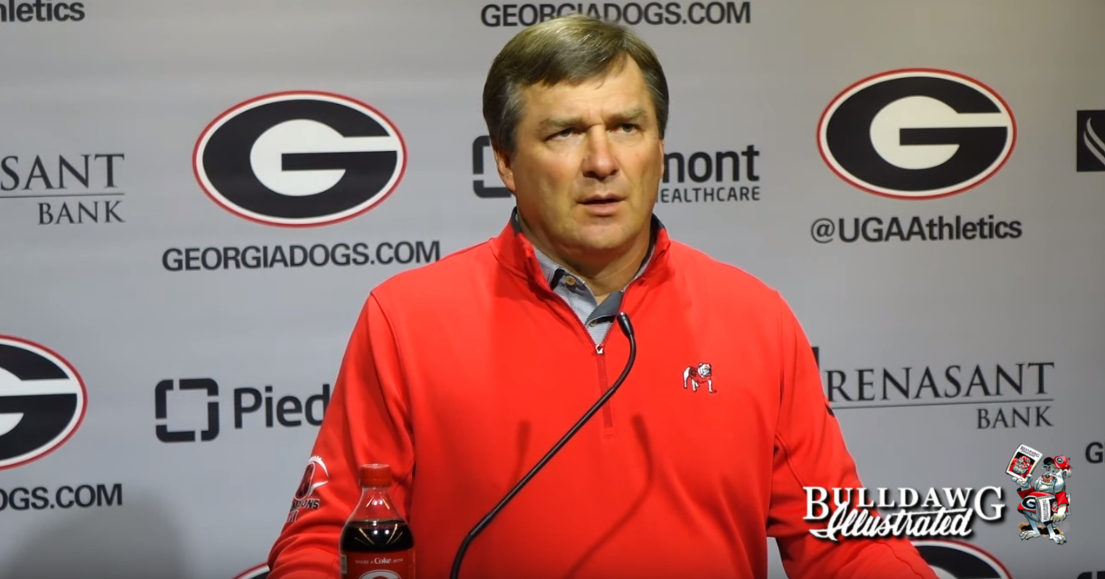 During his Monday Noon-time press conference, Georgia head coach Kirby Smart looks back on the 20-17 loss to South Carolina this past Saturday and what the expectations are for the Bulldogs upcoming homecoming game against Kentucky on October 19th. Kirby gives an update on several injured players including Lawrence Cager and Tyson Campbell, discusses offensive play calling and production, and more.
Note: Timestamped transcript below the video.
00:00 Opening Statement:
"I know our guys are excited to get moving forward and get to work on Kentucky, which has a physical football team. I thought they did a really good job the other night in their game. A lot of our guys have reached out to me and looking forward to getting together and make sure we have the right kind of practice moving forward. We have really good leadership on the team, and I know they're prepared for that."
"And there's no time sitting back feeling sorry for yourself because you've got good teams each and every week. This is a solid football team that was playing for the [SEC] East last year. They've had some injuries that have affected them and they've done a tremendous job of running the ball, finding ways to move the ball with different people doing it, and they've got a big front on defense. They had the same thing last year and they've got a lot of guys back. I know our guys will be looking forward to it, as I am, and with that, we'll open it up for questions."
01:14 Do you have a conversation with the team about all your goals being in front of you still?
"We've had that conversation. We have that conversation in the locker room. This is not the first time we've had to deal with this. Each year we've had to deal with it at different times from different opponents. And they acknowledge that. They understand. Last 20 years or something of the SEC East I don't think a team that's represented the SEC East has been undefeated. Maybe Florida, I think one year they did. But outside of that, it just doesn't happen very often. What's more important is that our team gets ready for Kentucky and gets ready to go play than talking about the rest of the year, because we have to worry about Kentucky."
02:01 Cannot let a team beat you twice…
"It goes into effect on this game. No. 1, you can't turn the ball over. We have to correct those mistakes, and our guys have to focus on Kentucky. The most important thing for us is Kentucky. And that's us getting better. And a lot of it has to do with us inherently looking at ourselves and saying, okay, what can I improve upon, but a lot of the things that we can improve upon are based on what Kentucky does, offensively, defensively and special teams, and that's where our focus will be."
02:35 Were there any warning signs leading up to the South Carolina game in regards to physicality?
"No. I don't think I'd seen any warning signs because I really thought we had good practices. The air cooled off. It wasn't as hot. We had really good practices the week of South Carolina. So that's not a major concern."
"And then you go to the physicality, it's tough because we have measures of being able to run the ball, and our rush efficiency was much higher than it was against say, Notre Dame. We rushed the ball more efficient. Efficient is four more on first down, being able to get what you need short yardage. We won both short-yardage situations. Goal-line, we won the goal line situation. They weren't long carries, but when it's goal to goal on the one or third and one and you get the yards, it makes you efficient. Rush average was down, and that's an important stat for us, but rush efficiency for us has been something that's been indicative of success. We've never been an efficient rushing team by what we measure it and lost a game since we've been here, which tells me that we were able to run the ball efficiently; we didn't protect the ball, and that in the end didn't cost us."
02:51 Did the team have a lack of focus on Saturday?
"I don't think that we had a major lack of focus there. I don't think that was the case at all. I thought the guys' focus was tuned in. I thought in pregame warmups, for me, I want to see more physicality, more get going. I thought that had a little bit to do with the early start, getting them going in the locker room. But there was good preparation, good leadup. Really felt good about that. And give South Carolina credit, they had a lot of it. But, again, the focus for us better be on Kentucky, because you can't let South Carolina beat you twice."
04:21 Does the offense do better when you go up-tempo? Should you go up-tempo more?
"Yeah. We tried to do that several times Saturday, and when we did that, didn't feel like we were very effective. Number one, they played us differently when we tried to go faster. And if you look at the game's outlook overall, probably the toughest thing for us is, number one, turnovers. In the SEC, do a study, four and 0 in turnover margin, you're not going to win, period. I mean it doesn't happen. So let's start with that."
"Number two, lack of explosive plays, which we've struggled with a little bit. We're not getting explosive plays. Even our runs, we're getting runs, good runs, 10 yards or more, but we're not getting explosive runs, which are longer because there's a lot of people in the box. We're not getting explosive passes. We had a few, but not enough."
"So we did not win two-minute. Look at this year what we've been great at, we didn't win two-minute before the half twice, and then we didn't win two-minute at the end of the game. So there were three two-minutes in that game, which is very unique. We really didn't win any of the three of them. And that's one of our big goals is to win two-minute. Every game up until that it seemed like, we had either won defensively before the half or we'd won offensively, and we didn't do that. So those are the three biggest things that we gotta improve on, and we'll continue to work on."
05:45 What lessons can you draw from losses?
"Well, the similarity in LSU is the four turnovers. I mean, you turn the ball over four times, and you get zero, which is just as big of a concern as turning it over four times. is getting zero. You gotta find a way to get tips and overthrows when the ball is in the air. You gotta find a way to knock a ball off somebody, to get a strip-sack fumble. You know what I mean? You gotta get some turnovers, and we learn from those lessons each and every time we have them. I feel very confident in the leadership of this team, that they'll respond the right way. They did that in the locker room the other day. And they'll handle that the right way."
06:28 On not kicking a field goal with 8-seconds left in the 4th quarter in regulation; did the "kick-six" from the Auburn-Alabama game impact your decision?
"Absolutely not. Has nothing to do with it. Has to do with normal football. No coach in his right mind with eight seconds thinks he can't get another play off. We do it every single Thursday, every single Friday. We script it. We've done it with seven seconds. We've actually done it with six ever since the Florida halftime deal where we had a chance to get another play in, Florida with it being a really short, condensed area, because that was like on the goal line. And, plus, we're going to trust our quarterback to make a good decision there and allow us to have a field goal to kick afterward, so no doubts, no questions. Nothing there."
07:10 What challenge does Kentucky QB Lynn Bowden presents for the defense?
"He's extremely athletic. I tell you what, the guy does a phenomenal job. I think their staff does a great job of using his skill set. And you think when he's back there he's not going to throw it, but it becomes harder to defend him because you let the pass creep out of your mind and then he hits two or three big passes. They've got a major matchup factor on the outside in a really big wideout. They've got tight ends that run pop passes when you play certain coverages. They just do a really good job. And he's hard to tackle."
"And they've been one of the best rushing teams in our league for a while because of Benny Snell, and now they're finding other ways to use it with Lynn. I mean, the management they had the other time with him back there, he creates a different type football game. It's very different when you look at third down with him having the option to run or throw. He creates a difficult defending mechanism."
08:10 What are the coaching strategies for Kentucky; any changes from the S.C. game?
"Nothing from the South Carolina game perspective. Looking back, we do self-analysis all the time. The biggest thing was the two two-minutes before the halves that we had an opportunity to score. We've been really productive in those. We've been really aggressive in those and done well. And we ended up with a long field goal opportunity before the half that ended up getting blocked that Rod [Blankenship] might be able to make, might not. But we thought we managed those really well."
"We have an analytics group that sends us information every week, and it's the same thing with that. The only consideration that we have is sometimes when to burn timeouts strategy-wise. And philosophically, we go meet with people. We met with NFL teams. We met with SEC officials before the season. When you get a first down, do you call a timeout or do you not, because sometimes they're going to burn four seconds on you regardless. So a couple times we've had first downs this year that we've had an abundance of timeouts, which means we're managing our timeouts right to even have them to use late in the half, late in the game and you have to make a choice on whether you use it after a first down, because some people would say, well, I'll just clock it or I'll just run a quick play, which at Alabama we had a philosophy of run a quick play sometimes, but that burns more time than possibly calling a timeout where you'd go to the half with timeouts. And we've had some situations in the past where we did that. So felt very comfortable how we used those. We just have to be more effective and efficient in two-minute, and that's really been one of our strengths, not one of our weaknesses."
09:52 How much has the offensive line been hurt or hindered by injuries and rotation? Update on o-line injures.
"Yeah. (Justin) Shaffer will be out this week. Don't know… He'll be week-to-week following this week. Don't know when we'll get him back."
"Solomon (Kindley) is dinged up. We think he's going to be able to go this week. Think he'll be able to play. He's going to be struggling a little bit today and rehabbing some. "
Ben Cleveland is a little beat up. There was times the other day he was unable to go and ended up being able to finish the game for us. We've got a couple of other guys who are beaten and banged up but everybody in the SEC does."
10:32 How is the moral of the Georgia coaching staff?
"Yeah, I think number one thing is getting some opportunities to do that. Our staff is great. Look, our coaching staff has been through this before. There's not a coach on there that hasn't lost a game. So you understand that that's part of the game. And you give the other team credit; you move on. You don't let it beat you twice. We are very technical in our process of these are the things that we can do better. But these are the things we did well."
"Just like when we win, we go back and show them the things we didn't do well, and I think that's really important to your players and your team that your coaches are consistent. So each time we've come in this team meeting room and we've said, hey, guys, we won the game, but this is the thing we didn't do well, just like we're going to say we didn't win the game and these are some things that we did do well. We have to grow on those and we have to get better at the things we didn't. And we'll be consistent with our message."
11:33 And what is the key for wide receivers to get separation and extending offensively?
"We have to find some guys that can get open, that can win one-on-one, that can create separation and do a good job. Then, Jake [Fromm] ultimately has to be the guy that controls it, whether he throws it away, eats it and runs with it, which he did the other day. He makes good decisions with the ball."
12:03 On Jake Fromm throwing over the middle
"No. That's not the case at all. Jake's had some really good throws over the middle. Some of his best throws have been over the middle. I don't know where that comes from or where it would come from. There were some throws on the perimeter that weren't great throws, ones he'd like to have back, but it's not like he's not throwing it over the middle on that. Teams play us different ways. Some people play two-man where they take away inside leverage. Some people just play man-to-man where they take outside leverage. He knows that. He sees it every day from us, so a lot of the routes are predicated by how people are playing us, but he's not not throwing it to the inside or not throwing it to the outside based on the ability to be comfortable."
12:54 Mistakes by Jake Fromm on audibles
"As far as the play, it was one that we changed at the line and the two guys moved late and we snapped the ball probably a little bit early. Again, guys… we're going to Kentucky. We're focused on Kentucky. Out of respect for our team, understand, we are focused on Kentucky for our players."
"We'll grow and develop from the loss. Don't get me wrong, I'm not trying to bury that hatchet. We got things we've got to do better. We've got to protect the ball, but we're focused on Kentucky."
13:09 Update on Lawrence Cager's injury
"I don't know if Cager is going to be able to play. He's probably going to be out this week, we don't know that for sure, we're going to see. He's dealing with more than a shoulder, now, he's got another injury that happened Saturday, so he may not be able to play."
13:51 Assessment of James Coley as an offensive coordinator and his play-calling
"Yeah, we're definitely looking forward to Kentucky right now. That's the biggest concern we've got, and we're going to focus on that."
"I think the most important part of an offense is scoring points. Now, how do I get to those points? Do I get to them through explosive plays? Do I get them through long, methodical drives, which has so far been our M.O.? That's been the identity we have. The long methodical drives and we've had some good, long methodical drives. At the end of the day we're all judged by, number one, how do I score points, how do I protect the ball and how explosive can I be? That's what we're focused on."
14:47 On Dominick Blaylock's decisions on fair catch or returning punts
"Good question. We don't do that, but unfortunately, there's times where we play it safe, where we play in a prevent mode of fake alert based on who they send in the game, or based on the down and distance in the game. He has to fair catch it, and we had several of them that we were in safe the other day where he's not protected, meaning we're not holding people up for him, and so he can't just abandon it and try to return it on his own; so, we weren't able to set up a lot of returns, which goes back to our third down. Defensively third down, we won third downs, statistically looks great. We had really good success on third down. We made our goal, 70 percent, but we didn't hold them to third-and-long long enough to where we got to return the ball on fourth down."
"There's a lot of times they were in the 50-yard line range, that they're in fake mode, and we want to be as safe as we can, to get possession of the ball and not be able to return it. And that had a lot with Dom having to fair catch it. It's not a matter of him wanting to."
15:52 On the offensive line's performance
"I think you talk about it all the time. I think saying that, when you go back and watch the tape and you see the rush efficiency, meaning the efficiency with which we rush for, which means four more on first down, half of second down what you need, and third-down you have to get it, we were rush-efficient. And we've had some games this year where we haven't been rush efficient, and we were. So there's some positive there for the O Line."
"Protection, I think the first thing you look at is the three sacks. But two of those three were pretty good protection, we got covered. So it's a team event, and I think that's what you go to mostly. The biggest thing for our guys will be can they block Kentucky, can they move Kentucky, can they create movement to create some explosive runs. Can we block on the perimeter well enough that a 12-yard run is a 50-yard run because we've got pretty good backs to do that with? We've opened up a lot of 10- to 12-yard runs. We haven't had the explosives that we need greater than 12."
17:02 Update on Tyson Campbell's Injury
"Tyson feels like he's almost back. He can run, plant, point, and drive, but the pressure, the torque it takes to hit someone and drive off it where he's feeling someone else's pressure, that's what we struggled with. It's a long, slow injury. We've talked to everybody across the country and there's nothing you can do to speed that up. I don't know… know if he'll be back. Last time I got to see him was during warmups and he was getting closer; so, I'll see."
17:33 Defending an athletic quarterback
"As far as dealing with an athletic quarterback, it's very different. They add an extra hat to the box. So every single play… this guy can take off running at any time he wants on a drop-back pass and these six or seven guys in the box might not have a chance to tackle him because he's extremely athletic. He's a receiver, a great athlete, a really good athlete playing quarterback which creates a new dynamic for us."
18:02 On wide receivers getting open
"I think it's always a combination of both. You're looking for man-to-man to stay on the run. Can you get off press coverage? Can you separate? What kind of style defense are you going against? Is it more zone or more man? And each one of those is really important, and it's important for our wideouts to be able to create separation for Jake. It's important for Jake to see separation, to feel confident, and to be able to throw it."
18:38 Putting players in better positions to be successful and player rotations on WR and OL
"Everywhere. Defense and special team. Everywhere."
"Rotations of what?… Well, offensive line, we were forced to. I don't know if you're not aware of the injuries we've been dealing with; so, there's not a lot a choice. If a guy can't go, you cannot play with four. You have to put another guy in; so, there's not really a rotation going on on the offensive line. The only rotation has been Ben (Cleveland) and Cade (Mays) for the most part. Everything else has been injury driven for us."
"As far as wideouts, nobody plays three wideouts. Most people we play, play six to seven, and right now, we're playing six to seven. We like to keep those guys as fresh as possible. Especially in a game that you're going "two-minute," three times, you want to keep guys fresh."
END OF KIRBY SMART PRESS CONFERENCE