[su_spacer size="20″]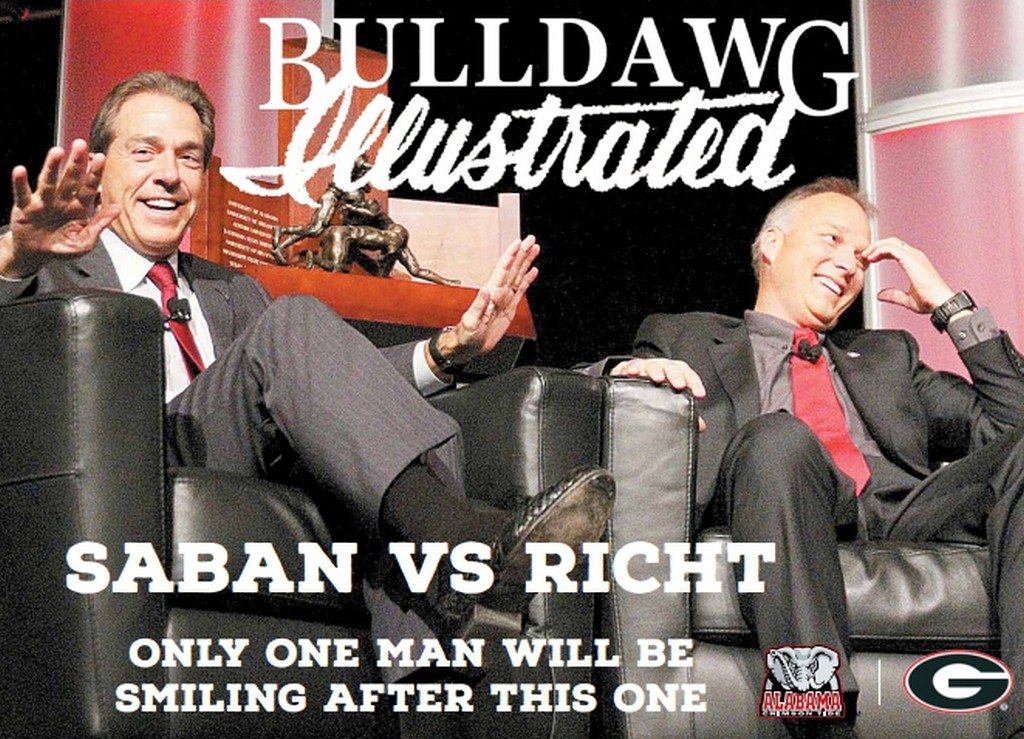 [su_spacer size="20″] Georgia Bulldawg fans have had this week's game circled on their calendar since the 2015 conference schedules were announced.
[su_spacer size="20″] It's been nearly 3 years since Georgia played Alabama and came just a few painful and heart breaking yards short of beating the Crimson Tide in the 2012 Southeastern Conference Championship game. This Saturday's game will pit SEC West versus SEC East and Coaches Nick Saban and Mark Richt. On one side, a program and coach that has found a way to get over the proverbial championship hump and on the other, a coach and program which seems to fall just short. We break down the coaches and teams as well as give you all those awesome fan and action photos along with video interviews of players in
Bulldawg Illustrated's
latest print issue:
Saban vs Richt – Only one man will be smiling after this one
.
[su_spacer size="20″]
Whether you're a long time reader of
Bulldawg Illustrated
or new to our Bullawg family, we want to let you know of some exciting new changes to our digital issue for the 2015 season. We will be using
3DIssue
this season, and it has enabled us to include interactive multi-media in our digital issues.
[su_spacer size="40″] Anytime you see a
"Click to Watch"
video button, just click on it to watch the video. When you are done watching, just click to the side of the screen to exit out of the video pop-up window.
[su_spacer size="40″] In addition, all web links are interactive and if you want more information from one of the ads, just move your mouse or pointer over an ad to reveal the company's link to their website, click and go.
[su_spacer size="40″] We hope you enjoy these new interactive features. As always, we welcome your feedback, and remember, you'll never know who you'll see in
Bulldawg Illustrated
.
[su_spacer size="40″]
Bulldawg Illustrated
[su_spacer size="80″]