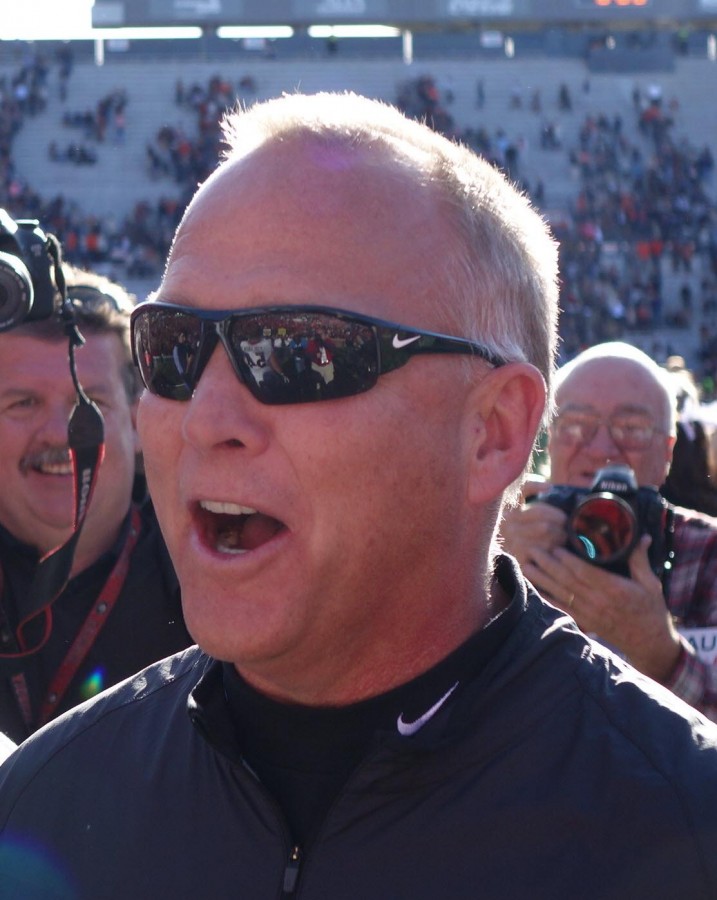 Georgia head football coach Mark Richt addressed the media on Tuesday ahead of Saturday's game against Georgia Southern at Sanford Stadium.
Opening statement…
"Talk about senior night, I don't know if this has become public or not but Keith Marshall came to me a few weeks back and mentioned that he's going to be graduating. He thought that he'd like to declare this as his senior season, to which I said that's fine. I blessed it. Obviously he's come in and played extremely well for us throughout his career. He's going to be graduating. He just wants to go ahead and move on and take his shot at the NFL when this season is over. He wants to finish strong like the rest of the seniors, but he'll be in the ceremony. Pregame — we know about 20 minutes before kick we'll have our senior ceremony where the players come out and they'll be with their families and we'll take a picture together. So we'll actually have the players go back in the locker room for a minute and then we'll come out as a team. Keith will be a part of that so I didn't want anyone to get caught off guard with that. That's what's going on.
We're playing Georgia Southern this week. Since I've been here it's been about every four years we've played them. It seemed like this one was three years, a three-year difference. Not a good football team but a great football team. They're an FBS team now, I think everybody knows that by now. I think this is year two. A year ago they actually went undefeated in league play. This year they've got only one loss in league play. They're 7-2, and they're doing a great job. Coach Willie Fritz is a tremendous coach. He's been National Coach of the Year, 2012 at the FCS level, he's won a national championship and been in some championship games. He's won over 192 football games. He knows how to win, and he's continued the tradition of winning at Georgia Southern. Like I've talked to our team about and our coaches about, and I say it all the time, teams that are used to winning are very difficult to beat. They win because they do things right.  You watch their special teams, they fly down and cover kicks. They protect well. They place the ball where it belongs. Defensively, they're always hustling to the ball. Offensively they're just a dynamic rushing football team, averaging 379 yards a game rushing. I think that's No. 1 in America. Overall, teams that know how to win are hard to beat, period. We're playing a great team in that regard.
It's going to be a big night for us. It's senior night, it's the last home game of the year, the last chance for a lot of our guys to play between the hedges. We do hope our fan base comes out early and gets in the stands and honors these guys that have really bled for our team. There'll be about 28 to 30 young men that will be honored right before the game so it'll be nice to have everybody be there and cheer them on. The Dawg Walk is huge, no doubt, but hopefully people get from that Dawg Walk and get in the seats by the time we introduce our seniors."
On the challenge of playing teams with a lot to prove against Power 5 teams…
"They're very dangerous, period. I'd prefer not to play them because they're that good. I think it's good that we do play them, when you look at the big picture. They're a very dangerous team, and they're fast. They're athletic. They execute well. All their special teams are right on, how they play the game is very impressive. It will challenge our guys, I promise you. I don't know what the fan base thinks about this game, as far as who should win, but I can promise you we'll get tested in this game as much as any. We're looking forward to the challenge. It's a lot of work, a lot of prep."
On what is unique about Georgia Southern's triple-option…
"They're running most of their option game from the gun. For years they were very similar to Army, Navy, Georgia Tech. QB under center, a couple wings and a back behind the quarterback and guys going in motion and running all different combinations of triple option football and speed sweeps and things they've done. Now they're doing it from the gun and a little bit more of spread looks, but a lot of true triple option football still. What happens is if you're reading a defender and not blocking him, if he takes an angle to take the back you pull it out and you go. There may be another guy that may be coming to get and he'll have a back in a pitch relationship. When I was talking about zone-read before, where you read the end and if he played the run the quarterback went. If you take that same premise, it's not exactly the same, but the same premise of 'I'm not blocking this guy,' he takes the run. When he takes the run I pull the ball out and I start running. When you're playing zone read, the QB just runs. Now you've got another option. If the first guy comes to tackle him, if the guys comes on him and he's got a back in a pitch relationship he'll pitch it to the back now. So there's a second guy that you're not going to have to block. There's different blocking schemes where they run the triple. The bottom line is there's two defenders that you don't block and you read them and do the opposite of what they do.  Now all of a sudden, everybody's got a blocker. Everybody's got to defeat a block in order to make a play. You all of a sudden can't even play a lot of one-high safety because if you do, you've got a guy too far away from the ball. It's going to be key everyone stays in their gaps, it's going to be key everyone plays their assignments, it's going to be key that everybody defeats a block and makes a play. It's just different than anything we've seen all year. We're getting our scoutteamers to work hard at simulating it, but it's just hard to do."