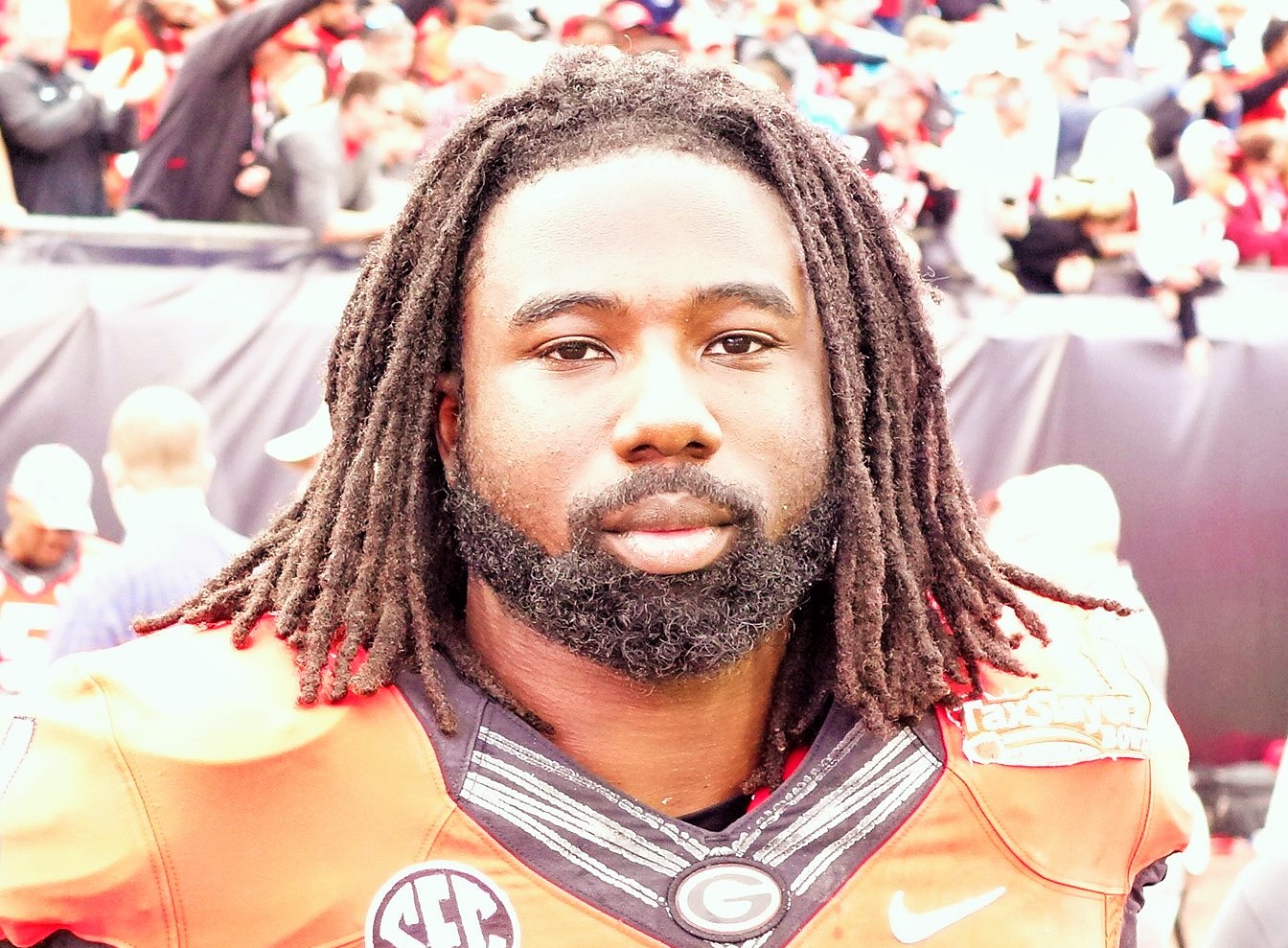 There are a number of Georgia Bulldog football players that will be on display today, working out for NFL scouts during Georgia's Pro Day. Here is a list of players expected to participate:


Sterling Bailey, DL
Collin Barber, P
Patrick Beless, PK
Devin Bowman, DB
Josh Dawson, DL
James DeLoach, DL
Leonard Floyd, LB
Jake Ganus, LB
Quayvon Hicks, FB/TE
Kolton Houston, OL
John Huff, LB
Jordan Jenkins, LB
Keith Marshall, TB
Chris Mayes, DL
Malcolm Mitchell, WR
Marshall Morgan, PK
Jay Rome, TE
Ben Souther, RB/WR
John Theus, OL
Nathan Theus, SN


Linebacker Leonard Floyd looks to build on a solid NFL Combine performance that saw him run a 4.60 forty and seemingly hang in mid air with a 39 1/2 inch vertical. He also turned in a 10 foot 7 inch broad jump. That performance in Indianapolis has seen his draft stock rise from being just outside the first round to a potential first round pick with some mock drafts having him go as high as from ninth to eleventh in the first round.


Running back Keith Marshall also turned in a strong performance at the Combine, having one of the fastest 40 yard dash times for this year's group with a 4.31 second forty and also bench pressing 225 lbs twenty-five times, which was more than any other running back. The question is will he run another forty for scouts today at Georgia's pro day or will he let what he accomplish stand on it's own merit?


Floyd and Marshall were not the only Georgia players at this year's NFL Combine. Also in attendance were DL Sterling Bailey, FB/TE Quayvon Hicks, OLB Jordan Jenkins, DL Chris Mayes, WR Malcolm Mitchell, and OT John Theus.


Speaking of Malcolm Mitchell, the receiver also had a solid performance at the Combine turning in a faster than expected forty time of 4.45; so, like Marshall, he may decided to let his results at the combine stand and not run a forty during Georgia's Pro Day today.


For Georgia players that were not invited to the NFL combine, today's Pro Day gives them a chance to show the NFL scouts what they can do. Defensive back Devin Bowman and linebacker Jake Ganus along with OT Kolton Houston, and TE Jay Rome along with several other Bulldogs will look have a solid Pro Day to improve their draft status for the up coming 2016 NFL Draft which will start with first round selections on day one on April 28th and conclude on April 30th with the latter round selections.


Even if a player does not get drafted, there is still a chance that he could make a team as an undrafted free agent, which several Bulldogs have done so in the past like former Georgia WR Marlon Brown who signed with the Baltimore Ravens after going undrafted in 2013.


---