[su_spacer size="20″]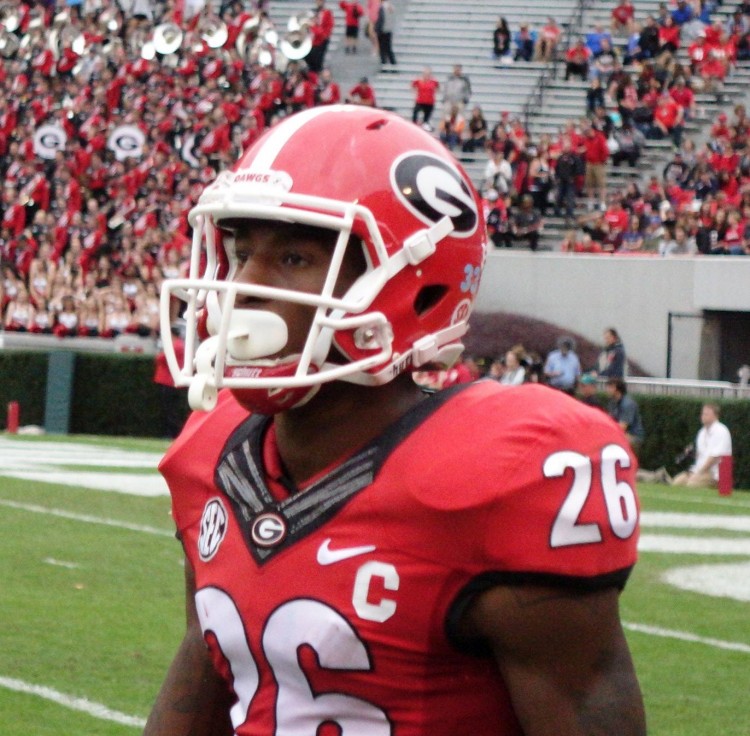 [su_spacer size="20″] [su_spacer size="20″] It's was the first weekend in November, and there was a ton of exciting football being played on college campuses all over the nation; and in particular in the Southeast. Many of these games had potential conference championship and college football playoff implications. In the state of Florida, one SEC team was playing a tightly contested ballgame to secure a division title. In the state of South Carolina, one ACC team was battling its demons and looking to maintain the #1 spot in the polls and win their own division title. In the state of Alabama, there was a clash of the titans for supposed SEC West supremacy. And surrounded by all this football that would have regional and national impacts, in the state of Georgia there was an "insignificant" get together. Or was it something else?
[su_spacer size="20″]
Let's be honest. October was a disaster for the University of Georgia football program. Losing 3 of 4 games and in the fashion those losses happened had players demoralized, coaches scrambling for answers, fans ready to figuratively set fire to the Butts-Mehre building, and social media abuzz with rumors of physical altercations and coaches' demise. By the time the game clock struck triple "ZERO" in Jacksonville one week ago, it was a foregone conclusion that the Bulldogs' chances to return to Atlanta to represent the SEC East had all but vanished, meaning this team had virtually no goals remaining on their checklist of any real significance. So, on a soggy noon kickoff between the hedges, with four games remaining on their schedule, the Bulldawgs squared off against Kentucky. The results of this game would have only meaning to their respective coaches, players, and in some instances, their fan bases. And although that may not seem like enough, for now, it simply will have to be.
[su_spacer size="40″] THE GOOD:
Let's face it. Taking ALL circumstances under consideration the way Georgia is being regarded, even by those who should love it most, this was a "NO WIN, EVEN IF YOU WIN" scenario. From fans, who have the luxury and curse of being able to dwell on the past and bemoan the future, there were many who were not going to be satisfied even with a win over an underwhelming SEC opponent and by the same token would have gone absolutely "to the zoo" if Georgia had been defeated by the Wildcats. Even Coach Richt recognized that sentiment when he acknowledged after the game, "Everybody wasn't doing back flips or anything like that but everybody felt good." And deep in the weeds, here lies the greatest thing about Georgia's victory. The Georgia players and coaches, surrounded by rumors, innuendo, and negativity showed resilience, maturity, and determination, put on blinders, and went to work.
Georgia's defense has tended to be the more youthful and inexperienced of the three units, but really showed flashes of what it can be when given room to operate. The Dawgs held Kentucky to season lows in total yards (180) and points (3) on the season. Georgia also stymied Kentucky at the point of attack and held the Cats to less the 80 yards rushing, only 9 completions on 23 attempts, and intercepted Towles twice. Georgia further cemented itself as the statistical leader in the SEC in "red zone defense". There continues to be maturation in the Georgia defense that is evident to anyone observing and the coaching staff on that side of the ball deserves a lot of credit for bringing in and developing the young talent.
Georgia's offense had been much maligned and had failed to produce any tangible results since the 2nd half of the Tennessee game almost a month ago. The offense decided to be who they are at present by giving Kentucky a heavy dose of the run game. Thirty-one (31) possessions and 168 plays from their last touchdown, Georgia ended its touchdown-less streak with 8:57 left in 1st quarter on a well designed play out of the "Wild Dawg" formation with Terry Godwin faking the handoff to Sony Michel and then scampering to the end zone. The numbers overall were impressive for a unit that had been struggling considerably to find itself. Georgia ran 71 plays, amassed 390 yards of total offense, had 21 first downs, 300 yards rushing, only threw the ball 19 times, and dominated time of possession 37:36 to 22:24 for the Cats.
[su_spacer size="40″] THE BAD:
There was certainly a sense that Georgia should dominate this game and that they certainly had not played or been coached up to the potential of all parties concerned. Georgia players, coaches, and fans know full well they didn't defeat an SEC opponent that ranks in the elite. But sometimes when you get knocked on your rear end, you have to get on a knee before you can rise and stand tall. Georgia's quarterback play is what it is. There are no illusions that any signal caller on this roster is a bona fide SEC caliber field general, for whatever deficiency they may possess. The "Wild Dawg" and read option plays to force Kentucky to pay attention to some of our talented skill players like Sony, Terry, and Keith was nice. But in fairness, there was absolutely no threat that a pass was going to be thrown out of the formation, which could prove problematic. There is a trust issue with the quarterbacks and it is understandable at this point in the season.
Georgia is still agonizing to watch on 3rd down plays; especially third and less than two yards to go. The Bulldogs currently rank 117th nationally in the 3rd down conversions category and short yardage plays have been completely ineffective.
Again…SPECIAL TEAMS! I just don't have the words for it anymore. (BUT MAYBE NEXT WEEK I'LL FIND THEM)
[su_spacer size="40″] THE UGLY:
None of the "ugly" was on the field this day. ALL of the ugly existed among those responsible for the stewardship of this program and those who are supposed to love it. There is a bit of disharmony and dysfunction going on in Athens; real or imagined. Rumors have been swirling that those who seem to want to win the most may be on their way out, while those who seem content to be "good but not great" are still secure. Further, fans have taken to social media to express their discontent with what they perceive the program to be at this time. Coach Richt and Coach Lilly, among others felt the need to take to Twitter to address rumors and respond to fans who don't see the value or reason to celebrate an SEC victory. I understand how people feel. I am sure people inside the Butts-Mehre understand how people feel. And fans are entitled to voice their opinion, concerns, or criticisms about the Georgia program, where it stands and where you believe it to be headed in the future. But try and keep in mind that these are 18 – 21 year old kids who are doing the best they can with that which they have to work. It would be a complete surprise if anything changes before the end of the regular season, so try and keep it civil, regardless of the comments.
[su_spacer size="40″] THROW 'EM A BONE:
Every single Georgia player! From the scout team to the starters, every kid deserves a ton of credit. The program has been and continues to be under intense scrutiny for its lack of success against top tier programs, especially this season. The players made the decision that they were not going to look back and that they were going to play the best they could for themselves and for each other.
[su_spacer size="40″] NO BONES 'BOUT IT:
Georgia is 6 – 3 with three games left in the regular season. Would we feel better if they were 7 – 2 and had not let the game in Knoxville slip away? Even under that scenario, the Dawgs would still be eliminated from a trip to Atlanta. Is Georgia really 20+ points worse than Florida? It would not appear so. But none of that really matters any longer. Georgia won't have an opportunity to prove its metal against elite talent because, in fairness, they don't have anyone left on their schedule that fits that description. The "Deep South's Oldest Rivalry" looms next and "Clean Old Fashioned Hate" is not far behind. Georgia can potentially end with nine (9) regular season wins. Whether they do or do not should not affect the decisions about the course of this program. The events of the weekend in Athens and around college football prove Georgia is still a ways away from becoming elite. They seem to be straddling the fence on this matter. All the tools are available to build something great. The question is whether or not they plan on making use of those tools. But while the powers that be are trying to determine the direction of this program, those who claim to support it should try to do so even when faced with adversity. Maybe we all should take a page out of the player's playbook. And there are No Bones 'Bout" It!
[su_spacer size="60″]