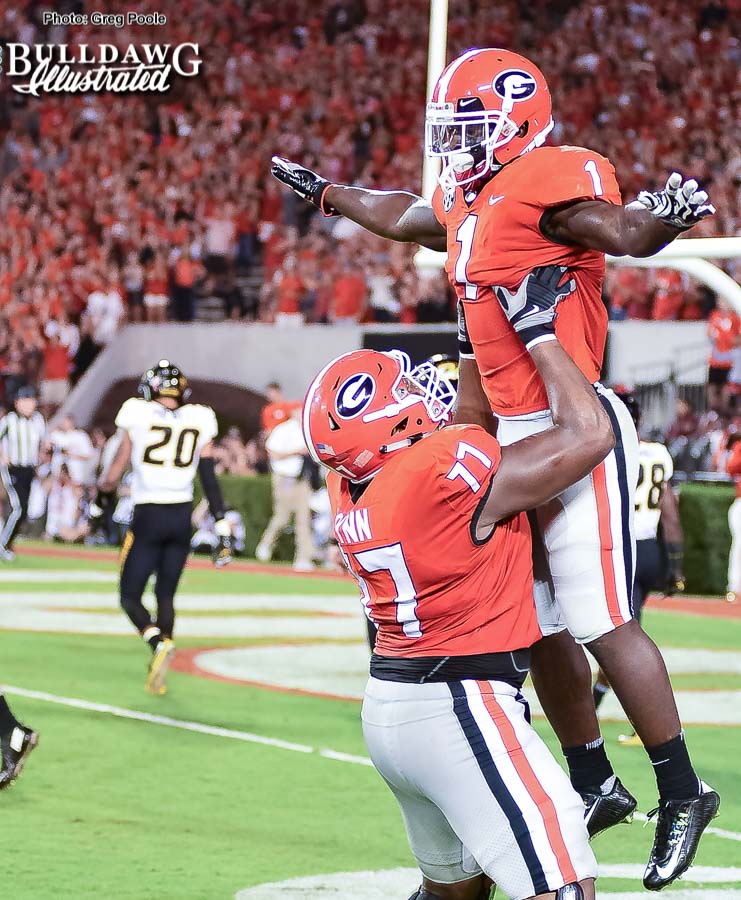 Point of clarity: once the College Football Playoff (CFP) rankings begin, the AP and Coaches polls are for all practical purposes completely obsolete for the remainder of each season. They will still remain a strength indicator early every football season, unless further major systematic changes occur, but have no impact on the selection for the CFP. After the season is complete and the committee has clocked out, it's again important to look at the final polls. But for now, it's all CFP…all the time. And we are one!

At 8-0 after having gone 4-1 to finish last season, Georgia has now won 12-of-13 total games over a stretch run, earning the top overall position in the first 2017 ranking by the College Football Playoff committee. This essentially midyear accomplishment is especially significant considering the unfathomable strength of #2, Alabama.
Bama has currently won an astounding 26-of-27 football games, the only loss in that stretch a heartbreaker to 2016 national champion Clemson. The Tide have also gone 14-1 in back-to-back years, playing for national championships in both, with a first-round CFP defeat back at the end of 2014. In addition to being the initial number one of the CFP committee last season, Bama was #1 in the polls every week of last season except for the final rankings, after their lone loss. They are a dominant 8-0 this year but simply didn't have the strength of schedule to supplant Georgia, who won 20-19 at #3 Notre Dame. By the way, our old rival Clemson is 4th.
Looking at past UGA teams to gauge the might of our current 12-1 run, I, of course, thought of the 1980s. Georgia beat Tech in the finale then skipped bowling to end 1979 at just 6-5. Then the 1980 national champions went 12-0, beating Notre Dame in the Sugar Bowl. And, Georgia started 2-0 in 1981 before losing to eventual national champion Clemson. That's 15 straight.
Georgia may need to be 15-0 to be national champs again this year.
After the Clemson loss, the Dawgs won 8 straight then dropped the Sugar Bowl to Dan Marino's Pitt. The next year (1982) was Herschel's last before Donald Trump lured him into the USFL and, according to what I have heard Herschel say, tricked him into signing a binding contract that disallowed him to change his mind and return to UGA. That was a really tough ending to an era, there. We won 11 straight before dropping the final biggest bowl shot to Penn State. So 11 plus 8 with a loss (the Pitt bowl) is 19-1. Our best twenty games ever yielded no nationals.
I thought of Mark Richt's second season, which finished with Georgia 13-1. Dawgs dropped Richt's first bowl (I was there in Nashville, it was cold) to end the previous campaign but won the first three games of the campaign that came after, losing at eventual national champ LSU but going in-total 16-1 before that tough loss.
Go 16-1 in our current run and we will have won out the regular season 12-0.
I knew we dropped a game to Auburn in the national championship season of 1942 but honed in on the undefeated 1946 team which was robbed by a blemished Notre Dame (and blemished Army). That squad was 11-0 after UGA won its final five games of 1945 and the opener in 1947. That's 17 in a row, and therefore 17-1 taking into account the loss at either end of the amazing streak.
Go 17-1 on this run here and we will have won the SEC. Unless Auburn or LSU surprises them and wins the SEC West (both have yet to play Bama and have a conference loss apiece), we will get BAMA in Atlanta, again. I don't care who we play, but a matchup with LSU or a rematch with Auburn obviously looks more palatable.
UGA actually went 18-1 over a stretch from 1941-1943, which included the '42 national champs, but 1943 was a war season, so it was a disruption of the 1940's Georgia dynasty, more than anything else.
Win that SEC championship game, the CFP opener (in the Sugar Bowl or Rose Bowl) and the national title game, and we'd be 15-0 this year, just like that great run of the 1980s, but we'd also be 19-1 over a full twenty games.
That'd tie that best twenty-game run in school history, but with a much better ending. And, that may be what it takes to reach nirvana this season, folks. Losing as early as possible would be better to our chances if we must lose one.
Oh, and by the way, a likely opponent in either round of the CFP would still be Alabama, under a few different easily feasible scenarios. To be the best, we will have to beat the best.
This team can beat any team, though. We are number one.
---
Recent Articles by Han Vance


[pt_view id="9a9402f8n5″]