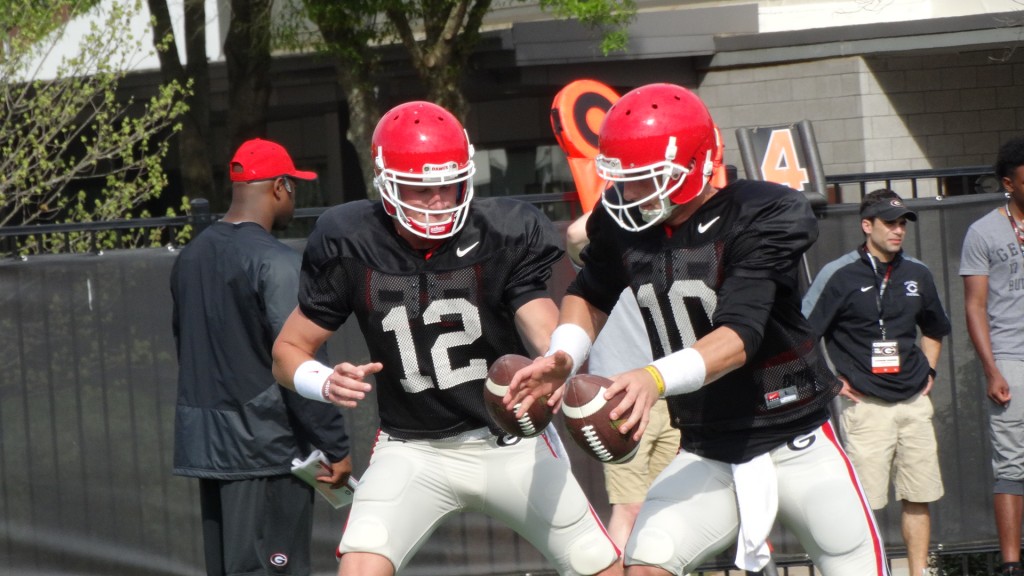 [su_spacer size="20″] The Georgia football team held its next-to-last practice before the G-Day game Tuesday afternoon at the Woodruff Practice Fields. The Bulldogs will hold another workout on Thursday before the annual G-Day game Saturday at 2 p.m. at Sanford Stadium.
[su_spacer size="40″] "The weather tested them today," head coach Mark Richt said. "The guys fought through it, and I think we got better. It was a feast or famine day. There were either a lot of big plays happening both ways, either a nice play offensively or an interception or forced fumble on defense. I think our defense is doing a nice job of raking the ball out. We had way too many balls come out, but it is a tribute to the defense and the job they are doing and it's going to make us better offensively."
[su_spacer size="20″] [foogallery id="54529″] [su_spacer size="20″] Richt also noted after practice that Keith Marshall and Charlie Hegedus, who have been dealing with injuries, got reps on Tuesday.
[su_spacer size="40″] "I wouldn't say (Marshall) is 100 percent, but he did get more reps," Richt said. "He got more work that I thought he would. He did get some reps, which is good for him and good for his fellow backs. It takes a little pressure of of them. Hegedus got some reps today as well, and you could tell he was fatigued before the practice was over. We were trying to be a little careful with those guys as to how many reps they got today in their first day back."
[su_spacer size="40″] The G-Day game will air on SEC Network + with Dave Neal (play-by-play), Matt Stinchcomb (color analyst) and Maria Taylor (sideline). The game also will be broadcast on the Georgia Radio Network and GeorgiaDogs.com by Scott Howard (play-by-play), Eric Zeier (color analyst) and Chuck Dowdle (sideline).
[su_spacer size="40″] There is no cost for admission, but fans are encouraged to bring canned goods for the Food Bank of Northeast Georgia. Donations will be accepted at Gates 2, 4, 6 and 9.