[su_spacer size="20″]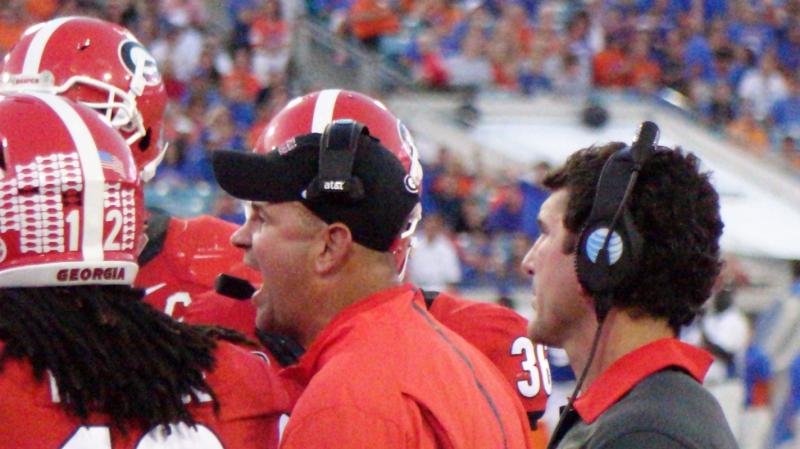 [su_spacer size="40″] JACKSONVILLE – This wasn't supposed to happen again, two consecutive blowout losses against the hated Florida Gators.
[su_spacer size="40″] But happen it did. After being pounded by Florida's running game last season in a 38-20 pounding by the Gators, Georgia went through another dark Halloween night here this past Saturday, being pummeled by Florida again to the tune of 27-3.
[su_spacer size="20″]
And this one hurt the most, the Bulldogs (5-3, 3-3) seeing their hopes for an SEC East championship once again go out into the Jacksonville night. And remember, this Georgia team was the favorite in the preseason balloting to capture the division title.
[su_spacer size="40″] Instead, the surprising Gators (7-1, 5-1) of first-year coach Jim McElwain appear headed to the Georgia Dome to meet the West Division champion on Dec. 5.
[su_spacer size="40″] With a fumbled punt by Reggie Davis that Florida recovered in the end zone for its first touchdown and then a Vernon Hargreaves pick of a Faton Bauta pass that set up another easy Gator score from the Georgia 5-yard line, the Bulldogs allowed Florida to bolt to a 20-0 halftime lead … a hole from which they could never dig out. Georgia's lone points of the night came via a 27-yard field goal by Marshall Morgan with 10:21 left in the third quarter, thus stretching the Bulldogs' touchdown drought now to eight quarters. Georgia's last touchdown was on a Greyson Lambert-to-Reggie Davis pass early in the final quarter at Tennessee.
[su_spacer size="40″] Simply put, the Bulldogs could find no answer offensively against the tenacious Gator defensive unit. Junior Faton Bauta, replacing Lambert in the starting quarterback role and going the distance in this game, threw a dismal four interceptions (two being deflected passes) while completing just 15-of-33 attempts for 154 yards. And the Georgia running game, minus the great Nick Chubb, was even more anemic. The Gators limited the Bulldogs to a measly 69 yards on 22 attempts and no less than three times, Georgia couldn't convert first downs with just a single yard to make.
[su_spacer size="40″] Enough said about the Bulldogs simply executing poorly in a game that meant so much to the players, coaching staff and Bulldawg Nation as a whole, let's go ahead with the Stats That Matter, to illustrate how bad things really were on a Halloween that surely turned into a Nightmare by the St. Johns River for everyone that loves the Red and Black.
[su_spacer size="40″]
Plays of 20 plus yards (offense/defense)
[su_spacer size="40″] This won't take long. The Bulldogs had only one offensive play in this category, a 29-yard pass from Bauta to Malcolm Mitchell in the fourth quarter. Mitchell, with his four catches for 60 yards, did surpass the 2,000-yard receiving mark for this Georgia career. The Gators, meantime, had five plays of more than 20 yards, two of them being a 66-yard touchdown strike from Treon Harris to freshman Antonio Callaway and a 60-yard scamper from scrimmage by Jordan Scarlett.
[su_spacer size="40″]
Untimely mistakes (turnovers, penalties, clock management miscues, etc)
[su_spacer size="40″] There was the muffed punt by Davis that Florida recovered for its first score, there was the tipped Bauta pass that All-America Hargreaves returned 25 yards to the Bulldogs' 5-yard line to set up another "gift" touchdown for the Gators, there were those failures to convert what should have been easy first downs for the Georgia offense, there was a holding call on fullback Quayvon Hicks on Georgia's first play from scrimmage, which erased a 27-yard run by Sony Michel out of the "Wild Dawg" formation, there was a costly false start on tackle Kolton Houston and there was a substitution infraction called on the Georgia coaches on a 3rd-and-10 situation.
[su_spacer size="40″]
Special teams wins vs. miscues
[su_spacer size="40″] The primary special teams' "wins" for the Bulldogs were defensive end Sterling Bailey blocked the Gators' extra point kick after their first touchdown, Brice Ramsey's punting (43.5 yard average on five kicks including a 50-yard boot), a 37-yard kickoff return by Davis and Morgan's 27-yard field goal for Georgia's lone points of the contest. Also, the Bulldogs' kick coverage was generally good in this game. But the Davis fumbled punt for a Gator touchdown was a killer early on and a Ramsey pass incompletion on a fake punt attempt set the Gator offense up with good field position when the play backfired.
[su_spacer size="40″]
Missed Tackles
[su_spacer size="40″] For the most part, the Georgia defense tackled well when the Gators pounded the ball inside the tackles but, certainly, on those 60-plus yard plays and Florida's other three plays of 20 yards or more, the Bulldogs didn't defend well, either being out of position or whiffing on tackles at the line of scrimmage
[su_spacer size="40″]
Yards after contact
[su_spacer size="40″] In the second half, both Michel and Keith Marshall (16 yards on 3 carries) shook off would-be tacklers and reached the first down marker but for most of the day, as evidenced by Georgia's puny rushing total, the Gators stopped the Bulldog backs before they got started.
[su_spacer size="40″]
Turnovers (gained/lost)
[su_spacer size="40″] Georgia had the costly fumble by Davis that gave the Gators one touchdown and of course had the four interceptions thrown by first-time starter Bauta. The Gators fumbled twice but lost only one of them, and quarterback Harris threw no interceptions in his 8-of-19 passing effort.
[su_spacer size="40″]
Red Zone (offense/defense)
[su_spacer size="40″] Not many chances for the Bulldogs here as they got inside the Florida 20 only two times, scoring only via Morgan's field goal. The Gators scored twice on their four trips inside the red zone.
[su_spacer size="40″]
Third down conversions
[su_spacer size="40″] Pitiful, pitiful are the words here. The Bulldogs could make first downs only TWO times, in 12 opportunities on third down. Going further, they were also 0-for-2 on fourth-down conversions.
[su_spacer size="40″]
Run/pass attempts (total plays)
[su_spacer size="40″] Georgia ran the ball 22 times and gained the paltry 69 yards total. Be reminded, this is a category that the University of Georgia has excelled in down through the decades … running the football. No use in glossing over the fact, the Bulldogs' touted offensive line has failed to live up to its lofty preseason billing. As mentioned, things weren't much better in the passing department against the Gators' talented secondary, Bauta throwing 33 times with just the 15 completions and those ghoulish four interceptions.
[su_spacer size="80″]