[su_spacer size="20″]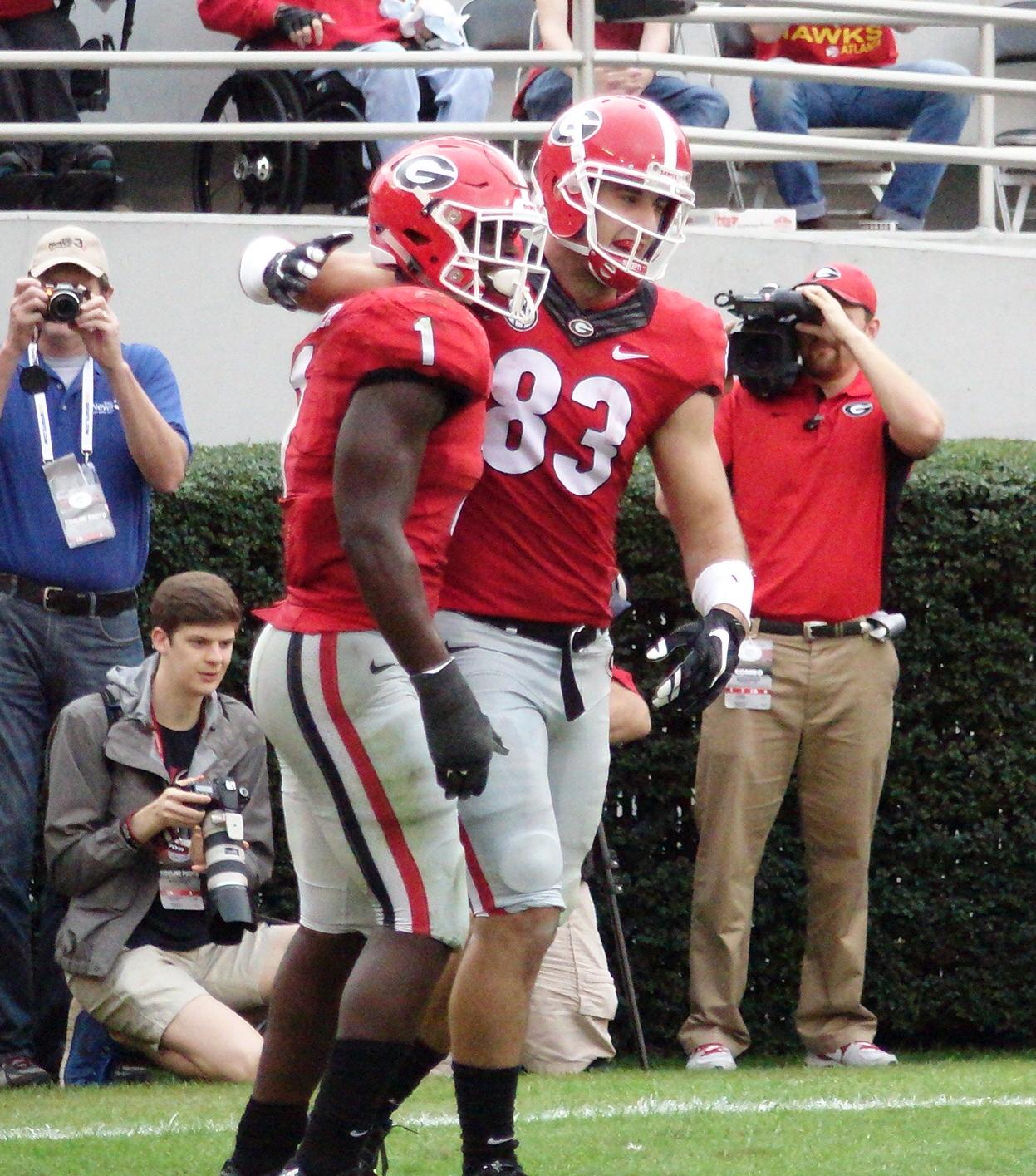 [su_spacer size="40″] Head coach Mark Richt fighting to hold on to his job after his team's poor performance against Florida, dissension and infighting among the UGA coaching staff, defensive coordinator Jeremy Pruitt supposedly being fired or resigning in mid-week … the Bulldogs put all such rumors and distracting talk behind them for three hours this past Saturday afternoon when they came together and dispatched the Kentucky Wildcats 27-3 between the hedges of Sanford Stadium.
[su_spacer size="20″]
And, certainly, it was Pruitt's defensive unit that banded together to stage one of its best showings of the season, limiting a potent Kentucky offense to just 79 net yards rushing and 101 passing while not allowing the Wildcats to cross the goal line all afternoon long.
[su_spacer size="40″] And with the Bulldogs rushing for a season-high 300 yards – paced by Sony Michel's career high 165 yards on 24 carries – the Georgia offense more than complemented the defense's effort. When freshman Terry Godwin raced 28 yards midway the first quarter after scooping up a fumbled handoff, it was the Bulldogs' first touchdown in the past nine quarters of play, and they then went on to add two more touchdowns via a 1-yard run by Michel and Greyson Lambert's 10-yard swing pass to tailback Keith Marshall. Georgia's other points came on field goals of 22 and 27 yards by Marshall Morgan.
[su_spacer size="40″] Now, as the 6-3 Bulldogs (4-3 SEC) make ready for their trip to Auburn for Saturday's also 12 noon kickoff, let's go through what Georgia did right, and not so right, in the weekly Stats That Matter:
[su_spacer size="40″]
Plays of 20 plus yards, offense and defense
[su_spacer size="40″] Georgia got the 28-yard touchdown run by Godwin, a 24-yard pass from Lambert to Malcolm Mitchell, a 46-yard dash by Michel that set up the Bulldogs' third touchdown – the 10-yard screen pass from Lambert to Marshall – late in the third quarter, and another 23-yard run by Michel in the final quarter to set up Morgan's second field goal. Meanwhile, the Georgia defense limited the Cats to just one play of more than 20 yards, a 27-yard pass completion by quarterback Patrick Towles, who was checked to 8-of-21 completions for 96 yards while being intercepted twice by Bulldog safety Dominick Sanders.
[su_spacer size="40″]
Untimely Mistakes (turnovers, penalties, clock management miscues, etc)
[su_spacer size="40″] Plenty to mention here … A holding call on left guard Kolton Houston on the Bulldogs' very first play from scrimmage, a block in the back by Kirby Choates on a Kentucky punt, tackle Isaiah Wynn being tagged for an out-of-formation which erased a first down run by Michel, both a block in the back by Roquan Smith and holding call on D'Andre Walker on the same Kentucky punt, a lost fumble by Sanders after he had an interception return to the Wildcat 7, a fumble by Isaiah McKenzie after a reception at the Georgia 20 that led to a Wildcat field goal, and in the final minutes the Bulldogs got a personal foul penalty assessed against senior tackle John Theus, which likely prevented Georgia from surpassing the 30-point mark. And too, there was also a late delay-of-the-game penalty called against Godwin when lined up in the "Wild Dawg" formation.
[su_spacer size="40″]
Special teams wins vs. miscues
[su_spacer size="40″] Snapper Nathan Theus recovered a Wildcat fumbled punt at the UG 25 to set up an eventual 22-yard field goal by Morgan, the UGA kick coverage was excellent, and Brice Ramsey, while playing most of the second period at quarterback and going 4-for-6 through the air, continued his outstanding punting by averaging 47.7 yards on three punts including a 53-yard kick. Morgan booted his field goals of 22 and 27 yards but also misfired on a 38-yard attempt on the final play of the first half.
[su_spacer size="40″]
Missed Tackles
[su_spacer size="40″] Not many of these in the defensive unit's outstanding performance as senior linebacker Jake Ganus again led the way with eight total tackles and junior outside linebacker Leonard Floyd showed five stops on the Wildcat backs.
[su_spacer size="40″]
Yards after contact
[su_spacer size="40″] Both Michel and Marshall punished Kentucky's would-be tacklers, continually running for extra yards and the first down after initial hits. That's reflected by Michel's career-high 165 on the ground and Marshall's 60 yards on 13 carries.
[su_spacer size="40″]
Turnovers (gained/lost)
[su_spacer size="40″] The Bulldogs had a fumbled punt recovery by snapper Nathan Theus, Sanders' two interceptions which he returned for a total of 62 yards, and the Wildcats recovered two of the Bulldogs' three fumbles. In addition to Sanders' fumble after his first interception return, Isaiah McKenzie lost the handle on the ball to set up Kentucky's lone field goal. Lambert and Ramsey combined for 10-of-19 pass completions for just 90 yards but threw no interceptions.
[su_spacer size="40″]
Red Zone (offense/defense)
[su_spacer size="40″] The Bulldogs were a nearly perfect 4-of-5 on red zone scoring opportunities, converting touchdowns on two of those trips inside the UK 20. Kentucky got inside the Bulldogs' 20 only one time, cashing in on the late second-quarter field goal.
[su_spacer size="40″]
Third down conversions
[su_spacer size="40″] Georgia was 5-of-13 on third down conversions in the win and was successful on 1-of-2 fourth down chances. The Cats could convert on only 3-of-12 third down tries and were stoned when they went for it on fourth down near midfield in the second half.
[su_spacer size="40″]
Run/pass attempts (total plays)
[su_spacer size="40″] The Bulldogs ran the football 52 times for their 300 even rushing total and passed the 19 times for 90 yards. Kentucky was limited to 24 rushing attempts for the 79 net yards and passed the ball just 23 times for their 101 aerial yards.
[su_spacer size="40″] [su_spacer size="40″]