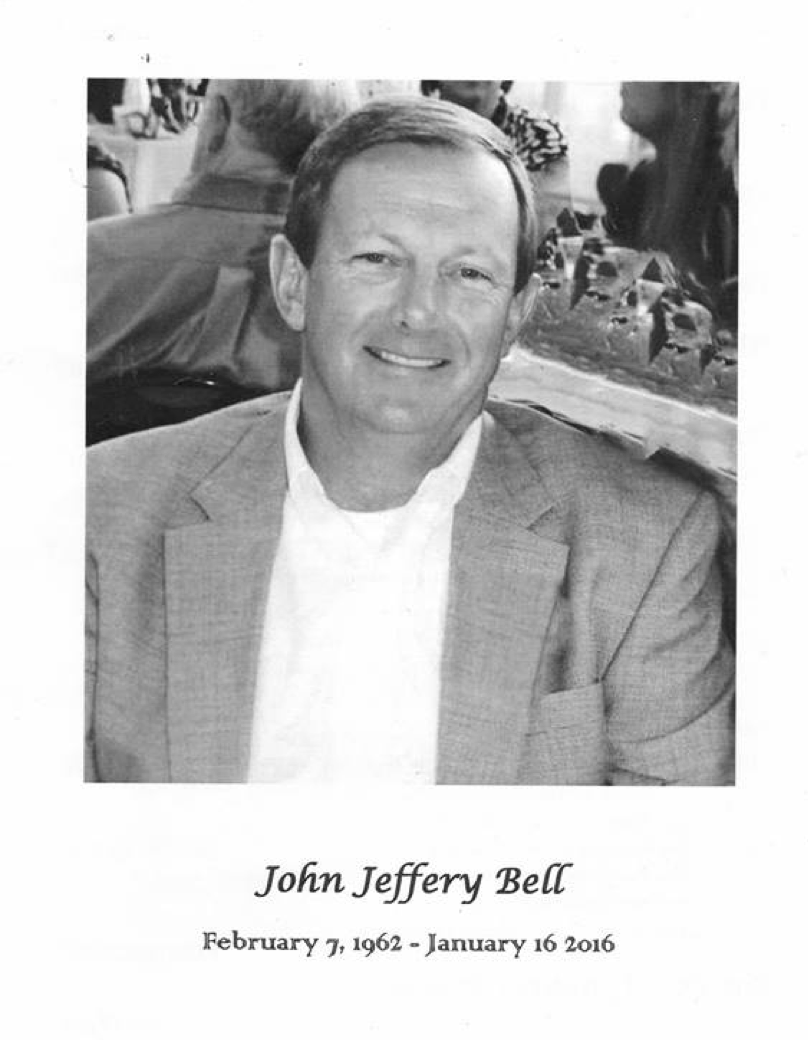 It is with the heaviest of hearts that we say good bye to one of the greatest Bulldog fans and best, kindest, most gracious and most generous men our community has ever known.

Jeff Bell passed away suddenly and unexpectedly last weekend, leaving a wonderful family behind, his wife Liz, his son Weston and daughter Sydney, all regulars with Jeff at virtually every sporting event featuring the Bulldogs.


An executive with AT&T, Jeff would have been 54 next month.

His face was everywhere in Athens, Oconee and around the University.

Jeff encouraged everyone and was a friend to all.

He is one of the few people I have ever known that everybody liked. No one ever said a bad word about him.

There was not a better fan and there was not a bigger fan.

While our community will greatly miss him, heaven is a richer place.

From Jeff Dantzler and the team at Bulldawg Illustrated
---

On January 16, 2016, John Jeffery Bell died suddenly in his sleep. Jeff was born February 7, 1962 in Swainsboro, Georgia. Immediately after graduating from UGA in 1984 with a MIS degree, Jeff began a 31 year career with BellSouth (subsequently AT&T). Most recently, Jeff was a Director within AT&T's Business Intelligence and Project Management Office. In 1991, Jeff met his soulmate, Elizabeth, and they were married in 1993.

An avid volunteer, Jeff spent endless hours working with many organizations including Big Brothers Big Sisters, The Georgia Club Foundation, The Titan Board, President of Lake Yonah Homeowners Association, President of Riverfield Homeowners Association, as well as mentoring multiple UGA students.

As a diehard fan of the mighty UGA Bulldogs, and as a result of his decades of contributions of time, money and resources to UGA's football, men's basketball, women's basketball, gymnastics and baseball sports teams, Jeff was honored as a life-time member of UGA's Alumni Association. His love of sports also led him to volunteer many hours in support of the 1996 Atlanta Olympic Games' technology needs as well as 1996 USOC fund raising efforts, resulting in him being honored as an Olympic torch bearer.

Jeff is survived by his wife Elizabeth Schneeberg Bell, son Weston Bell, daughter Sydney Bell, and from Swainsboro, mother Nell Bell Smith, step-father Otis Smith and brother Paul Bell, sister-in-law Jane Bell, sister Roxanne Bell Wimberly, brother-in-law Charles Wimberly, and nieces Madison and Brianna Wimberly, and step-brother Byron Smith. He is preceded in death by his dearly beloved father, John Inman Bell.

To honor her husband, Liz is establishing a fund in Jeff's name to support community outreach and education at the University of Georgia. She has asked that in lieu of flowers or any other donation, that you be kind enough to contribute to this Jeff Bell Memorial fund in order to benefit students at UGA.

Contributions can be made at any:
Athens First Bank & Trust location
PO BOX 1747
Athens, GA 30603
---