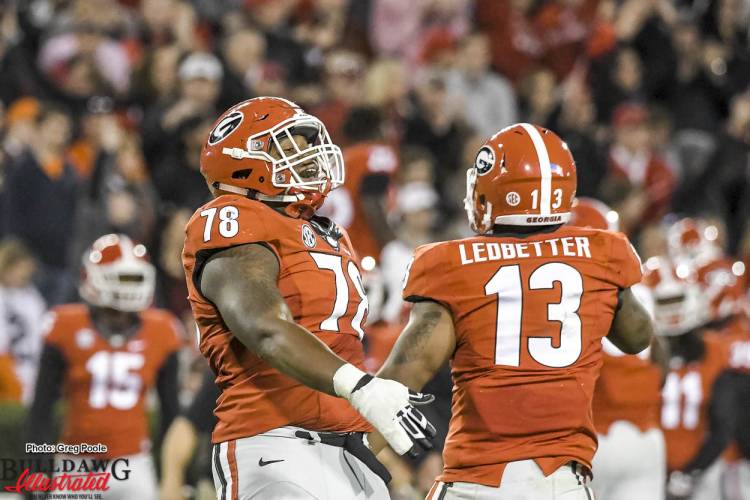 With the 2016 Presidential Election in the books we can now turn our focus to Making Georgia Football Great Again!  A big step was taken in that direction on Saturday evening when the clock struck 0:00 and the Dawgs came out on top of the #9 Auburn Tigers.  Given no chance by the national pundits as a 10-point underdog at home, the Bulldogs took control in the second half and physically manhandled the Tigers.
The 2nd Half performance by the Bulldogs defense was incredible.  Auburn ran 22 plays for a total of 32 yards with a total of zero first downs in the 2nd Half.  I honestly don't believe I have seen a more dominant performance by a Dawgs defense in my lifetime.  UGA's offense responded with a 13 play – 50-yard drive in the 3rd Quarter that took 6:45 off the clock and ended in a Rodrigo Blankenship field goal.   Even more impressive was UGA's 14 play – 65-yard drive to salt the game away with toss sweep after toss sweep.  Never did I imagine that I would be able to say that the Dawgs physically dominated the Tigers, but for the last 30-minutes they did just that.
Now, ten games into the Kirby Smart era, his imprint on this team and the program is clear.  The UGA defense is going to be fundamentally sound, physical, intense and play with a junkyard mentality.  As he continues to bring in more of "his guys" on the defensive side of the ball including bigger/more physical safeties and better edge rushers the defense will get fiercer.  On the offensive side of the ball Georgia is going to lean on a physical rushing attack, expose the middle of the field with TE's and stretch the field vertically with the receivers.  Again, the offense will only get stronger as the Dawgs land bigger/more physical offensive lineman and receivers more suited toward stretching the field.
Saturday's win doesn't mean that the Bulldogs are suddenly cured of all their flaws and going to dominate UL-Lafayette, Georgia Tech and be a Top 10 team next season.  There are still going to be bumps in the road.  However, much like the Presidential election, what this does is bring finality to the previous era.  The Mark Richt era is over and the Kirby Smart era is here to stay.  It is time for the entire Bulldog Nation to unite behind Coach Smart because his success leads to our happiness as fans.
God Bless America & God Bless the Bulldog Nation!