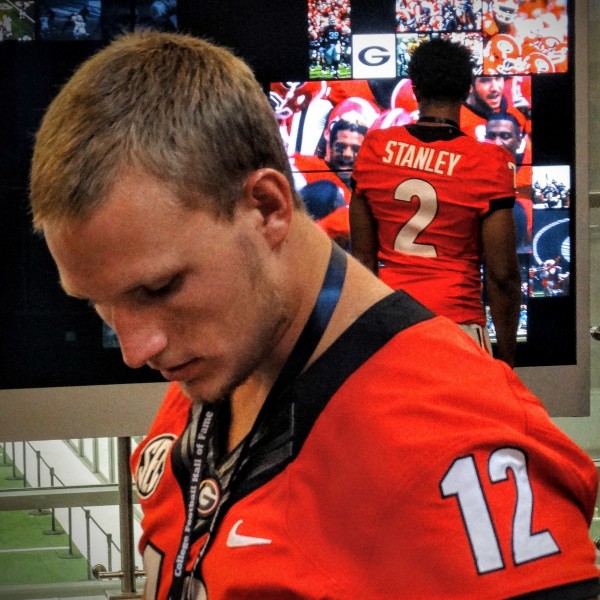 [su_spacer size="20″] Just as the Christmas season seems to launch immediately post-Halloween these days, football season begins in early August. Football practice has started around August 1 for many years but only recently has media coverage been so intense. For example, UGA will live-stream the first day of practice (Tuesday 3:30 PM
georgiadogs.com
). The idea of an individual school having the technological resources (not to mention enough interest from the fanbase) to televise a practice is another indication of the dramatic increase in popularity of college football. Bulldawg Illustrated will report from the sidelines as Scott Howard, Chuck Dowdell, and D.J. Shockley narrate Tuesday's opening of the 2015 football season.
[su_spacer size="40″] Make no mistake, the season opens Tuesday rather than September 5 when the Warhawks of Louisana-Monroe visit Athens. The next few weeks are critical for the Bulldogs 2015 campaign. If Georgia can settle on a quarterback before SEC Network cameras begin to record Georgia's opening game, the offense can, perhaps, jell before the Dawgs begin the SEC grind. Most pieces are in place for a strong run for the SEC East championship, but the most vital cog in the offensive machine is still on the drawing board.
[su_spacer size="40″] There is an old saying in football that the most popular guy on the team is the backup quarterback. The old saw may never have been truer than with UGA in 2015. Brice Ramsey, the front runner based on his status as the backup quarterback last season, is already being second-guessed by many fans. Faton Bauta, a sentimental favorite, is widely perceived as bright and hard-working but perhaps lacking the arm talent of Ramsey. Greyson Lambert, a native Georgian, who transferred after graduating from the University of Virginia, will likely the beneficiary of the proverbial backup quarterback love.
[su_spacer size="40″] Regardless of the eventual choice, the more quickly the staff can choose its offensive leader, the greater the odds of a smoothly functioning unit.
[su_spacer size="40″] Tis the season. Hopefully, the season to be jolly.
[su_spacer size="40″]
Casino lists the favorites for college football's 7 biggest QB battles, including Ohio State
[su_spacer size="40″]