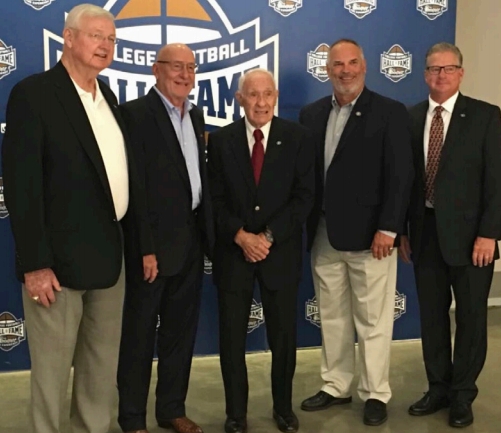 The 1941 season saw the University of Georgia Bulldogs reach their first ever bowl game, as legendary UGA back Frank Sinkwich started his Heisman Trophy winning national championship campaign by totaling 365 yards on the first day of 1942. Playing in the Orange Bowl in Miami against Texas Christian University, and winning, propelled our football program forward, toward a decade of excellence segmented by WWII. Charley Trippi would join Sinkwich on varsity that next season.
My parents met at TCU back in the 1960s, and I have become such a huge bowl games aficionado over the past decade or so that I've earned the moniker "The Bowl Guy," so it should come as no surprise that this game in Memphis means a lot to me. I'm going to Graceland with my wife, staying in a pyramid hotel on the Mississippi River where I can contemplate Mark Twain, hitting the game, taking UGA fan photos, listening to music, eating BBQ at Rendezvous…but more about that in a later article.
Let's talk football. Since I was in the studio to record my 5th Annual Bowl Show in Atlanta last week, the SEC already teed it off with mixed results. It all got started with the aptly named St. Petersburg bowl. Riding high off an "Egg Bowl" victory over Ole Miss where QB Nick Fitzgerald accounted for five total touchdowns, the Mississippi State Bulldogs fell down 9-0 to Miami (of Ohio), on the patchwork turf of the former Thunderdome in the Tampa Bay area. The Maroon Pups, who visit Athens next season on 9/23, rallied in the 4th quarter to claim a 17-16 lead and then blocked a late 37-yard field goal to dramatically preserve the win and move to just 6-7 on the year. The SEC was 1-0 to start.
Then Vanderbilt and NC State faced off in Shreveport, Louisiana, both .500 and coming off huge state championship wins. The Independence Bowl has seen stronger matchups in past years, including Georgia over Texas A&M before they joined the SEC. Count me among the many who consider first team all-American Zach Cunningham to be the best football player in the SEC this season. But, little Vandy still has to learn to win consistently and seemed a little too happy to be there. They fell to 6-7 and the league to 1-1 as the Wolfpack rolled big, 41-17.
It is widely considered a down year in our league, with an 8-4 Auburn who went 1-2 down the stretch getting the non-playoff New Year's Six nod simply because the SEC did not have anybody strong enough to go. Sure, BAMA is Darth Vader Empire-level killing it, but an 8-4 team representing the top conference in the sUGAr Bowl? A couple more close losses turned to wins and our beloved Dawgs surely would have been back on the bayou. Knock down a Hail Mary and it's a totally different year. Survive a Homecoming scare from Vandy and our stock would have been higher.
As I sit to write to you, my Grandfather's school, Texas A&M, is preparing to face their former league mates from Kansas State, who are solid if not rather dynamic. They run the ball well from the quarterback position but should have no answers for all the superior athletes of the only Texas school in the SEC. Coach Kevin Sumlin needs this one, but what he could use even more is some full season balance. The Aggies seem to be 6-0 or so every season, and the media saying this year is different. Then the sky falls on them. This game is played in Houston and called the Texas Bowl, which should bode well for the SEC to move to 2-1, or maybe not.
UGA alum Will Muschamp brings his South Carolina Gamecocks to the Birmingham Bowl next to face an explosive South Florida playing under an interim coach.
Amongst a full dozen SEC bowl entrants, Arkansas faces a scrappy Va Tech in the Belk Bowl in Charlotte. History shows that this was the last bowl Mark Richt ever coached for Georgia. With an interim offensive coordinator, UGA smashed Louisville behind the powerful thighs of Nick Chubb, playing at his ultimate peak. By the next postseason, Richt was busy recruiting for his alma mater in Miami. Georgia people are excited about the running prospects of seniors Chubb and Michel next year, which brings me to Arkansas. They had major offensive line issues similar to Georgia's this year and were not the power running team of previous campaigns.
Georgia gets the purple-and-silver-and-white clad TCU Horned Frogs in the Liberty Bowl at 11 a.m. local time. It's early and Gary Patterson is a defensive genius and top-tier bowl coach, and they play a spread offense that can cause problems. Are we going to fall to 7-6 playing a 6-6 team that faded down the stretch? Or are we going to keep the positive momentum going that started after we lost to Georgia Tech but were recruiting well with our key guys coming back? This is already another pivotal moment in the coaching career of Kirby Smart. Lose here and we erase any good feelings from a decent late season run, in my opinion. Win and he is a not horrible 8-5. Coach Richt was just 8-4 his first year at UGA, then went 13-1 in year two. It is fair to compare the two.
You failed Vols. Those "Next Year's Champions" stickers are on clearance in Knoxville after a fall from grace, but they never should have been there in the first place. Keep your helmet on; knock the ball down, and they never even sniff greatness. Claim your destiny when it is in front of you, kids. We significantly outplayed them this year, with the exception of Josh Dobbs. He helped us beat ourselves, then fell. They face a resurgent Nebraska in the Music City Bowl in Nashville. That's a good one to attend, good place to party. Maybe you will be next year's Music City Bowl champs, Tennessee fans. I like Big Red in this one.
LSU heads down to sunny Orlando to face Louisville in the upper-middle bowl game at the Citrus Bowl. It's been the Citrus, the Capital One, again the Citrus – much like the Peach. Fournette is skipping it, but Guice is a dynamic running back for the Bayou Bengals. Their D is hungry to face the Heisman winner but should be careful what they wish for, as Lamar Jackson makes people look foolish. Should be fun.
Also played at 11 a.m. (EST) on 12/31 is the TaxSlayer (formerly "Gator") in Jacksonville, where we took out Penn State last season behind an interim head coach. They went on to win the BIG 10 in its best-ranked year ever, while we fell to 7-5, folks. This year, upstart Kentucky will face Georgia Tech. Both of these teams finished with upset state titles, both run it well from a myriad of formations.
BAMA gets Washington in Atlanta at 3 p.m. Tide will roll. Washington struggled some with Colorado. While Bama scored 16 on negative 7 yards in the first quarter of the SEC title tilt, an all-football record for points per yard in a quarter. If they face Ohio State in the final round, Urban Meyer (9-2 in bowls) may have Saban's number now (they are 2-2 lifetime, with Meyer 1-0 in the CFP). If it's Clemson versus Alabama, the Tigers were one play away last year. I'd still go with BAMA.
The year will end. There are no bowls on (Sunday) New Year's Day, which is a crime.
Florida gets the Outback on January 2nd and should be able to shutdown Iowa in Tampa. That's another bowl trip I have taken and can recommend. Finally, a healing but 8-4 Aubie gets the top offense in major college football. Oklahoma playing at night in New Orleans should sound familiar (and bad) to Alabama fans.
Georgia has the longest consecutive bowl streak in the SEC at 20 and is now #2 in the nation behind Virginia Tech. The Dawgs move into a tie with Nebraska for #2 in total bowl appearances, both catching Texas who failed to qualify. UGA is third in most bowl wins, behind only Alabama and USC.
Happy bowling. GO DAWGS!!!


Book: "Richt Era: 15 Years in Athens" at www.silverstonepress.com

Twitter: @hanvance

Facebook: Big Hairy Blawg

Website: www.bighairyblawg.com

Bowl Show:
https://www.podomatic.com/podcasts/southernsportsroundup94487/episodes/2016-12-21T14_45_06-08_00