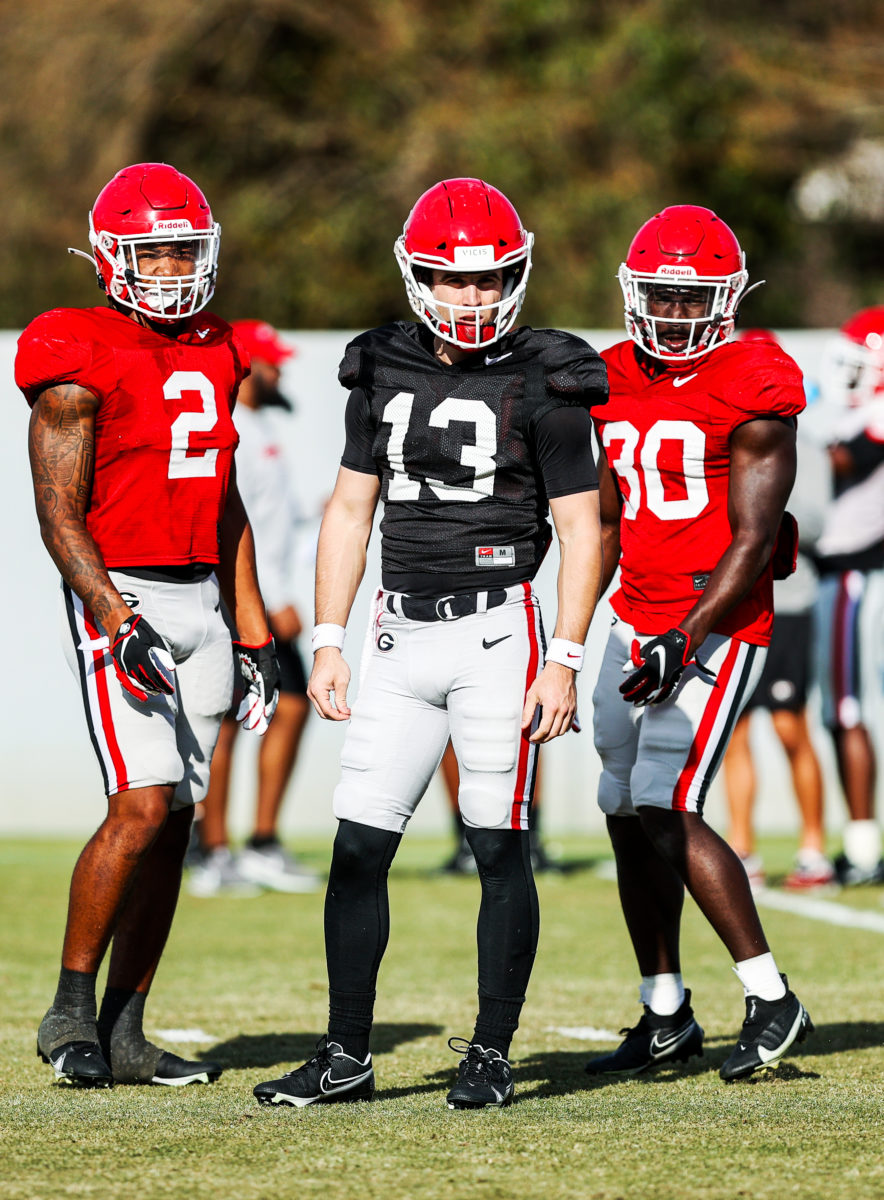 Every offseason brings turnover, but this one is a bit different for Kirby Smart and his Georgia Bulldogs. Losing some of the men that led your team to a national championship is quite the challenge to overcome. But it's not like this team hasn't faced adversity before. With players heading out the door, it leaves big holes to fill for the next man up.
At this point, the team has put the national title behind them and trying to redefine itself. With each group searching for their identity heading into 2022, we've assessed how they're doing, categorizing them into three tiers: Gelled, Good, and Work in Progress. Gelled meaning that this group works well together; they understand each other and their roles and have established identity. Good signifies that they're getting there, but something is missing. Often times its experience, depth, etc. Those who are Good are just a step or two away from a unit that could be elite. Work in Progress speaks for itself. A group with this label needs time to figure out who they are, which is why the last six weeks have been so vital. Nonetheless, you still won't know what to expect from these guys until you see them play in the regular season. Here's what we learned from spring practice so far:
Quarterbacks- Good
In terms of talent at the position, the Georgia Bulldogs are doing swimmingly. They have their National Championship winning quarterback, two guys with great arms, and a highly recruited freshman. But Kirby isn't satisfied. Coach Smart has made it clear that presumed starter, Stetson Bennett, still has a lot of room to grow.
More of the weight will fall on Stetson's shoulders this season. Without a generational defense to lean on, the sixth year quarterback will have to control the game himself. The good thing is that we saw him do it in January against Alabama, but he also struggled against the same team just a month earlier. At this point, what have we not seen of Stetson Bennett? His entire spectrum of skills has been displayed during his time in Athens. In his final year, he needs high-level consistency to pull it all together and make his decision to come back worth it. There's a new set of expectations now. The bar is higher. He's not the third string walk-on anymore. He's reached the mountaintop, and fans are eager to see if he has what it takes to do it again.
Carson Beck, Brock Vandagriff, and even Gunner Stockton are showing signs of progression this spring. Beck was elected to throw passes to George Pickens during Pro Day. This led to Pickens' high praise of Beck's ability to "rip" the ball. Brock Vandagriff also offers a good throwing ability. Some have said he has the strongest arm in the QB room. Vandagriff and Stockton are both known for being dual threats. Adding to the versatility of the quarterback position.
Last year, this group was a little shaky with starter JT Daniels suffering an injury that kept him off the field, giving Stetson Bennett the opportunity to win over the starting position. Bennett brings an extremely high floor to this position, but can he repeat what he did last year? If Bennett can maintain consistency, he'll go down as one of the greats.
Running Backs- Good
"Good, not great" is what comes to mind when thinking about Georgia's running back room. Losing the tandem of Cook and Zeus leaves big shoes to fill for the likes of Kenny McIntosh, Kendall Milton, and Daijun Edwards. No one is saying they can't do it. They just haven't had the opportunity until now. McIntosh expects to be the main pass-catcher out of the backfield. With great hands and a solid frame, the fans may just see a bulkier version of Cook next year. A creative runner, Kenny boasts great cutting ability and balance in his running that can only improve this offseason as he takes first-team reps in practice. He and Kendall Milton look to be the main guys splitting touches going into the 2022 schedule. Kendall, a bruiser with deceptively quick feet, steps into a larger role, which will finally allow him the chance to unlock his true potential. Also, fans shouldn't sleep on his Daijun Edwards. Milton says he's been getting a lot of the attention in practice, and like the other two, looks to contribute come fall.
There should be little no drop off in production from this group. They've waited their turn, and now that the time has come, they're hungry. Everything points to these three having what it takes to uphold the reputation of RBU.
Tight Ends- Gelled
This position group should be the least of anyone's worries. Brock Bowers, Darnell Washington and Arik Gilbert are the first things you see when you google "mismatch nightmare." The amount of talent the Bulldogs have in their tight end room is legitimately unfair. Sophomore Brock Bowers was an All-American in his first year. The kid can move. Working both out of the slot and on the line next to the tackles, Bowers was able to put up gaudy numbers for this team. Standing at 6'7" Darnell Washington, or "Big O", has definitely earned the nickname. Big O blocks like a tackle when put on the line of scrimmage. His height and length make him a huge red zone target and has made way for some pretty athletic grabs. His pass catching role was dampened because of Bowers' dominance, but that just speaks to the talent at the position. Looking to get more action next year are third year transfer Arik Gilbert and freshman Oscar Delp. Gilbert took the season off due to mental health concerns, but he is back with the team now and is making strides in spring practice according to Coach Kirby Smart. Delp, being a freshman, has a ways to go before he sees serious playing time, but his size and route-running ability definitely show signs that that time may be sooner rather than later.
The biggest issue here is trying to figure out whom to put on the field first. The fact of the matter is no matter whom you choose, you probably won't be wrong. As said earlier, this group is ELITE. Each one is a mismatch nightmare and will cause headaches for the defenses Georgia is scheduled to play in 2022.
Wide Receivers- Work in Progress
Kirby said it himself. The Bulldogs have never been this thin at wide receiver in his tenure as UGA's head coach. George Pickens moving on to the draft and Jermaine Burton transferring to Alabama leaves Georgia with Kearis Jackson and AD Mitchell as the most proven talent in the room. While Kearis Jackson offers leadership and experience, he's never felt like "the guy" during his time at UGA. In his fourth year with the Dawgs, hopefully he finds his way. On the other hand, AD Mitchell, coming off his electric freshman season, has most definitely flashed signs of being "the guy." This next season is going to be a little different for the second year receiver. Last year, AD shined behind the likes of Pickens, Burton, and Bowers. Losing two of those guys, moves AD up in the depth chart and will better feature him in the offense. This is great for his opportunities as a receiver, but this means he will now be more prioritized by opposing defenses. If he is going to be out there as the best guy, it wouldn't be too surprising if opposing defenses started putting their best guy on him to match up.
Other guys to look for are midyears Dominick Blaylock, Arian Smith and Marcus Rosemy-Jacksaint. All three have been hampered with injuries for a solid portion of their time at UGA but have flashed potential in the times they've been able to play. Blaylock and Rosemary-Jacksaint have both recovered enough to fully participate in spring practice, so hopefully, with the shallow depth at the position, they'll be able to compete for more snaps. As for Arian Smith, he's limited in practice but looks to be coming along. He may not be ready for G-Day, but the regular season isn't too far out of reach.
Players leaving and injuries have taken a toll on this group, but lack of talent hasn't. As this group finds its sea legs, more of them will emerge and find opportunities. Until then, other than Mitchell and Jackson, there will be a lot of competition to see who is up next on the depth chart.
Offensive Line- Good
Even with tackle Jamaree Salyer and guard Justin Shaffer heading to the league and former five stars Amarius Mims and Clay Webb entering the transfer portal, there should be little to no drop off in production from this group. The loss of Mims and Webb does take a toll on the depth chart, but that won't affect the expected starting group. Both left because they weren't able to contribute like they wanted to. Regardless, the line has a chance to get better as the men coming in to replace Salyer and Shaffer are either just as or even more talented. Expected to replace Salyer at left tackle is third year former five star, Broderick Jones. Coming in at 6'4" and 315 pounds, Jones basically resembles a refrigerator made of muscle. Without much weight hanging off the edges, Jones has put his frame to use having already played in 17 games in two years. Two contenders to fill in Shaffer's spot are Xavier Truss and Devin Willock. At 6'7" and each weighing in at over 330 pounds, both offer a fair share of size and strength.
Warren McClendon returning to play tackle, paired with Broderick Jones, should make for an elite duo. Add that to the size the line has in the middle, and you have yourself a great all-around offensive line. Be prepared to see McClendon and Jones step up as the faces of this group. Jones has stood out this spring becoming more vocal according to Coach Smart. These guys aren't just protecting their quarterback but trying to uphold the legacy of lineman that came before them. Given their losses at key depth positions, this group must maintain health. But if they do so, keep an eye out as they consider themselves to be legitimate contenders for the Joe Moore Award, given to the best offensive line in the country.
Defensive Line- Good
This group lost three potential first round picks in Davis, Wyatt, and Walker, however, there's still an abundance of talent in that room who have seen snaps. Rolling into the 2022 season, the Dawgs will field junior defensive tackle Jalen Carter. Carter will more than likely be a Pre-Season First Team All-American and at the moment is considered by some to be a top 10 draft pick. He is a wrecking ball on the line of scrimmage. With the two sledgehammers for arms, he tosses SEC offensive lineman around like they're ragdolls. Lined up next to him will be senior edge defender, Nolan Smith. The number one overall player in his class coming out of high school still has a lot to prove of himself from a pass rushing standpoint. He has the size and the experience and maybe now as he takes on a more featured role, everything will come together. These two are now the two guys to look for on the defensive front. The key to his unit progressing to an elite stature like last year is having Carter and Smith maximize their opportunities with their more featured roles. If those guys ball out and start attracting double teams, it will make way for their teammates to get better matchups. If that happens, then this unit has the potential to match the accolades of the historic 2021 unit.
Linebackers- Work in Progress
Similar to the defensive line, the linebacker room also lost three starters. However, unlike the D-line, there are not a lot of experienced players coming in to replace them. Georgia's veteran linebackers, Rian Davis and Trezman Marshall have been hindered by injury. An injury has ushered Davis to the sideline for most if not all of spring and keeps Marshall in a black injury jersey, limiting his participation in practice. One guy to look out for is Jamon Dumas-Johnson, better known as "Pop" for the way he pops on the field. Plenty of folks have had something to say about Pop and his level of performance this spring. Although a majority of his in-game experience comes from games that were already decided, he still stood out amongst the rest. In limited time during his freshman year he netted two sacks, two pass deflections and a pick-six. Other than him, expect to see a lot of new faces at linebacker. Early enrollee Jalon Walker and second years Smael Mondon and Xavien Sorey all offer potential, but not experience, and that's the biggest issue this position group faces: a lack of experience.
The linebackers have big shoes to fill, but so far they've shown they have the potential to live up to that challenge. They'll have to execute come game day. Doing well in practice, but doing well on the field is even better. As a whole, they're inexperienced but hungry for playing time. Expect to see Pop, Marshall, and Walker leading the charge this fall.
Defensive Backs- Good
What this group lacks in depth, it makes up for in veteran presence. After William Poole and Chris Smith decided to stay for their sixth and fifth seasons, the defensive backs wound up bringing back the most proven talent on their side of the ball. All but one of the starting players in this group is expected to be upperclassmen. Lewis Cine leaving for the league will give fourth year Dan Jackson more opportunity, but don't be surprised if eventually, freshman Malaki Starks makes an appearance. Starks' willingness to learn has been praised by Chris Smith, and it might possibly lead to snaps sooner than you expect. The biggest question is who will play opposite Kelee Ringo at outside corner? It's been reported that Kamari Lassiter and Nyland Green are the main two competing for this spot. Both have only seen the field in short stints, but don't forget that Kelee Ringo was in a very similar situation last year, starting as a redshirt freshman.
Special Teams – Good
UGA's reputation for quality kicking looks to continue with Jack Podlesny's return for the 2022 season. Coming in at punter is twenty-two-year-old Brett Thorson. Even though he hasn't played American football extensively, Thorson is standing out in practice and showing promise. And if you take into account Podlesny's proven capabilities, this is a very capable group. The special teams unit should maintain a high level of consistency during the 2022 campaign.