After having their own perfect storm the previous Saturday in a 37-7 rout of the LSU Tigers, you could say the Mississippi State Bulldogs ran squarely into one Saturday night at a rocking Sanford Stadium.


Into a turbulence called the Georgia Bulldogs, which put together nearly a perfect blend of offense and defense (except in Kirby Smart's mind) to batter previously unbeaten Mississippi State by 31-3. Mind you, this was a 17th-ranked State team that came into this SEC battle averaging 47.7 points per game but left the field after four quarters without ever crossing the goal line against Georgia's rugged defensive unit. Only a 26-yard field goal by Jace Christmann prevented the Maroon Bulldogs from being shut out completely.


I don't know of anyone in the collegiate football world that expected Smart's 11th-ranked Bulldogs to completely dominate this game from the very outset but that's exactly what Georgia did in climbing to 4-0 on the season while easily winning its first SEC outing of the 2017 season.


From the Bulldogs' very first play from scrimmage when Nick Chubb took a handoff from freshman quarterback Jake Fromm, pitched the ball back to Fromm on the old "flea-flicker" play and then watched Fromm throw a perfect strike to a wide-open Terry Godwin, who was streaking behind the State secondary. The touchdown covered 59 yards and there was still 12:37 left in the opening quarter, the score coming after the Bulldog defense had held the Maroon Bulldogs to three-and-out on their initial possession.


That quick score not only ignited the 92,000-plus fans in attendance but also, ignited Fromm into a sizzling start throwing the football. Playing like he doesn't intend to surrender his starting QB role – no matter when the injured Jacob Eason is ready to play again – Fromm completed his first eight passing attempts and went on to finish the night with a 9-of-12 showing for 201 yards and two touchdowns, his other scoring toss coming via a 41-yard completion to the heretofore forgotten tight end Isaac Nauta in the third quarter. And Eason had one deep on-the-money throw in the second half dropped by Godwin.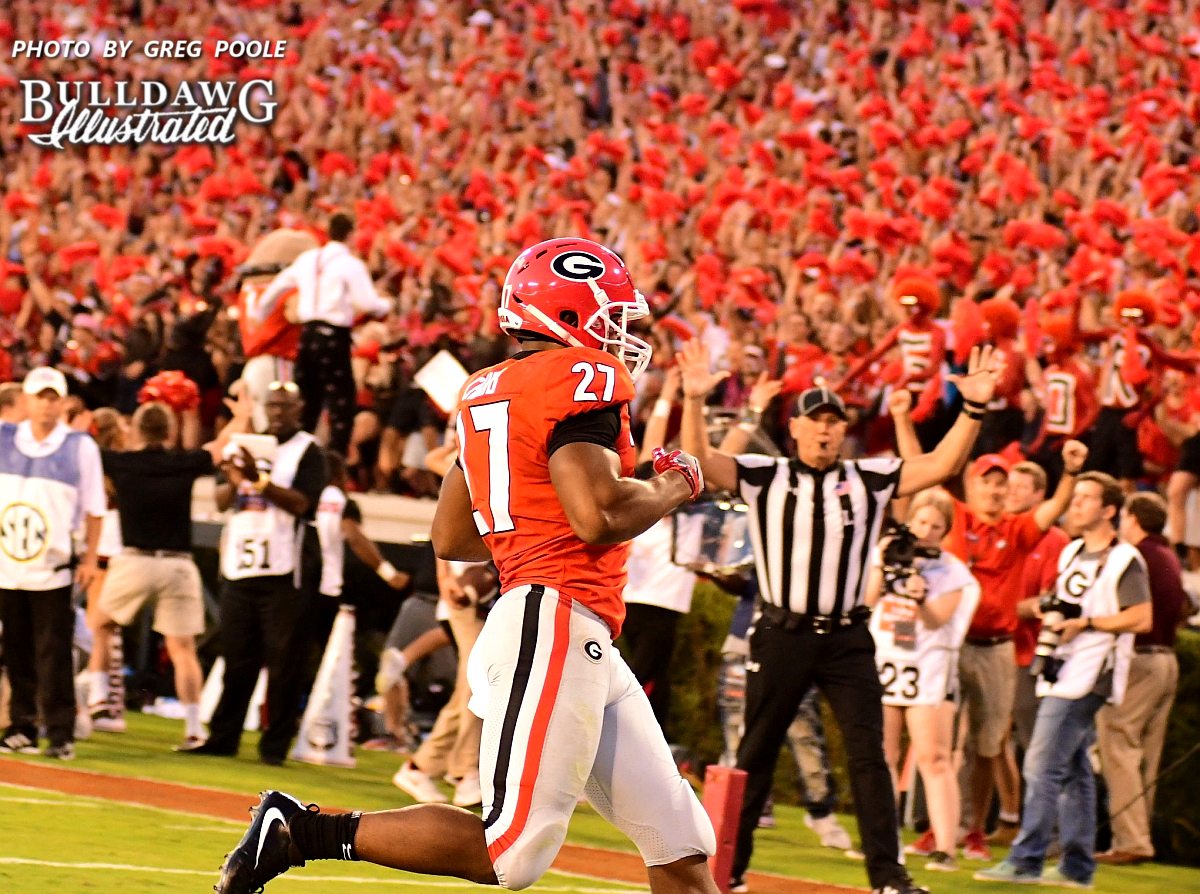 Georgia, also getting a 7-yard touchdown run from Chubb in the opening period, claimed a 14-3 halftime lead.


In the third quarter, the Bulldogs completed their scoring with Chubb rambling 28 yards out of the "Wild Dawg" formation (hey, it finally worked), Nauta pulling in the deep touchdown pass from Fromm and Rodrigo Blankenship capping his perfect night (6 touchbacks on kickoffs) with a 49-yard field goal.


These Bulldogs also displayed nearly flawless balance in the running and passing game, rushing for 203 yards and getting the 201 passing from Fromm. Chubb finished the evening with 81 yards on 15 carries and his two scores while freshman D'Andre Swift continued to shine, going for 69 yards on 10 carries for a 6.9 average per trip. Sony Michel, coming back from an ankle injury, tacked on 32 yards on seven carries.


Godwin had two catches for 80 yards including the opening touchdown and would have topped the century mark had he hauled in the last throw from Fromm. Javon Wims followed with two receptions for 43 yards.


Outside linebackers Lorenzo Carter and Davin Bellamy said the offense's early explosion also got the defense fired up and boy … did it ever! This Mel Tucker-coached unit (along with a bit of help from Smart) is seemingly getting better with every outing. They were selling out to not allow Nick Fitzgerald and the Mississippi State offense to score a touchdown and even when the Starkville Bulldogs, then being quarterbacked by backup Keytaon Thompson, marched down inside the Georgia 5-yard in the waning seconds, the Bulldogs' reserve defenders – spurred by freshman Monty Rice's stop at the Georgia 2 – wouldn't allow the visitors to cash a touchdown.


Georgia limited the same Mississippi State defense that ran up and down the field at will against LSU to just 177 yards rushing (which Smart said were way too many) and 103 passing. Entering the game being regarded as the SEC's top quarterback by some, the 6-5, 230-pound Fitzgerald was checked to a measly 47 yards on 10 carries by the gang-tackling Bulldogs. And he was only 14-of-29 passing for 83 yards with two interceptions … Georgia's first picks of the year which were rendered by Deandre Baker and Dominique Sanders, Sanders' pick giving him 13 for his career and enabling him to tie his head coach in that department. And the Bulldogs were also all over State's leading rusher, Aeris Williams, smothering him to 24 yards on 11 carries.


Sophomore safety J.R. Reed, who deflected the ball that Sanders intercepted, led the balanced defensive showing with 10 tackles and he was followed by Georgia's human missile at linebacker, Roquan Smith, who recorded eight tackles. Baker had seven stops from his cornerback spot to go with his pick and Lorenzo Carter, Tyler Clark and Rice also notched tackles-for-loss.


When Georgia wins a football game in this fashion, all the statistics seem to jump off the page but, bottom line, I can't recall a more complete game played by the Bulldogs, at least in recent years, between these Sanford Stadium hedges. Certainly not against a top-20 ranked team as was the case with Mississippi State.


Now, with this convincing victory, Georgia's expectations for the rest of the season soar ever upward. But again, Kirby Smart wasn't getting all giddy over this win. As he commented in his post-game remarks, the Bulldogs now have to go on the road next week (to Neyland Stadium in Knoxville) just as Mississippi State had to go on the road tonight following its wipeout of LSU last weekend.



---
Recent Articles by Murray Poole


[pt_view id="2fb799183g"]