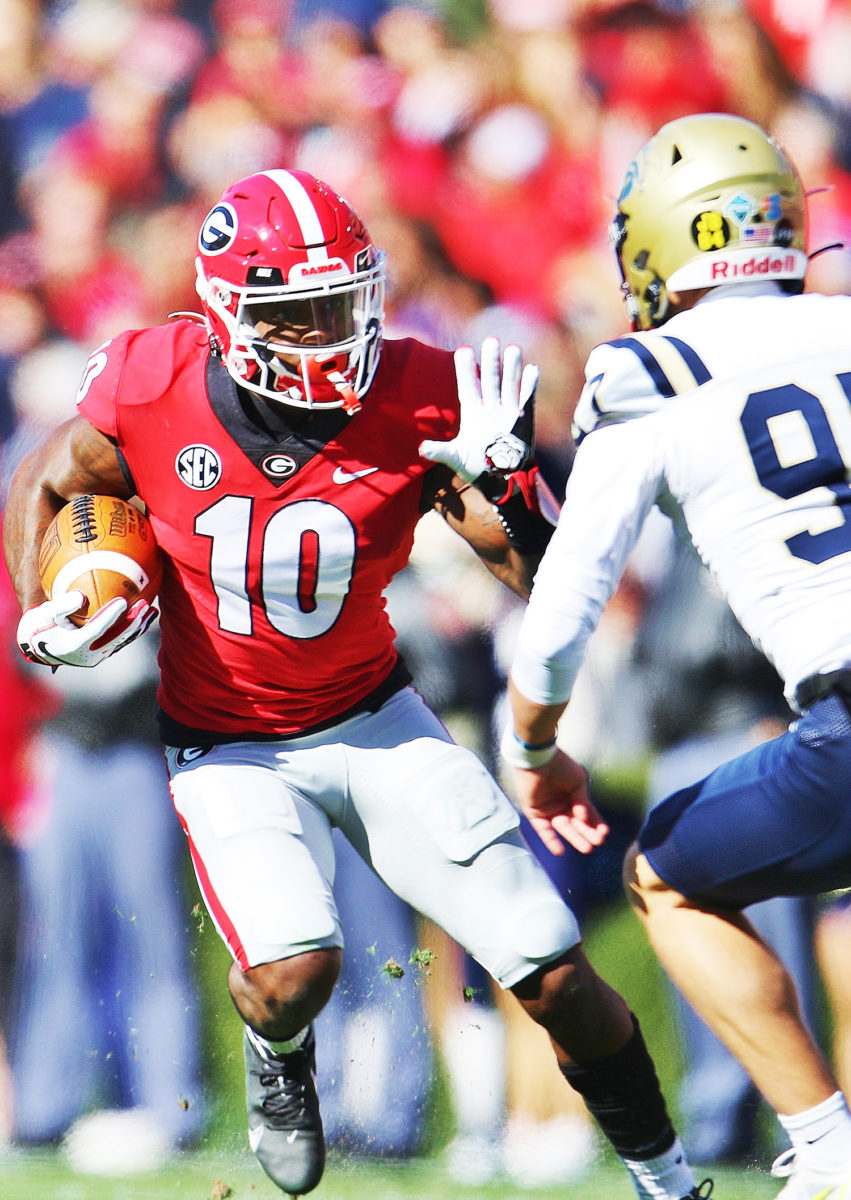 A look back at what decided the game between Georgia and Charleston Southern
It was a bittersweet game. This has been such an extraordinary and entertaining group of guys. To watch these seniors play their last game at Sanford Stadium was tough, but fans can be proud of this seasons accomplishments. These seniors have led the team to be undefeated in the regular season, to be ranked No. 1 in the country, and to the SEC Championship where they will take on the No. 2 ranked Alabama Crimson Tide.
Charleston Southern played well, but unsurprisingly Georgia dominated. Next up, Georgia ends the regular season against Georgia Tech in Atlanta on Saturday. It will be important for the Dawgs to remain focused and end the season strong. It is exciting the know the Dawgs are in the chase for an SEC Championship and potentially a National Championship. The possibilities are within Georgia's reach.
233
Georgia dominated the run game with explosive plays, racking up 233 total rush yards. James Cook averaged 9.5 yards on six carries, one TD, with his longest run being a beautiful 40-yard dash breaking two tackles in the process. Zamir White averaged a stunning 20.8 yards per carry, a total of 83 yards on four carries, one TD, and his longest run also being a 40-yard gain. Jordan Davis, the big man himself, got a 2-yard rushing touchdown in the first quarter. It was exciting to see Davis barrel into the endzone. I don't know who the current Heisman favorite is, but I think Jordan Davis has a real chance to win it.
255
The passing game was strong against Charleston Southern with 255 total passing yards. Brock Bowers scored two TDs on four receptions. He picked up 40 yards after catch, and 19 yards on his only rush attempt of the game. Dominick Blaylock finally returned from his multiple injuries. Blaylock had two receptions in the game. Having Blaylock back in the lineup as a weapon for Georgia will benefit the entire team. Stetson Bennett went 8 of 14, with one INT with two passing TDs before JT Daniels, Carson Beck, and Brock Vandergriff got their chance to play. Daniels went 7 of 12, no picks with one passing TD. Carson beck went five of 10 with one INT, with one passing TD. Brock Vandergriff, a highly touted true freshman from the Athens area, got to play a drive in the game. Vandergriff was No. 2 ranked quarterback in the 2021 recruiting class. He has a potentially bright future ahead of him.
150
Georgia's special teams had an A+ game, 150 total punt return yards. Kearis Jackson returned four punts for 79 yards, with his longest return being 41 yards. Ladd McConkey also returned two punts for 62 yards, his longest being a 34-yard return. Having some quality returns, and play in general, from the special teams will be greatly beneficial against Alabama in the SEC Championship. In a game with evenly matched teams, special teams will make the difference, swinging the game to one side or the other. With no penalties on these extended returns, Georgia's special teams should be commended for their excellent execution.
8
Georgia's defense played strong, and Kirby got to show off some of his depth in that area by getting his reserves on the field. Eight total tackles for loss, 43 total yards for loss, four of which were sacks. Smael Mondon (1.0), Robert Beal Jr. (1.0), Devonte Wyatt (1.0), Channing Tindall (0.5), and Travon Walker (0.5) were the Dawgs who got sacks. The Dawgs brought pressure the entire game. Charleston Southern was able to get into the endzone on a 65-yard fumble return in the 3rd quarter, but Georgia's defensive fulfilled their mission of not allowing anyone into the endzone on their end.