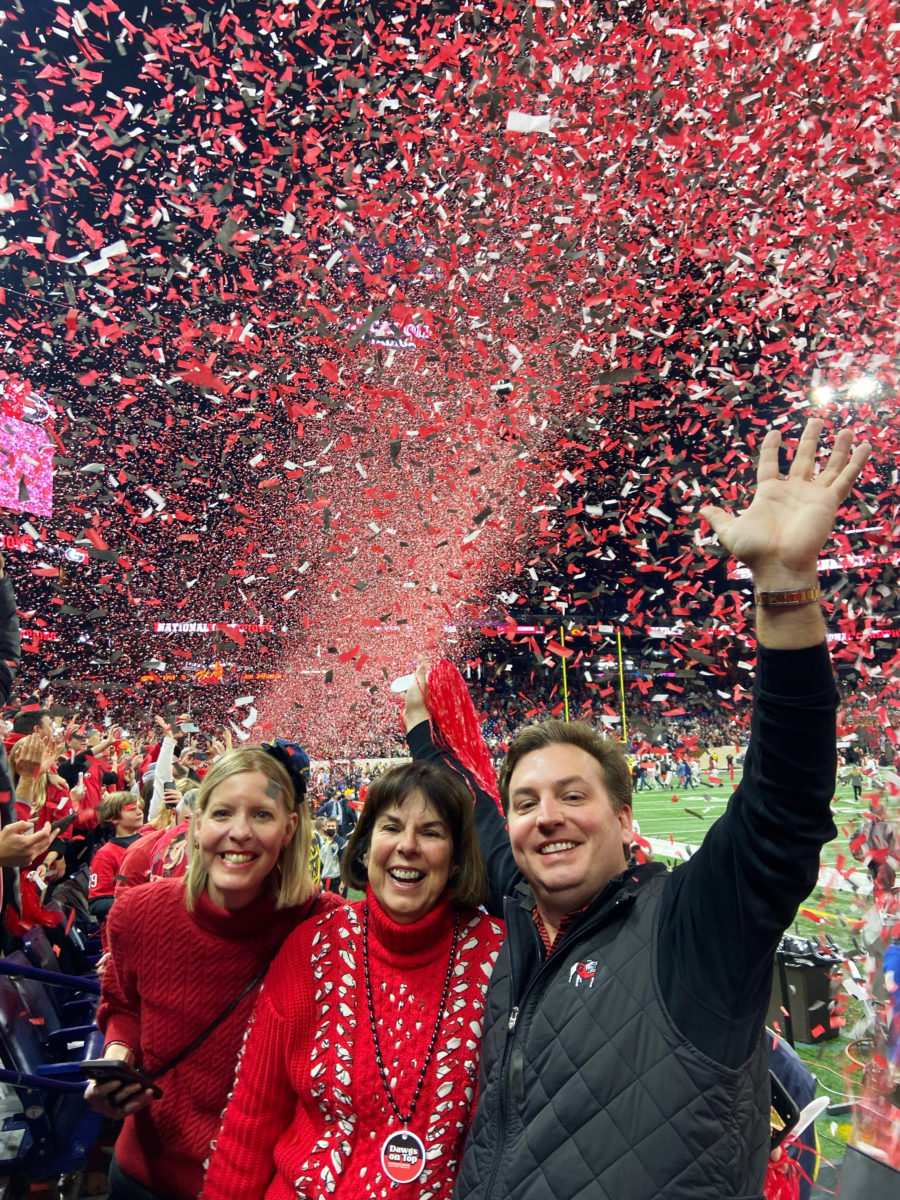 Rain or shine, sleet or snow, the Dawgs travel. To Indianapolis, it was no different. Despite the freezing temperatures, Dawg Nation showed up and showed out. By land or air, the Georgia faithful made the trek north to see the 2021 Dawgs play for a shot at the title. There were essentially three methods of travel to Indy. Those who made a trip out of it and stayed in the city of Indianapolis for a few days, preparing for the game. Then, there were those who stayed in a nearby city for a few days, making a vacation out of that. Finally, there were those who flew north the day of — touching down the morning of the game, attending the game, and getting back home that night or early Tuesday. Enjoy these memories from each group to help better understand the true Indy experience.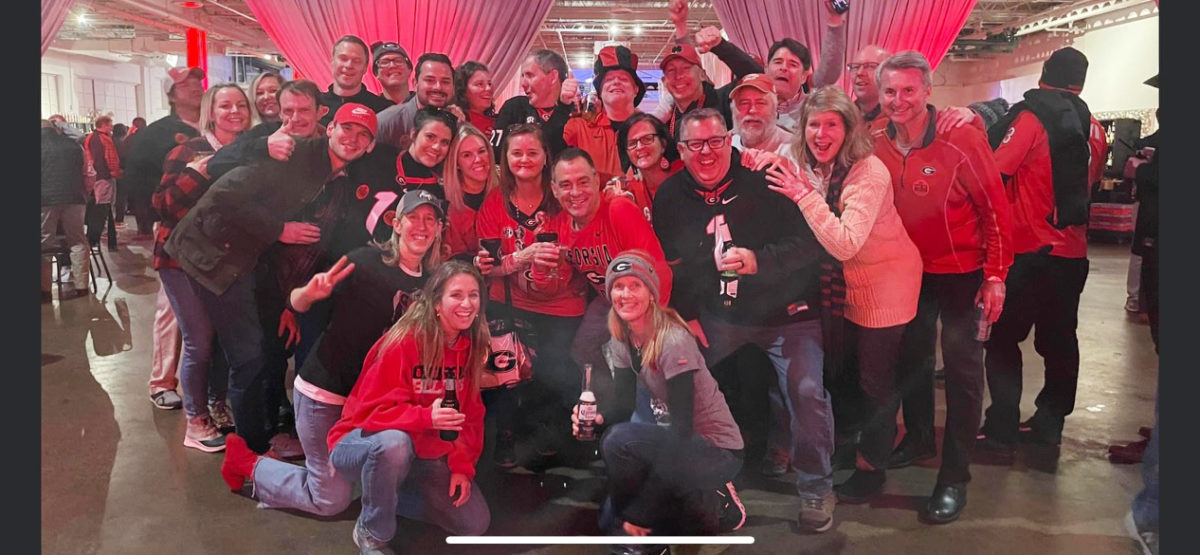 THE INDY DEWELLERS
By Reign Streiter
We made our way up to Indianapolis a few days prior to the game. In Athens, I always host a tailgate, so I had multiple people reaching out to me asking if we were putting a tailgate together. My buddy Rick Floyd, who also throws a big tailgate, and I put our heads together and started planning how we were going to do this. We said we threw an elite tailgate in Charlotte to open the season and we need to close the season out with another elite one.
I got turned on to an event space called Crane Bay. It was literally an old, converted warehouse used to build and work on cranes. It was an awesome venue with an old industrial look and high ceilings, but I figured a cool space like this would have already been taken by a big sponsor. Turns out Michigan had booked the space in advance, thinking they'd beat us, but when they lost, the Michigan people canceled a week prior to the national championship.
The Thursday before the game, I called them, and they told me I had it, but I needed to wire them quite a substantial amount of money because of how close it was to the game. We came to the consensus that despite the cost we had to do it, so we wired the money and reserved it.
I found an ice sculptor, and he carved us three awesome pieces for the entryway. In addition, I contacted the DJ for the Pacers and Colts who had done Super Bowl events when they hosted and many other cool events. He was great and told me after the game he had never seen such an excited fan base. He said he had never been so happy for a fan base because of our loyalty, so we're trying to get him down to Athens next season and put him up at another tailgate.
Towards the beginning of the tailgate Coach (Mark) Richt entered, and it was like the Pope walked in. He got up on stage and kicked us off with a message to Dawg Nation. You could've heard a pin drop. Everyone was enthralled and so excited to see the former coach; it was a special moment.
After we received the payments from all 500 of our guests we had well over what was needed to cover the expenses. Rick and I didn't do the tailgate to make money; we just wanted to have an elite tailgate for our fans, so we gave the leftover money, about $10,500, to Camp Sunshine. The team gives a lot of time and effort to that program, so we felt we needed to donate to it as well.
After the game, the staff of Crane Bay told me we had broken the record for the most alcohol consumed, but they also said we were the nicest guests they had hosted. The Dawg people love a good drink, but our southern hospitality always stays with us!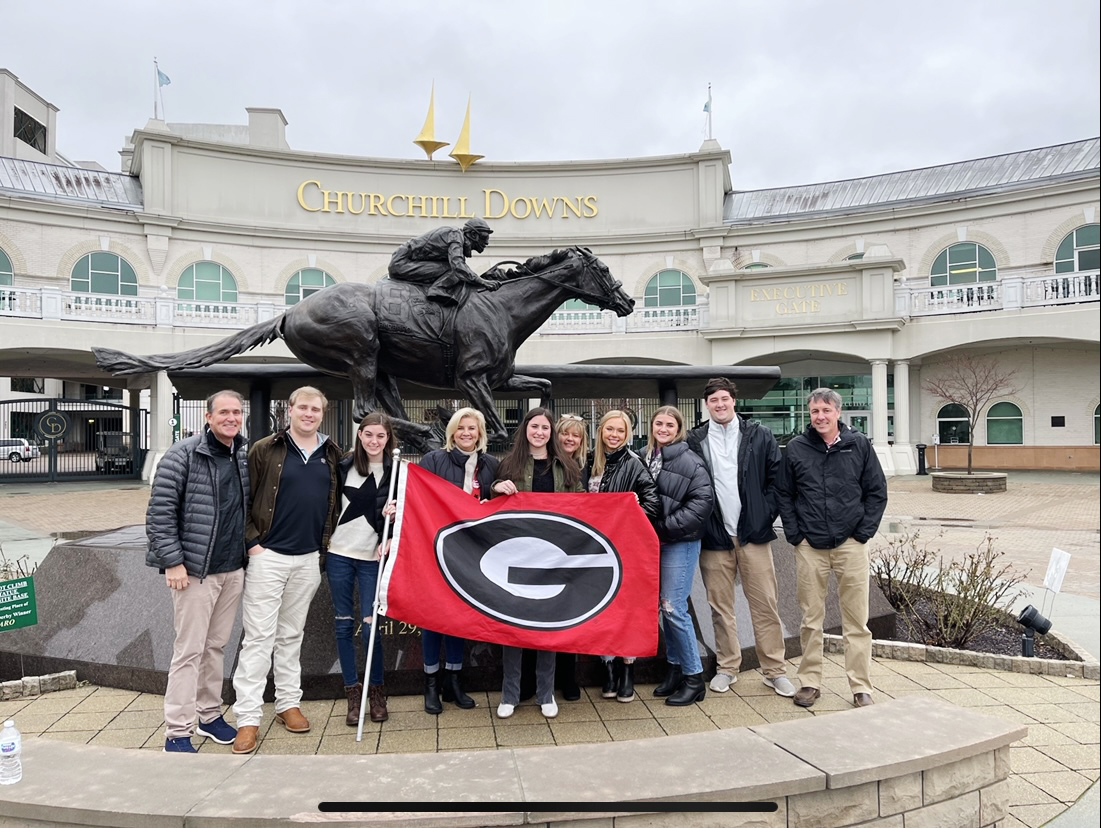 THE NEARBY CITY VACATIONERS
By Laura Allen and Doree Boswell
Tom Allen and Jay Boswell grew up in Athens and attended UGA together. After marrying their wives, Laura and Doree, and their families grew, they all traveled near and far watching the Dawgs. Since this season was so amazing, the families knew they had to travel to Indy to witness a victory over Alabama and a Georgia national championship. Staying in Louisville, the families visited Churchill Downs, had fabulous meals, toasted the Dawgs in a speakeasy, bowled a few pins and even threw some axes. Doree and Laura felt confident in a Dawg win-from finding a Bible in their terminal gate seat to meeting "Hope" from SEC Shorts. They believed these were signs from some of Heaven's Greatest Dawgs like Clisby Clarke, EH Culpepper, Bullet Moseley and Kid Terrell.
Winning was the ultimate prize!! It was Jay's perfect day and our families' greatest blessing to have all been together celebrating the Dawgs' National Championship.
THE DAY OF FLYERS – Athens to Indy
By Sara Hughes – From the moment we landed in Indianapolis on Monday January 10, you could feel the excitement and trepidation in the air. Could our beloved Georgia Bulldogs finally slay the Alabama giant? We all came with hope that we would be heading home No. 1 in 24 hours. Being able to watch the team rush the field, the confetti drop, and celebrating with my mom and brother will be 24 hours I will never forget.
By Hamilton Culpepper – I joined the Hughes on their plane in our travels north to Indianapolis. They were kind enough to allow my family and me to join them for what turned out to be the greatest moment in all of our lives. We left Athens around 10 a.m. the day of the game, and landed in Indy a short hour and a half later. It was a prime travel method.
Ast time of my life. It is an unforgettable feeling, and quite honestly, one I thought I'd never experience. I love this school and these people who bleed the Red and Black. Go Dafter landing, we checked in our hotel about 20 minutes from the stadium. It was a quick stop because the Dawgs were barking, and we needed to be tailgating. A pleasant uber ride to downtown took us right to the center of the action.
In the cold streets of Indy, we ran into many fellow Dawgs. After a full season of sharing great wins with the rest of Dawg Nation, it was great to have one last hoorah with all Georgia faithful who traveled to the Natty. We were stopped on the streets by fraternity brothers of mine and many other close friends.
We had a great tailgating experience put on by the University. The band was electric and the great Dawg people were hunkering down. Then … the game. As we all know, it was unreal. I chewed off an entire fingernail because I was so nervous. When Kelee Ringo iced the game with the pick-six, I couldn't help but break down to tears. Sitting next to my 50 year old father, who saw the 1980 title as a child, embraced each other and kept crying. Neither one of us even saw Kelee score, but we knew the game was ours.
I'm still speechless thinking about that special moment and sharing it with my family was truly the greatest!!
Atlanta to Indy
By Robert Wolfe – My family has had season tickets since the 1970s. I cried in our driveway at 8 years old in 1980, because my dad wouldn't take me to New Orleans for the Sugar Bowl. So, I have been chasing a National Championship all 41 years ever since. I sat behind Hamiton Culpepper's parents and the Leavys in 2017 in Mercedes Benz when 2nd and 26 knocked us out of the quest for a title.
When Kelee Ringo picked off the pass and took it to the house, the weight of all those years was too much to bear. During the play, I jumped and cheered, hugged everyone sitting near me, but soon after, the tears came. I thought about Bulldog friends that I have lost, about my dad who introduced our entire family to UGA football, but is getting older and prefers his tv over the hassles of travel. I thought about my wife, who despite battling Multiple Myeloma this year allowed me to go to 14 of 15 games (exception Orange Bowl). The tears flowed for a solid minute or so. I still tear up watching some of the videos that have flooded social media. And very soon on some cold winter Friday night, I will sit down with some bourbon and watch the game in full again.
As far as Indianapolis. Due to my wife's illness and Covid spiking, she decided at the last minute not to go. Our plans of three nights of hotels, dinner, and hanging out with my "football friends" were about to change. I booked a flight for myself, but within a few minutes of booking, I received "need a ride to Indy?" via text. It was from one of my good friends that I met in Russell Hall in the fall of 1989. He has his own plane, so the opportunity for a fun trip with a bunch of loyal Bulldogs was more enticing than traveling solo. I certainly would miss the build-up to the game in Indianapolis with my friends, but this worked well for our family.
We were supposed to fly out of PDK at 12 p.m, land in Indianapolis at 1 p.m., but we were held on the ground in Atlanta for about 30 minutes. Then circled a few times due to the activity at the Indianapolis airport. By the time we landed, it was 3 p.m.. There was so much private flight activity, we had to park far away and wait for a shuttle to take us to the terminal. There were 16 of us, so we needed two vans. We made it to the tailgate that Reign Streiter was hosting at about 3:30 p.m. The tailgate was very well done. It was about two blocks from the stadium, had good food and great drink. It was just a fun event to be a part of, other than two or three Alabama fans, it was all Red and Black.
We wanted to soak it all in, so at about 5:30 p.m., we went to the stadium. I thought the stadium was a nice venue. Ticket people, concession workers, everyone involved were more pleasant than my experience in 2017 in Atlanta.
After the game and victory, we loaded up to go back to the airport. We did lose one guy, who was either over-served or just got turned around after exiting Lucas Oil. After locating him, we were back to the airport. There must have been 1,000 people crammed into a building waiting for shuttles to get back to their planes. Luckily, we were able to get to the plane but were told it would be a little while before we could leave. I am not sure exactly how long that was, because we popped a 1980 bottle of Dom Perignon that one of our buddies had brought with us, "just in case". Hours later, we were able to get out of Indianapolis.
I didn't see much of Indianapolis, only the few blocks between the tailgate and Lucas Oil Stadium. We landed back in Atlanta at 5:30 a.m. Not too bad, because I am certain there were other UGA fans still soaking it all in at that time of the morning on January 11 as well. I expect other great memories of National Championships under Kirby Smart, but the length of time between 1980 and 2021 and this experience will be a memory until the day I die.