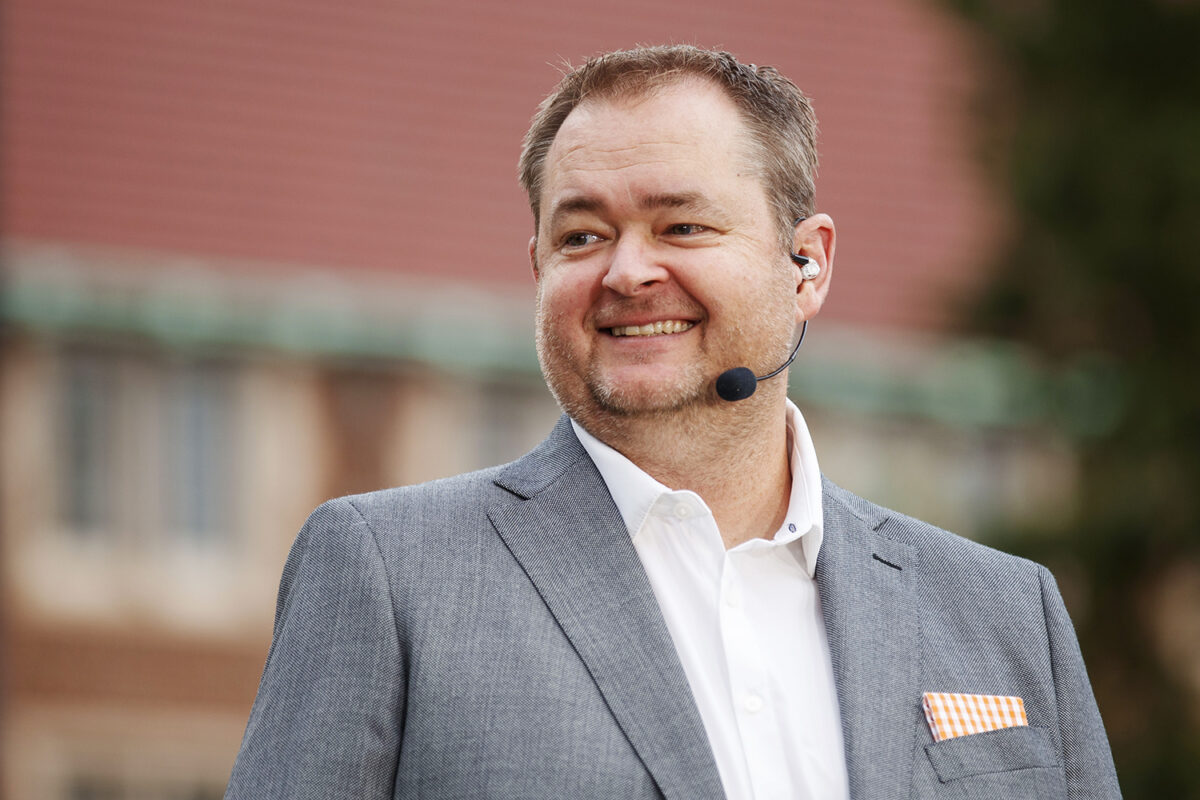 1. Vols Running Game – Tennessee boasts one of the most potent offenses in the Southeastern Conference. Josh Heupel has Tennessee's attack cooking. Last year, as the Volunteers posted their best season in two decades, it was a high flying aerial attack – piloted by quarterback Hendon Hooker – that grabbed the headlines. Joe Milton came in after Hooker was injured, and directed Tennessee to a victory over Vanderbilt and then a triumph over Clemson in the orangest Orange Bowl ever. Milton has been very good this year, and the Vols have a potent rushing attack. There are three outstanding running backs on the Tennessee depth chart, plus Milton is a dangerous threat to run. Jaylen Wright is the headliner for the Vols. He's putting up All-SEC numbers. The Georgia run defense is faced with yet another stiff test of rushing attacks and ball carriers. That's been the case since the open date and it will be again next week.
2. The crowd in Knoxville – The noise and energy will be a factor. Especially if Tennessee jumps in front and this thing is tight the whole way through. There were two games, when looking at Georgia's schedule before the year, that were clearly going to come against raucous crowds with the Bulldog faithful substantially outnumbered – Auburn and Tennessee. The Volunteers are smelling a victory and you can bet all the Orange clad Tennessee faithful will do their collective part to try and make the Bulldogs stump their toe.
3. Larry Munson – The greatest college football announcer ever had three of his most famous moments at Neyland Stadium. Perhaps there is some fate with that since the Mighty Munson was hired to Georgia from Vanderbilt and Nashville. There was Andy Johnson and the thrilling comeback in 1973. My God a Freshman, Herschel Walker's legendary debut in 1980 was memorably articulated by the master – "five, 10, 12, he's running over people, Oh You Herschel Walker!" David Greene found Verron Haynes – following a pair of great grabs by Randy McMichael – and Georgia stunned the Volunteers in the 2001 Hobnail Boot game. Between the victories of 1980 and 2001, the Bulldogs had lost five straight in Knoxville to the Volunteers. Neyland Stadium is a mighty tough place to win, and these three Bulldog triumphs brought out some true Munson magic.
4. My Record at Tennessee – Back in the 1990s, the Bulldogs lost nine straight to Tennessee in football. The records in men's and women's basketball in Knoxville weren't great. Our baseball team in the 1990s, believe it or not, once lost 17 consecutive games to the Volunteers. I witnessed and was a part of broadcasts for a lot of Georgia losses to the Vols, especially on the banks of the Tennessee. We got swept in baseball, I think it was 1999, and I was lamenting to a couple of my Tennessee friends how terrible my record was in Knoxville in football, baseball and basketball. Some Tennessee fan who had made his way into the press box overheard, and said "well you will make sure you're at Neyland Stadium this fall won't you … huh huh huh he chuckled. Well, I wasn't there, but we did lose, and I hosted the 5th Quarter Show in Athens afterwards.
5. Vol Fan Rob – A friend of mine recently passed. Silas Marion "Rob" Robertson, aka on Athens airwaves as "Vol Fan Rob" is no longer with us. He lived in Athens for over 40 years and was a die hard Tennessee fan. He cheered for Georgia, his father's alma mater, except when the Dogs played the Vols. I'd text him every Saturday during football season, unless it was the Georgia-Tennessee game, "good luck to the Vols." We had a lot of fun through the years. He was a generous, giving guy who loved magic and loved to laugh and play jokes on his friends. Rob had wonderful tailgates. They were themed. For instance, if Georgia were hosting South Carolina, then fried chicken was the main menu. For some of the SEC Network telecasts that I'm fortunate to broadcast, we are provided with black golf shirts with the "SEC Network" logo. A couple were dropped off for me prior to calling a soccer game. One didn't fit, so I took it to Rob, and he loved it. I said, now don't get busted, or they could trace this to me and I could get in trouble. These things are valuable. They are for broadcasters only. Valuable stuff here. Well, sure enough, a couple of weeks later, he was in Charlotte for the Tennessee-West Virginia game and sent me pictures wearing the SEC Network shirt. Walked right in with the Tennessee team and even had a couple of ESPN staffers ask him when the production meeting was? He was a character. He'll be cheering on Tennessee Saturday, and then both the Vols and Bulldogs the rest of the way until they meet again. It's going to feel strange not texting him, win or lose, after Saturday's game. Another friend gone too soon that I sure do miss.